UFC 146
UFC 146 Results: Frank Mir and Biggest Losers from PPV

Jon Kopaloff/Getty Images
May 27, 2012
With UFC 146 in the books, there were many lessons learned and many winners crowned. As it is with every celebration, the party comes at the cost of others.
This PPV had its fair share of losers.
From Frank Mir in the main event to Dave Herman and Antonio "Bigfoot" Silva in the lead-up fights, this show was supposed to make or break stars. It obviously broke a few.
Whether they can recover is a different story, but these are the fighters coming out of UFC 146 that were definitive losers.
Frank Mir
After accepting the chance to jump into the main event of the PPV with the suspension of Alistair Overeem, Mir got another chance at heavyweight glory against champion Junior dos Santos.
With the gold on the line, Mir never had a chance.
As much as Mir deserves credit for taking this fight on short notice and coming into it in great shape, dos Santos utterly beat Mir down. After methodically picking Mir apart, dos Santos TKO'd the heavyweight veteran in lopsided fashion.
It's clear that Mir isn't going anywhere yet, but he has become more of a heavyweight gatekeeper instead of the legitimate championship contender he once was.
Grade: D+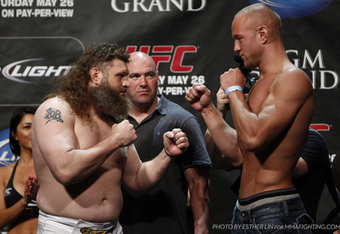 MMAFighting.com
Dave Herman
While many causal fight fans haven't seen much from Dave Herman, his early career was one that had the MMA world buzzing. Herman started off with a ridiculous 15-0 record.
After losing in brutal KO fashion at the hands of Roy Nelson at UFC 146, the experiment in Ultimate Fighting Championship may be over for good.
This loss wouldn't have been so terrible if it hadn't come so quickly. As great as Nelson's striking is, a disciplined fighter can keep him at bay; Herman did not.
Grade: D-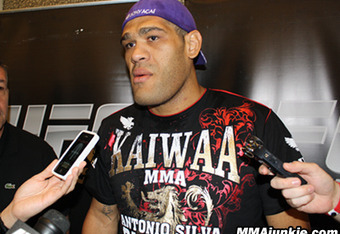 MMA Junkie
Antonio "Bigfoot" Silva
The biggest loser of the night was also the man that needed a win more than anyone—heavyweight enigma Antonio "Bigfoot" Silva.
After beating MMA legend Fedor Emelianenko in an unreal battle that featured Emelianenko being brutalized like never before seen, Silva was heralded as the next big MMA star.
Since that win, Silva has been knocked out in the first round of each of his two fights.
With Cain Velasquez drenching the Octagon in Silva's blood, he proved that Bigfoot wasn't built for the big leagues.
Grade: F
Check back for more on Mixed Martial Arts as it comes, and check out Bleacher Report's UFC Page to get your fill of all things UFC/MMA. For more on MMA/UFC, check out Ring Rust Radio for all of the hot topics.
Like the new article format? Send us feedback!