NFL Rumors: Broncos Won't Miss Knowshon Moreno If RB Has a Reduced Role
May 27, 2012

Doug Pensinger/Getty Images
Knowshon Moreno will be lucky to contribute at his position for the Denver Broncos in 2012. And if not, the Broncos won't miss him anyway.
In an article by Mark Sessler of NFL.com:
The Broncos running back is "fighting for a roster spot," according to Lindsay Jones of The Denver Post. Appearing Friday on ESPN, Jones reported that Moreno was a participant at the team's organized team activities and struggling to stand out in a crowded backfield.
This comes as no surprise considering how Moreno fared toward the end of 2010 and his limited time during the 2011 NFL season. With that, let's check some reasons why Moreno won't be missed if his role is reduced.
Improved Passing Game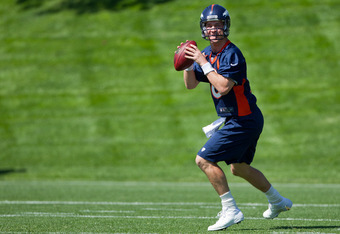 Justin Edmonds/Getty Images
Denver will need to rely on the ground game, but with Peyton Manning under center the Broncos will be using the pass to set up the run if anything.
In turn, no more than two backs will be used in the system throughout the year at a time, and everyone's carries will be reduced anyway. The presence of Manning will certainly improve the ground game as defenses won't stack the box pre-snap, but there's a reason Manning is in Denver.
The passing game was inconsistent last season, and with a group of receivers still needing to prove their value, Manning is expected to dish the rock around and make them better. The 2011 Broncos relied a lot on big plays from Tim Tebow instead of methodically moving the ball downfield and controlling the game tempo.
With Manning, the Broncos can now work the middle and edges of the intermediate game while the screen pass and flats open up the playbook. Moreno is a reliable receiving back, but Denver needs him to expand on that role, which won't happen as the receivers see more targets.
Not to mention the running back depth.
Running Back Depth
Although Willis McGahee will be turning 31 in the fall, the man can still slam the rock and be productive between the tackles. Last season was proof of that as the passing game lacked as a consistent threat.
With over 1,200 total yards and a reviving season to his career, McGahee enters 2012 as the expected No. 1 back. Despite having just a few years left (at the most), McGahee's reliability to draw up defenses will make for an impressive play-action complement to Manning.
Two other backs to also watch for are Lance Ball and rookie Ronnie Hillman. Ball played in all 16 games last season and accounted for 550 total yards in a reserve role. Provided he continues to develop, Ball can expect more carries and receptions this season.
As for Hillman, he played just two seasons at San Diego State but dominated with impressive consistency. For the Aztecs, Hillman gained over 3,200 rushing yards and scored 36 touchdowns on the ground. He also added the receiving threat in 2011 with 270 yards on 24 receptions.
Hillman will likely earn a spot as a return man, but don't discount his potential at contributing to the offense either.
Durability Concerns
After playing all 16 games as a rookie in 2009, Knowshon Moreno gained 1,160 total yards and scored nine times that year. In 2010, Moreno dipped down to 13 games but managed to still be respectably productive with 1,151 total yards and eight scores.
Despite being that consistent, Moreno dealt with a hamstring injury that season and the Broncos went 1-2 without him. Fast-forward to 2011, and Moreno played in just seven games.
First, Moreno had issues with the hamstring early least season and missed Weeks 2 and 3. Then the ACL injury occurred against the Chiefs in Week 10 which ended his season.
It also didn't help that Moreno has compiled just 280 total yards before going down. Had he at least been more productive, then maybe the Broncos don't select Ronnie Hillman in the middle portion of the draft.
Unfortunately for Moreno, that is not the case and he must reprove himself to earn a contributing position. At this point in the offseason, though, Moreno needs the Broncos more than they need him.
John Rozum on Twitter.