Minnesota Twins: Why Justin Morneau Won't Be Moving by the Deadline
May 27, 2012

Al Bello/Getty Images
Justin Morneau might be on the move by the trade deadline but the Minnesota Twins would be wise not to send him packing this summer.
First of all, let me explain why I am incredibly wishy-washy in my lede.
If you ask Ken Rosenthal of Fox Sports, it is possible for Morneau to leave Minnesota simply because he makes a lot of money, the Twins are going nowhere and first base will eventually belong to Joe Mauer.
However, if you ask Jayson Stark of ESPN, he reports that Minnesota Twins officials have said that they are "not likely" to move Morneau.
So, since some of the biggest names in MLB reporting can't agree on what will happen with Morneau, let's take a little bit of a deeper look at the situation.
First of all, all the points that Rosenthal made are valid. It is also just as true that Morneau is having a pretty strong season so far.
In 30 games, Morneau is hitting .248 with nine HR and 23 RBI. That home run number is incredibly exciting, and while he probably won't be able to keep up that pace, it at least seems like his power has finally returned.
However, while those numbers are encouraging, it would take a lot for a team to want to take on $14 million this year and $14 million next year. This wouldn't just be a one-year commitment. His new team would need to be willing to commit a large sum of money to one player next year as well.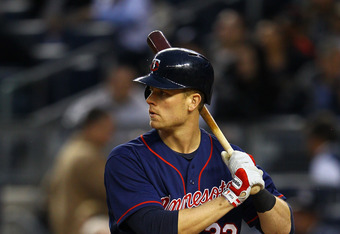 Al Bello/Getty Images
Rosenthal made several very good points about why the Minnesota Twins would want and probably do want to trade Justin Morneau. However, in this case, Jayson Stark is probably right as well.
It is not likely that the Minnesota Twins will be able to get any type of decent value in return for Morneau if they trade him right now.
While he is having a great bounce-back season and his power numbers seem to be returning, it will be hard to convince another team to trade very much and take on such a huge contract and injury risk.
Given the fact that the Twins would probably not receive very many attractive packages for Morneau, it would be surprising to see him actually move by the end of July. The Twins might want it to happen, but I don't think that they want it to happen at absolutely any cost.
Whether you think I know everything or nothing about Major League Baseball, you should follow me on Twitter or become a fan on Facebook and keep in touch. I love hearing what you all have to say!