Arsene Wenger Must Stick to Principles in Brewing Robin Van Persie Saga
May 27, 2012

Shaun Botterill/Getty Images
Arsene Wenger cannot bow to any pressure being applied by Robin van Persie to spend big. He must stay faithful to building carefully and within the club's means.
The Daily Mirror today reports that Van Persie requires significant investment in the squad to convince him Arsenal can challenge for the top prizes. The report even suggests that Van Persie hasn't allowed the Gunners the opportunity to present him with fresh terms.
As valuable as Van Persie is, Arsenal simply cannot be held to ransom by a single player. Wenger cannot conduct the business of crafting a squad based on the preferences of his star striker.
A common retort to this view would be to say that Van Persie has a point. He will be supported for his desire to win trophies and any demands he might make that Arsenal spend to do so.
It is a familiar and frankly tired criticism leveled against Wenger, but the Gunners boss must not buckle to the pressure and reverse the measured prudence which defines how Arsenal is run. The calls to spend big will be loud, despite the club's obvious inability to compete at the top end of the transfer market.
Certain players will be designated as the answer to all of the team's problems. Rennes holding midfielder Yann M'Vila has already been deemed this summer's saviour.
Yet Wenger must continue to shop carefully and remain mindful of the fact that like it or not, Arsenal's standing has changed. When names like Eden Hazard, M'Vila and Mario Goetze are mooted, those calls ignore the fact that Arsenal are unable to match the fees and wages offered by others and nor should they try.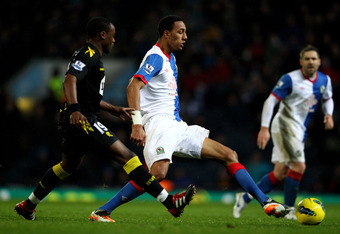 Clive Brunskill/Getty Images
Wenger is still a master at unearthing hidden gems and turning them into polished, top-level talents. Van Persie himself is a prime example of this, as is midfielder Alex Song.
Wenger must continue to place faith in the philosophy and principles that make Arsenal so distinctive. An example comes from elsewhere in the Mirror with a report linking Arsenal with a £6 million bid for Steven N'Zonzi.
The 23-year-old Blackburn Rovers star is a budding talent with Premier League experience available at a reasonable price. Yet if the Gunners were to sign him, the move would be viewed by some as a form of betrayal of the club's ambition.
Ambition has become the favourite buzz word of many disaffected fans this summer. Nothing short of pursuing the marquee names with the sizable transfer values to match can be considered worthy of ambition.
This is a doctrine which rejects the idea that trophies can be won and fought for by any means other than lavish spending. Yet this season has proved the opposite on more than occasion.
Athletic Bilbao's team of precocious young talents played their way to two finals. Jurgen Klopp's young and relatively cheaply assembled Borussia Dortmund side secured their second straight Bundesliga title. Then there is Montpellier triumphing over moneybags PSG to claim the French Ligue 1 crown.
Wenger should resist entering bidding wars for players whose fees are prohibitive to begin with. Any new signings made should not have to pass a calibre test, requiring Van Persie's approval.
If that means the Gunners lose another star, then so be it. Playing the waiting game with Van Persie and bowing to the demand for name value is what will compromise Arsenal's ambitions.