UFC 146 Results: Post-Fight Matchmaking for the Entire Fight Card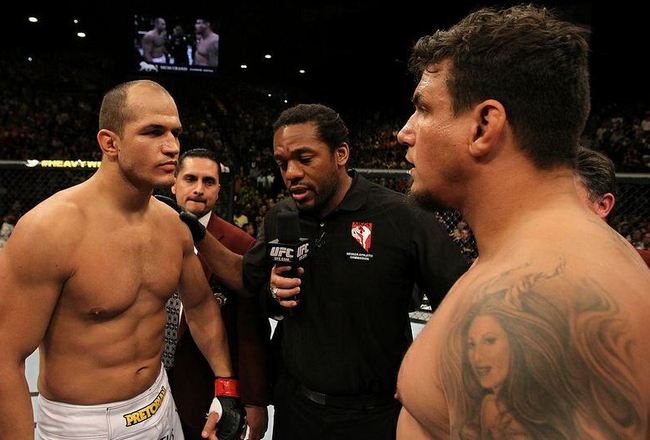 Josh Hedges/Zuffa LLC via Getty Images

With his dominant win over two-time champion Frank Mir at UFC 146, heavyweight titleholder Junior dos Santos could be on his way to greatness, as he is already one win away from tying the record for most consecutive heavyweight title defenses.
Over the years, the heavyweight division has never had a dominant champion. However, after quickly knocking out two of the top heavyweights in the world other than himself, Dos Santos is beginning to look like he has the potential to go on a long streak of title defenses.
Since the rest of the UFC 146 main card was filled with other heavyweight bouts, fans got a glimpse of the potential future title contenders Dos Santos could be facing.
Let's take a look at who could be next for Dos Santos and the rest of the UFC 146 competitors.
Mike Brown vs. Leonard Garcia-Matt Grice Winner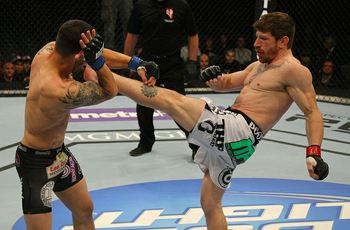 Donald Miralle/Zuffa LLC via Getty Images
Contemplating retirement heading into the bout, Mike Brown had his strongest showing in quite some time against Daniel Pineda. Now, there's a good chance Brown will return to the Octagon at least once more.
If Brown's next fight is his last, he deserves an exciting matchup that will provide a nod to his past as WEC champion. If Leonard Garcia gets past Matt Grice at UFC on FX 3, he would be an excellent opponent for Brown's farewell fight.
Win or lose, Garcia will make sure Brown exits the sport with an entertaining bout. Also, a bout between Brown and Garcia would be a rematch of a March 2009 matchup, which Brown was able to win by submission in the opening round.
Kyle Kingsbury vs. Fabio Maldonado II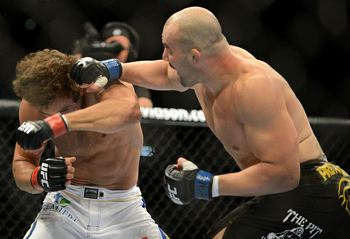 Ron Chenoy/US Presswire
After being knocked out by Glover Teixeira in under two minutes, Kyle Kingsbury has lost two straight fights and is in danger of being released from the UFC's light heavyweight division.
Kingsbury's last win came in a controversial decision against Fabio Maldonado, who is also currently riding a two-fight losing streak. With both fighters' jobs potentially on the line, a rematch between Kingsbury and Maldonado would provide another entertaining stand-up fight.
Glover Teixeira vs. Brandon Vera-James Te-Huna Winner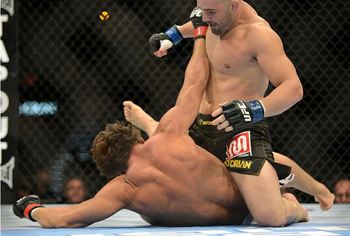 Ron Chenoy/US Presswire
At UFC 146, Glover Teixeira made his long-awaited UFC debut against Kyle Kingsbury. In an impressive showing, Teixeira completely dominated Kingsbury on his way to a 16th straight victory.
Though there may be some who want to see Teixeira immediately thrown into the cage with a light heavyweight contender after such a strong performance, the Brazilian could still use another win or two in the UFC before taking that step up in competition.
If Teixeira can finish the winner of a bout between Brandon Vera and James Te-Huna as easily as he stopped Kingsbury, then he will have proven himself ready for a bout with one of the light heavyweight division's best.
Paul Sass vs. Mark Bocek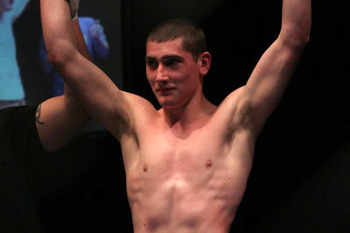 Lee Whitehead/MMAWeekly.com
In his 13th professional fight, Paul Sass picked up his 12th submission victory. While the 23-year-old has appeared one-dimensional thus far in his career, Sass has continued to find a way to bait opponents into going to the ground, where he is often able to lock up triangles off of his back.
If he can pull off another submission against a black belt like Mark Bocek, Sass could be ready for a bout with a 155-pound contender and a run at a lightweight title shot.
Duane Ludwig vs. Seth Baczynski-Lance Benoist Loser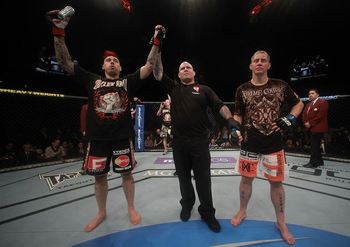 Donald Miralle/Zuffa LLC via Getty Images
Despite his solid striking background, Duane Ludwig was knocked out by Dan Hardy at UFC 146. The loss marked Ludwig's second straight loss, leaving him in a position where he would need a win in his next fight to keep his UFC career going.
A bout with the loser of a UFC on FX 3 fight between Seth Baczynski and Lance Benoist would give Ludwig a chance to bounce back, while a loss to either fighter would be reason enough for the UFC to part ways with the 33-year-old veteran.
Dan Hardy vs. Mike Pyle-Josh Neer Winner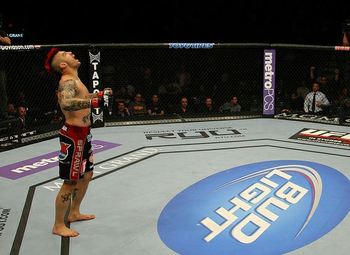 Donald Miralle/Zuffa LLC via Getty Images
After losing four straight bouts, Dan Hardy salvaged his UFC career with a single left hook on Saturday night. By knocking out Duane Ludwig, Hardy guaranteed himself another appearance inside the Octagon.
Though Mike Pyle and Josh Neer are on better runs than Hardy, the Englishman's star power will probably earn him a more significant opponent for his next appearance than most other fighters would get after ending a four-fight losing streak.
A matchup against the winner of the Pyle-Neer bout would give Hardy a chance return to title contention, while Pyle or Neer would have the opportunity to pick up a win over a big name and former top contender.
C.B. Dollaway vs. Brad Tavares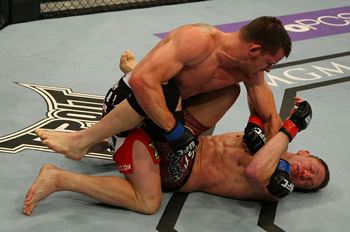 Donald Miralle/Zuffa LLC via Getty Images
It wasn't a pretty performance, but C.B. Dollaway did enough to walk away with a victory over Jason Miller, who was subsequently released from the UFC after two terrible outings. The win ended Dollaway's two-fight losing streak and possibly allowed him to keep his spot on the UFC roster.
Now, a fight with a fellow The Ultimate Fighter participant in Brad Tavares could make sense and give Dollaway a chance to climb his way closer to the top of the middleweight division.
Edson Barboza vs. Jacob Volkmann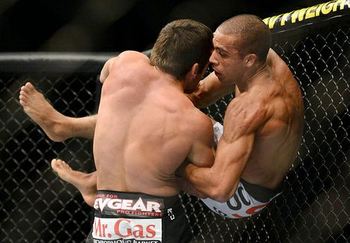 Ron Chenoy/US Presswire
Edson Barboza and Jacob Volkmann were significant favorites heading into their respective fights with Jamie Varner and Paul Sass, but both lightweights were stunned in first-round stoppages. Previously on the verge of becoming serious contenders in the lightweight division, Barboza and Volkmann could now meet in a battle to avoid back-to-back losses.
Still considered an excellent striker, Barboza could use another test against a forward-moving wrestler like Volkmann, who will impose a similar style to that of Varner. If Barboza really is a future title contender, he will show marked improvement against Volkmann.
Jamie Varner vs. Donald Cerrone III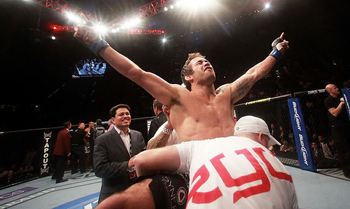 Donald Miralle/Zuffa LLC via Getty Images
After going without a win in his final four WEC bouts, Jamie Varner was not invited to join the UFC roster as part of the WEC merger. However, by winning three of his next four fights, Varner earned a spot as a late replacement on the UFC 146 preliminary card.
Despite the odds being stacked against him, Varner was able to upset rising lightweight star Edson Barboza and is now an interesting player in the ever-changing lightweight division.
One might even say he is now one fight away from becoming a serious contender.
Some have proposed a fight between Donald Cerrone and Anthony Pettis in the near future, but "Cowboy" is only one fight removed from a lopsided loss to Nate Diaz and should probably pick up one more win before he faces a top contender again.
So, why not set up a suddenly interesting rubber match between long-time rivals Cerrone and Varner?
Diego Brandao vs. Daniel Pineda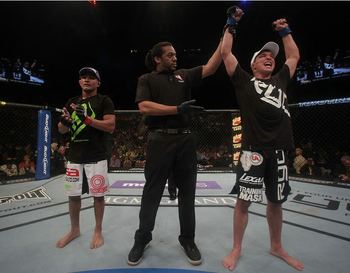 Donald Miralle/Zuffa LLC via Getty Images
While they came up short on the scorecards in their respective bouts against former WEC champion Mike Brown and Darren Elkins, the 26-year-old Daniel Pineda and 24-year-old Diego Brandao showed they have the potential to make waves in the UFC's featherweight division sometime in the future.
By giving Pineda and Brandao a step back in competition, the UFC can ensure one of these young talents will get back on track. The organization will want to do everything it can to get Brandao back on track, as he has become a well-known fighter by winning TUF in December.
Darren Elkins vs. Eddie Yagin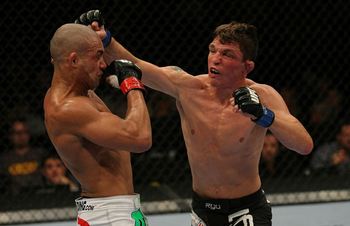 Donald Miralle/Zuffa LLC via Getty Images
Though he hasn't been the most technical fighter, Darren Elkins continues to find ways to win and is undefeated in three featherweight appearances. Likewise, despite being a massive underdog against Mark Hominick, Eddie Yagin found a way to win his most recent fight.
While they can't be considered serious contenders yet, a win over the other could set Elkins or Yagin up for a fight with a top featherweight.
Stefan Struve vs. Mark Hunt
Donald Miralle/Zuffa LLC via Getty Images
Initially, Stefan Struve was scheduled to meet Mark Hunt at UFC 146. However, an injury forced Hunt out of the event and allowed Lavar Johnson to step in as a replacement. Struve proceeded to submit the one-dimensional Johnson to pick up his third straight win.
Now, look to the UFC to reschedule the bout between Struve and Hunt, who is also on a three-fight winning streak and possesses slightly more experience on the ground than Johnson.
Shane del Rosario vs. Brendan Schaub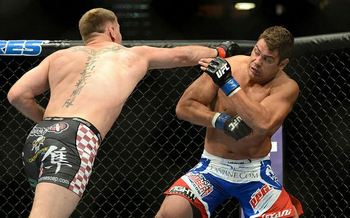 Ron Chenoy/US Presswire
Coming off of a one-year layoff due to a car accident, Shane del Rosario looked excellent on his feet against Stipe Miocic. However, once Miocic was able to take the fight to the ground, Del Rosario was unable to escape or mount any offense off of his back.
While his striking is still improving, Brendan Schaub has had some exciting fights with kickboxers such as Del Rosario. Since both fighters are coming off of knockout losses, let's match them up against one another and allow one of the heavyweights to avoid another loss.
Dave Herman vs. Lavar Johnson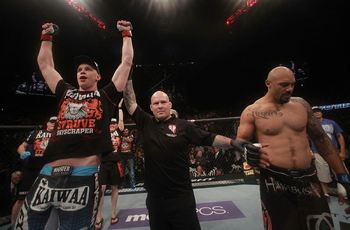 Donald Miralle/Zuffa LLC via Getty Images
Both suffering predictable losses at UFC 146, Dave Herman and Lavar Johnson have shown holes in their game that might lead some to believe they don't belong in the world's premier MMA organization. Johnson has not shown any improvement on the ground throughout his career, while Herman has appeared to have mental lapses and questionable striking defense in his recent fights.
A bout between Herman and Johnson would indicate which fighter is willing to go back to the drawing board to make significant improvements. If either fighter has an exceptionally poor performance against the other, it might be time for the loser to return to smaller promotions.
Roy Nelson vs. Stipe Miocic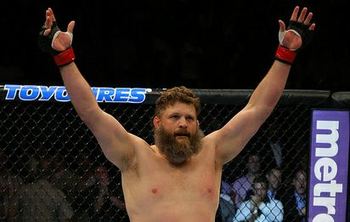 Donald Miralle/Zuffa LLC via Getty Images
Outside of the division's elite, Roy Nelson and Stipe Miocic are two of the most well-rounded heavyweights in the world. Both competitors were able to walk away from Saturday night's fights with knockout wins.
After going undefeated in his first nine professional fights, Miocic looks ready for a bout against an opponent of Nelson's stature. The winner of said bout would be more than deserving of a shot at one of the top contenders in the heavyweight division.
Antonio Silva vs. Josh Barnett
Ron Chenoy-US Presswire
Strikeforce Heavyweight Grand Prix finalist Josh Barnett has one fight remaining with Strikeforce before he can potentially return to the UFC, but there are no heavyweight opponents remaining for him in the organization. With few notable heavyweights competing outside the UFC, it seems likely a UFC heavyweight will have to move to Strikeforce for one fight with Barnett.
Obviously, the UFC isn't going to want to send one of its biggest heavyweight stars to Strikeforce, so a bout between Barnett and a fighter coming off of a loss or two seems most likely.
After being brutalized by Cain Velasquez, Silva's time frame for return to action should be comparable to that of the broken-handed Barnett, so a bout between the two under the Strikeforce banner seems like a real possibility.
Frank Mir vs. Brock Lesnar III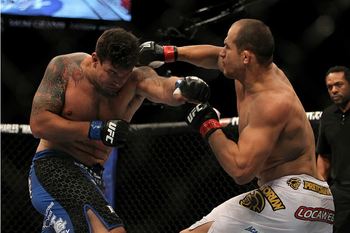 Josh Hedges/Zuffa LLC via Getty Images
Frank Mir has now lost in his past three title fights. The heavyweight remains one of the best fighters in his division, but he doesn't have much left to prove unless there were some way for him to throw himself back into the title mix in a hurry.
At the moment, there is one fight that could give Mir that instant boost back into championship contention.
A rubber match with Brock Lesnar, who was in attendance at UFC 146 and is rumored to be returning to the UFC, would draw massive amounts of attention and would help bring more appropriate closure to the career of one of the most influential fighter in MMA history.
Junior dos Santos vs. Cain Velasquez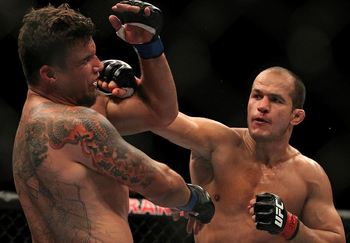 Josh Hedges/Zuffa LLC via Getty Images
Even though he only has one title defense under his belt, there are not many deserving contenders in line for a shot at the Junior dos Santos. Considering the injuries heading into their first bout and the former champion's dominant win over Antonio Silva on Saturday, Cain Velasquez seems like the only legitimate option as the next heavyweight title challenger at this point.
Since he was also injured before the fight, it would be unfair to take anything away from the current champion, but there is a good chance Velasquez would have pulled out of his first meeting with Dos Santos had the bout not served as the main event of the UFC's first Fox-televised event.
A rematch would remove any doubt about who the better fighter was.
Keep Reading