NFL Rumors: Chicago Bears Shouldn't Let Matt Forte's Knees Stall Extension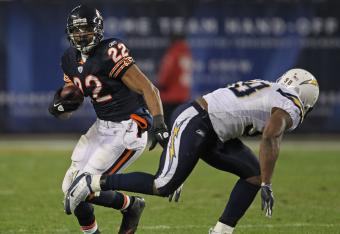 Jonathan Daniel/Getty Images
The Chicago Bears have built one of the NFL's better ground attacks around four-year veteran Matt Forte. He's been the only consistent force on their offense, and the front office is about to make a huge mistake by not offering him a market-competitive offer.
Mike Tice, the new offensive coordinator, and the Bears are looking to run an offense more similar to the Denver Broncos' offense that paired Jay Cutler and Brandon Marshall. The newly-acquired Bears receiver posted over 2,500 yards in that system over the 2007 and 2008 seasons while Cutler posted a career-best 4,526 yards passing in 2008.
While the Bears may feel they can survive without Forte and a solid ground game, Tice should remember what happened to the 2008 Broncos.
Their leading rusher was Peyton Hillis, who posted 343 yards in 12 games.
They entered the final stretch of the season at 8-5 with the playoffs in their grasp. They were unable to control drives on the ground or rely on a consistent passing game.
They lost the final three games, including a tough loss to the Buffalo Bills, and finished at 8-8 and out of the playoffs.
Without Forte's efforts on the ground and as a receiving option out of the backfield, Bears fans should brace for another year of missing the postseason.
Forte declined prior contract offers with around $14 million in guaranteed money. He hasn't signed his $7.7 million franchise tag, making his status "missing in action" during the Bears OTAs.
If Forte opts to sit out the 2012 season does it significantly hurt the Bears playoff hopes?
The Chicago Tribune has shed some light on why there is a delay from the team's end. The Bears ownership is reportedly concerned with his longevity, citing knee issues.
A major sticking point stems from the Bears' worry over how long Forte's knees will hold up, a source told the Tribune. The wear and tear on Forte's knees drew the attention of several teams, including the Bears, before the 2008 NFL draft when he came out of Tulane.

The Bears won't acknowledge it publicly or privately but want to protect themselves from arthritis setting in and becoming a chronic problem for the fifth-year running back with 1,237 career NFL touches who turns 27 in December. In the NFL, data show running backs start declining after age 28.
Forte has prior injuries in both knees. He tore his posterior cruciate ligament in his left knee during college, and then sprained the medial collateral ligament in 2009.
His 2011 season was cut short due to a MCL sprain in his right knee.
The Bears certainly tipped their hand with their preparations to enter the 2012 season without Forte. They signed Michael Bush to a surprisingly favorable four-year, $14 million contract.
Bush has played quite well in place of the oft-injured Darren McFadden for the Oakland Raiders. He took over the starting duties midway through the 2011 season and ended the year with 977 yards on 256 carries.
It is hard to deny the concerns the Bears have with Forte's future production. The NFL is littered with crumpled contracts from running backs that failed to produce after the age of 30.
However, they can get virtually four seasons from Forte until he reaches that milestone.
If the Bears president and CEO Ted Phillips isn't going to offer Forte a deal that is at least better than the one given to Marshawn Lynch and likely on par with LeSean McCoy's five-year, $45 million contract, they need to trade him to a team that will.
Phillips stated earlier in the offseason that "Matt is going to be a Bear."
Our goal with Matt is to keep him a Bear as long as possible. We have made offers on long-term deals that we think reward him at a high level, the level he deserves. We haven't been able to reach common ground. The door is open to keep talking. If we get a deal done, we'll be happy. If we don't, then the deal we have is the franchise tag and we'll see what happens after this year.
Phillips may believe the current offer is reflective of being one of the top running backs in the NFL, but Forte and his agent disagree. They sought a five-year, $40 million contract before Forte had another stellar season.
If contract talks don't heat up in the coming weeks, Bears fans may experience a cold 2012.
This article is
What is the duplicate article?
Why is this article offensive?
Where is this article plagiarized from?
Why is this article poorly edited?

Chicago Bears: Like this team?