WWE News: Who's Suing Who? the Legal Drama of Vince, Dixie and Flair
May 26, 2012

The business aspect of professional wrestling is never more apparent than when lawsuits and legal scandals alike dominate dirt-sheet headlines. 
Professional wrestling is supposed to be the sideshow, jock carnival where only the strongest and toughest survive. 
Where did all this jockeying for corporate position come from?  This would have never happened during the good ole days when Ric Flair was NWA Champion. 
Lou Thesz is probably turning in his grave. 
It's a whole new atmosphere these days.  Gone are the days of the omnipotent NWA mob of promoters who bureaucratically decided who was worthy of holding their world championship.
With the multimillion dollar, quasi-mainstream business that sports entertainment has become, violations of specific standards and practices can and will land offenders in court.  
Ric Flair was sued at will before being sued at will was cool.  Over two decades removed from one of his earliest legal battles against WCW, Flair continues to find himself at the center of litigious warfare.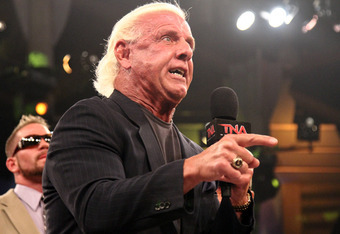 The latest lawsuit that the WWE is faced with is a juicy one.  Rival promotion TNA is currently suing the wrestling giant for allegedly using inside information to "poach" its talents. 
According to the suing party, former TNA employee Brian Wittenstein provided the WWE with inside information of TNA talent contracts during a brief stint with WWE. 
During this time period, Flair allegedly approached TNA and sought a release from his contract.  It was believed Flair was positioning himself for yet another return to the WWE. 
The WWE has responded to these claims, as attorney Jerry McDevitt told the Associated Press that they had done their due diligence by sending the confidential information to TNA.  As a result, the WWE was being sued, thus concluding that they were "doing the right thing."
Nobody in TNA is publicly or privately talking about the ongoing lawsuit, including TNA President and amateur press hound Dixie Carter.  That's how you know it's serious. 
While this may be the most newsworthy legal dispute the WWE currently has on its hands, it's not the only one. 
Election season approaches once again. With former WWE CEO Linda McMahon once again vying for a seat in the senate, the WWE is more sensitive than ever in terms of what is being printed about McMahon's tenure as the promotion's corporate leader.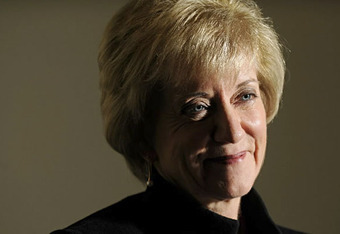 Joshua Fisher of the Darien Times newspaper dismissed WWE's product as "barely above porn" in an editorial critical of Linda McMahon. 
The WWE responded fiercely, first with a letter to Fisher touting its family values.  According to WWE executive Brian Flinn: 
All WWE television programming features only TV-PG content as rated not by us, but by the network TV distributors and their standards and practices departments. WWE weekly programming has always appeared on basic cable or broadcast television. As any casual television viewer knows, your description of our programming, based on the Federal Communications Commission rules alone, would not be permitted on broadcast television or basic cable.
The WWE followed up with another counterpunch as they are now threatening legal action against the Connecticut publication. 
The fact that the Darien Times newspaper is even on the WWE's radar is a strong indication of just how diligent this company has become in sniping out bad press.
The fun doesn't stop with the two major wrestling promotions.  Former AWA tag team standout Doug Somers is now catching legal fever, suing the WWE for allegedly using unauthorized footage of his likeness. 
The WWE reacted by requesting that the case be dismissed due to their well-documented right to the intellectual property in question as the biggest conglomeration in professional wrestling.
While the multiple side-battles of courtroom drama seem petty to say the least, it can also be argued that they are small (and potentially large) relics of progress for the pro wrestling industry as a whole.  
Legal strife among wrestling companies will never be worthy of top billing in mainstream news, but for those who follow all aspects of professional wrestling closely, solace can be taken in the fact that there is a sophisticated, business side to a genre often discarded as organized savagery. 
Pro wrestling is no longer the carnival.  It has evolved into the state park hosting it.    
Does three hours of WWE RAW make sense?  Watch Big Nasty and Justin LaBar duke it out over the hot topic in their latest debate, and follow Big Nasty on Twitter @ThisIsNasty!