Stanley Cup Playoffs 2012: Why NHL and NBC Will Win with Kings vs Devils Matchup
May 26, 2012

Justin Sullivan/Getty Images
Both the NHL and NBC will win with the 2012 Stanley Cup Final matchup between the New Jersey Devils and the Los Angeles Kings because it involves two exciting teams based in large markets that play an exciting brand of hockey.
Let's examine why the league and NBC will mutually benefit from this matchup.
Exciting Offensive Matchup
If you haven't followed hockey much over the last 10 years or so, you probably think the Devils still play the boring, trap-style of hockey that won them three championships from 1995-2003.
Well, that couldn't be further from the truth right now. The Devils try to score goals and have an aggressive offensive style, with exciting forwards Zach Parise, Ilya Kovalchuk and rookie Adam Henrique capable of scoring on any shift.
The Kings play a tough style of hockey that is similar to what the Boston Bruins used last year to physically dominate the Vancouver Canucks in the Stanley Cup Final.
Power forwards Dustin Brown and Mike Richards don't shy away from big hits and are also capable of scoring goals.
This matchup will be full of offense and lots of goal scoring, even though goaltenders Jonathan Quick and Martin Brodeur are in fine form this postseason.
The product of hockey in this final will be a far greater advertisement for the sport than a Kings versus Rangers series would have been. New York blocks a ton of shots and doesn't score a ton of goals. Many of its top offensive players really struggled in the playoffs as well.
Fortunately for the league, they got the best possible matchup from an entertainment standpoint out of the four teams that played in the conference finals.
Let's look at how Kings versus Devils compares with every Stanley Cup Final matchup since the lockout.
| | | | |
| --- | --- | --- | --- |
| Year | Matchup | Outcome | Notes |
| 2010-11 | Boston Bruins vs. Vancouver Canucks | BOS 4-3 | Very entertaining series between two teams that didn't like each other. Boston drove ratings significantly. |
| 2009-10 | Chicago Blackhawks vs. Philadelphia Flyers | CHI 4-2 | High-scoring series with two large hockey markets competing to end Stanley Cup droughts. |
| 2008-09 | Detroit Red Wings vs. Pittsburgh Penguins | PIT 4-3 | Rematch of 2009 Stanley Cup Final with two passionate hockey markets. |
| 2007-08 | Detroit Red Wings vs. Pittsburgh Penguins | DET 4-2 | NHL's biggest superstar Sidney Crosby in first Stanley Cup Final against veteran Red Wings team. |
| 2006-07 | Ottawa Senators vs. Anaheim Ducks | ANA 4-1 | Not an attractive matchup for casual hockey fans, it received record low TV ratings according to ESPN. |
| 2005-06 | Edmonton Oilers vs. Carolina Hurricanes | CAR 4-3 | First post-lockout final between a No. 8 seed in Edmonton versus a No. 2 seed in Carolina |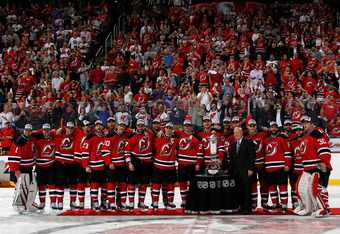 Bruce Bennett/Getty Images
TV Ratings
Los Angeles is the second largest TV market in the United States, according to Nielson, while New York is ranked first. The Devils don't play in New York obviously, but there are still enough hockey fans in the New York area to watch this series in great numbers.
With the NHL having fans from the two largest television markets in the country ready to watch his matchup, the ratings for this year's Stanley Cup Final should be strong.
The playoffs as a whole have seen a nice increase in ratings on the NBC networks this season, up 21 percent from last year.
Overall, 2012 Stanley Cup Playoffs are avg 973,000 viewers on NBC Sports Network through Tuesday, May 22, up 21% vs. last year (805,000)

— NBCSportsPR (@NBCSportsPR) May 24, 2012
You may not think of Los Angeles as a strong hockey market, but since Wayne Gretzky led the Kings to the Stanley Cup Final in 1993, the amount of interest in hockey has risen.
With both Los Angeles-area NBA teams, the Lakers and Clippers, eliminated from their playoff runs, the focus of attention in sports throughout southern California will certainly be on the Kings.
Sports fans in Los Angeles will tune into the Kings because a championship is at stake—it's that simple. Some of us may not be basketball fans, but if your hometown team is fighting for a championship, especially their first-ever title, you are probably going to be interested in watching it unfold.
Watching a Stanley Cup will be a new experience for a lot of people in Los Angeles who don't remember the 1993 series, so it will be a fun process for many fans.
Several celebrities, such as Kobe Bryant, Will Ferrell and Rainn Wilson, have attended Kings playoff games this year, so there is interest in the team from that standpoint.
The ratings for the Devils and Rangers Eastern Conference Finals series were quite strong, according to NBC Sports. Even though losing some Rangers fans will lessen those numbers in the Stanley Cup Final, I expect the New York area to support the Devils greatly.
The last Stanley Cup Final game between the Devils and a Southern California-based team was Game 7 of the 2003 Cup Final involving the Mighty Ducks of Anaheim. That game was the highest-rated Game 7 in a final until last year's Bruins and Canucks Game 7, according to Yahoo.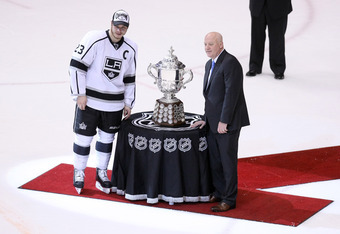 Maxx Wolfson/Getty Images
Conclusion
The 2012 Stanley Cup Final should benefit the NHL and NBC because the excitement and offensive output should be high, and the teams involved are located in major markets.
The Devils and Kings should give diehard hockey fans and those who don't watch hockey often a great series that is full of goal scoring and intense, physical play.
Nicholas Goss is an NHL Featured Columnist for Bleacher Report and was also the organization's on-site reporter for the 2011 Stanley Cup finals in Boston.