2012 Stanley Cup Playoffs 2012: 20 Awesome Celebrity Sightings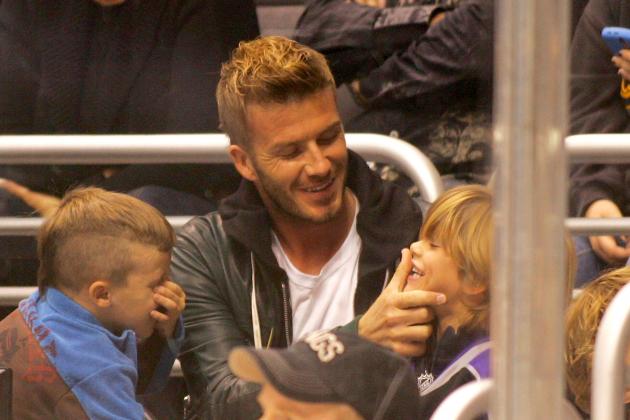 Victor Decolongon/Getty Images

Due to a large number of Stanley Cup playoff wins for media-fuzed metropolitan cities like Los Angeles and New York, hockey fans nationwide are losing playoff seats to some of the biggest names in the world.
Here are twenty awesome sightings of famous celebrities throughout the 2012 NHL Stanley Cup Playoffs—enjoy.
Begin Slideshow

»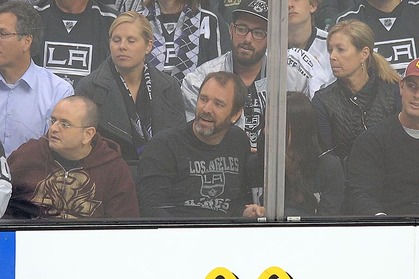 Co-creator of one of the most successful comedic cartoons on television, South Park, Trey Parker was spotted sitting on the glass representing the Los Angeles Kings.
We were all exposed to Parker and Matt Stone's love for hockey with the infamous episode where Stan's South Park pee-wee hockey club plays against the Detroit Red Wings in the episode called "Stanley's Cup."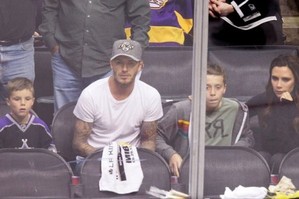 I'm sure you are all glad to hear that LA Galaxy midfielder David Beckham, Posh Spice and their two sons frequently stimulate the economy through Los Angeles Kings games at Staples Center.
For those outside of The City of Angels that view Beckham as the pioneer of overpaid, unproductive athletes in the greater Los Angeles area, please remember that it is quite the challenge to remain "tough" on the pitch while having your own line of underwear.
Longtime Los Angeles Kings fan Will Ferrell reminisces about the Kings blowing a five-goal lead against the San Jose Sharks last season, the "Triple Crown" line of Marcel Dionne, Dave Taylor and Charlie Simmer, and his adventures with Hockey Night in Canada.
Ferrell had a previous career in broadcasting for Channel 4 News in San Diego, California.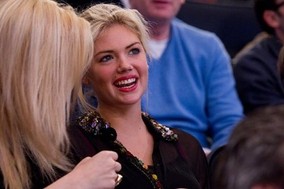 Sports Illustrated swimsuit model and avid sports fan Kate Upton was seen at a 2012 New York Rangers playoff game, alone.
Tigers ace Justin Verlander was chasing no-hitters and was unable to attend the game with Upton.
As the now "retired" New York Ranger winger Sean Avery learned, Upton is not afraid of voicing her opinion when confronted at a hockey game.
Longtime King of Staples Center Kobe Bryant attended a Kings playoff game earlier this season with his daughter.
Usually the Los Angeles Kings are some of the less-popular faces among the crowd watching Kobe dominate all competition inside Staples Center.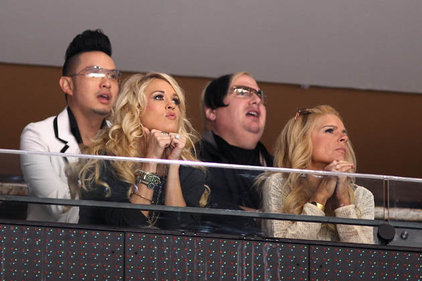 Singer Carrie Underwood attended Game 5 of the Coyotes-Predators game in Nashville.
She officially became a Nashville Predators fan once her husband, Mike Fisher, was traded there.
Underwood hilariously admits that she is an avid hockey and often chirps the referees for bad calls—too bad she didn't chirp the gentlemen sitting behind her who desperately need a trip to the salon.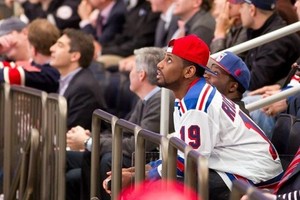 The New York Rangers had some extra-special love in the seats of Madison Square Garden for Gsme 7 against the Ottawa Senators thanks to rapper Fabolous.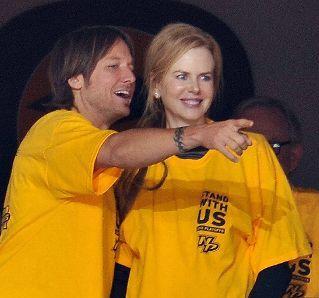 Country music singer Keith Urban and actress Nicole Kidman cheer on the Nashville Predators in Game 5 against the Detroit Red Wings.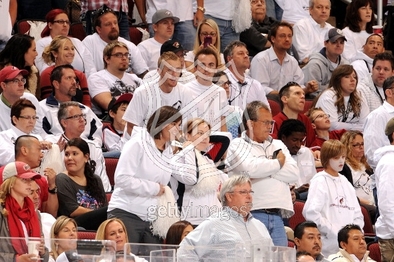 I was unaware the Desert Dogs had a famous fan base, yet recently "retired" actor Frankie Muniz was spotted in the whiteout at Game 2 of the Coyotes-Kings Western Conference Finals.
Muniz recently hasn't been on the big screen due to his confidence and bank account.
Mountain Dew learned that questioning Muniz's acting skills won't land a professional response.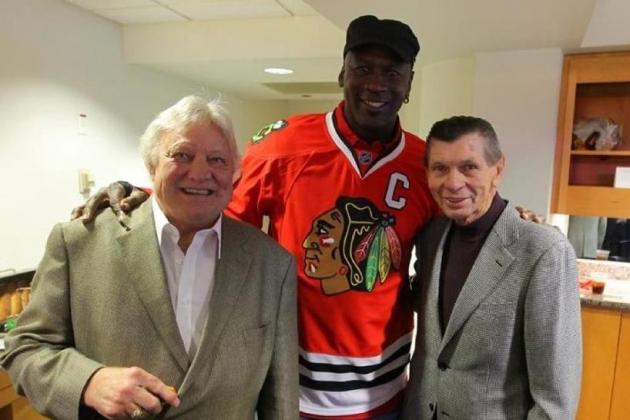 Chicago legend Michael Jordan is pictured with Blackhawks legends Bobby Hull (left) and Stan Mikita (right) at a Chicago Blackhawks playoff game.
Some "experts" criticised Jordan for leaving his Charlotte Bobcats behind to attend the Hawks game, however it's fairly obvious why MJ left his record-setting Bobcats alone as they polished off the worst season in NBA history with a 24-game losing streak.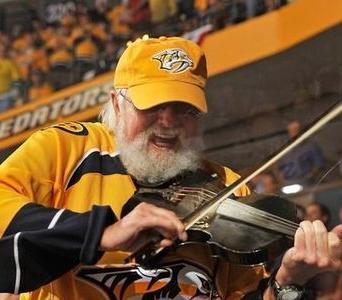 Country music legend Charlie Daniels continues to promote Predators playoff hockey while performing in Bridgestone Arena.
In case you're new to the country music game, Daniels flat out shreds the violin.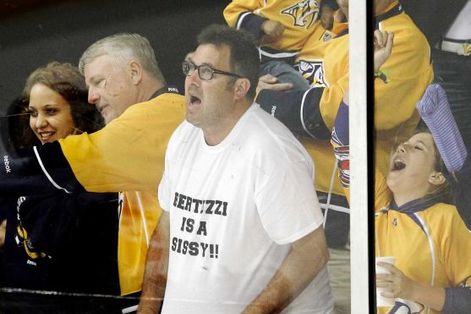 Country music artist Vince Gill is one of the biggest hockey fans in Tennessee and is seen here at a first-round Wings-Predators game to remind Red Wings forward Todd Bertuzzi why he's one of the dirtiest players in the NHL.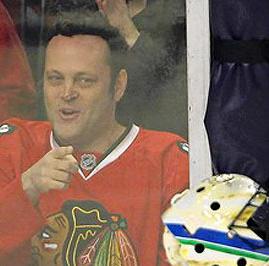 Similar to Vince Gill in Nashville, famous actor Vince Vaughn never hesitates to taunt opponents. Though this photo was taken during the first round of the 2011 Stanley Cup playoffs, Vaughn was also at this year's first-round Blackhawks home games.
Vaughn frequently integrates Chicago sports in his multi-million dollar flicks with shots filmed at Wrigley Field in The Break Up and at the Madhouse on Madison for a Blackhawks game in The Dilemma.
Vaughn ranks No. 7 on Bleacher Report's "Famous Faithful" list of top celebrity sports fans.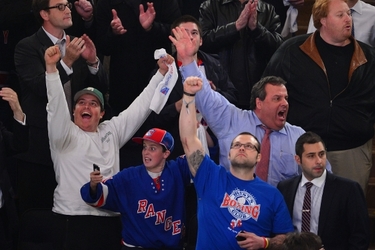 Because New York Yankees set-up man Joba Chamberlain is out for the season, he has plenty of time to take his family to Rangers playoff games.
With Joba and Mariano Rivera out for the year, Rangers goalie Henrik Lundqvist is officially the best closer in New York, following a Game 3, 3-0 shutout in the Eastern Conference Finals—his playoff-leading third shutout.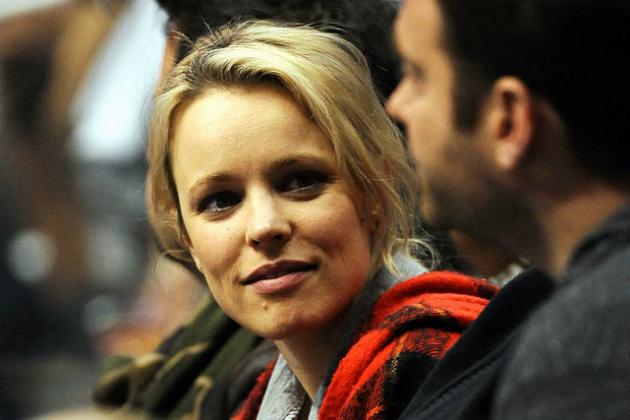 Actress Rachel McAdams attended Game 4 of the Los Angeles Kings sweep of the St. Louis Blues in the Western Conference semifinals.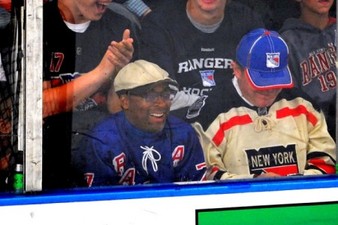 World famous filmaker and die-hard New York Knicks fan Spike Lee can be found on the glass rooting on the Broadway Blueshirts for every home New York Rangers playoff game this season.
If goalie Hank Lundqvist continues his dominance between the pipes, the Rangers are headed for their first Stanley Cup since "The Guarantee" in 1994.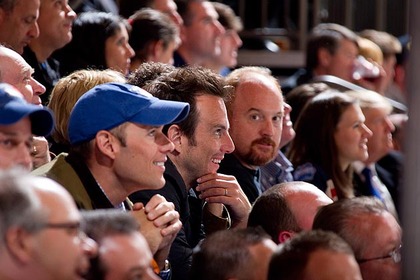 Emerging comedian Louis C.K. was spotted at Game 2 of the Rangers-Devils Eastern Conference Finals series in Madison Square Garden.
"The Office" star John Krasinski was spotted at Game 5 of the thrilling Pittsburgh Penguins-Philadelphia Flyers series in Pittsburgh, dominated by the Penguins' incredible 10 goals.
Krasinski usually fills his days behind a desk for Dunder-Mifflin Paper Co. in nearby Scranton, Pennsylvania—which is actually the home of the Pittsburgh Penguin-affiliate Wilkes-Barre Scranton Penguins.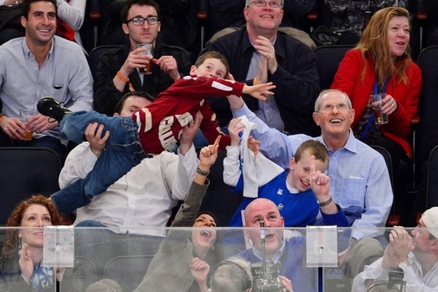 Super Bowl champion New York Giants Head Coach Tom Coughlin was spotted at a New York Rangers playoff game with his family, and his very large Super Bowl Ring.