2012 NFL: Detroit Lions Quarterback Matt Stafford Is Getting No Respect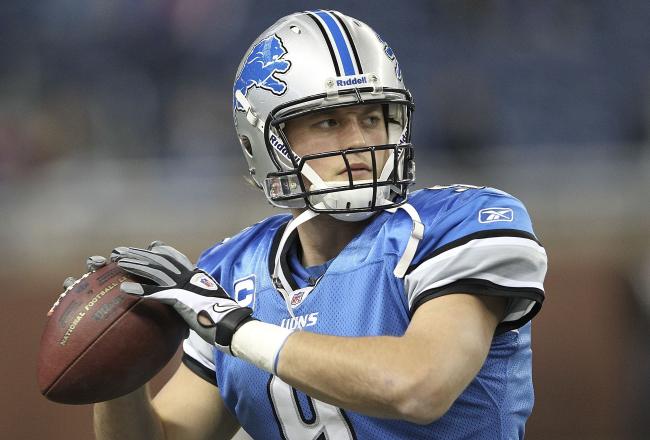 Leon Halip/Getty Images
Detroit Lions quarterback Matt Stafford is the most disrespected player in the NFL today. Multiple experts have published their top-10 lists for the upcoming season, and Stafford is not on many of them. This is lunacy, Stafford is far better than his ranking reflects.
Marshall Faulk of the NFL Network clumsily explained how there are 10 better players at the position. His explanation is lacking, explaining that Stafford has only done it for one year. He puts Cam Newton ninth on his list. Newton has only played in the league for one year which destroys his logic.
Faulk also talks about Stafford needing to show him timing routes and says that wide receiver Calvin Johnson bails Stafford out a lot. After watching the video, you have to wonder if Faulk watched any of Matt Stafford from the 2011 season.
Jason Smith of NFL.com has Stafford outside his top 10 also, penciling him as the 11th-best quarterback in the game today. He says that Stafford is headed for a top-five ranking next year if he duplicates his 2011 season.
Pete Prisco of cbssports.com has Stafford ranked as the ninth-best quarterback in his list of the top-100 players in the NFL today. He states that Stafford was finally healthy and showed what he could do with his 5,000-yard season in 2011.
I could continue to find rankings with Stafford ranked far too low as I am sure there are more lists with writers embarrassing themselves by ranking Stafford outside the top 10. Ripping Detroit Lions seems like the cool thing to do.
It is almost laughable to see a player like Atlanta Falcons quarterback Matt Ryan ranked ahead of Stafford, and he is on Faulk and Smith's lists. Ryan is a decent quarterback, but he is nowhere near where Stafford is, and he never will be.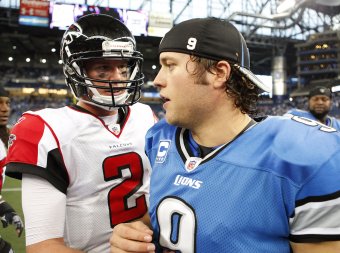 Leon Halip/Getty Images
Ryan had a career year in 2011 throwing 29 touchdowns to go with 12 interceptions. He threw for 4,177 yards and a completion percentage of 61.3 percent. Again, this was a career year.
Matt Stafford threw for 41 touchdowns and had 16 interceptions. He threw for 5,038 yards and a completion percentage of 63.5 percent. Most consider Stafford to just be scratching the surface.
Other quarterbacks who are ranked higher on these lists that simply are not nearly as good as Stafford are Michael Vick and Cam Newton. I would not want either of them over Stafford.
Matt Stafford became the fifth player in NFL history to throw for more than 5,000 yards, and he did this as a 23-year-old. He finished with the third-highest touchdown total and the third-most passing yards in 2011. Even after having such a great year he still failed to make the Pro Bowl.
If Stafford played anywhere other than in Detroit, would anyone have him ranked so low? Maybe the more appropriate question is this. If Mark Sanchez threw for 5,000 yards and 41 touchdowns would he have made the Pro Bowl? Would he be ranked as low as Stafford is coming into the 2012 season? Not a chance.
The same questions can be applied to other quarterbacks whom analysts love. Stafford is one of the best young quarterbacks in the NFL, but he gets ignored, as does the incredible season he had last year.
It's possible that these experts have him ranked so low because they are worried about him getting injured. If that's the case, then that needs to be the primary reason he's so low. It can't be about anything that happens on the field because a healthy Stafford is a quarterback who puts up top-five numbers.
Making the statement that he gets bailed out by his wide receivers is simply lazy analysis, but it is really nothing new. I suppose we should see it coming from some of the ex-players that get put in front of a camera and become experts.
Calvin Johnson faced it from ESPN football analyst Cris Carter during the 2011 season, a season where he established his dominance over others at the position. Carter sounds very uninformed in hindsight and it is almost laughable.
Stafford is easily one of the best quarterbacks in the NFL and that's not a difficult thing to say. It makes little sense that he gets viewed the way he does on a national level though as he is much better than he is given credit for.
Perhaps, we will look back at these lists in hindsight and view them as laughable as well.
This article is
What is the duplicate article?
Why is this article offensive?
Where is this article plagiarized from?
Why is this article poorly edited?

Detroit Lions: Like this team?