Western Conference Finals 2012: Why Spurs Are Too Hot to Be Slowed by Thunder
May 25, 2012

The Oklahoma City Thunder should be rejoicing after eliminating the Los Angeles Lakers for a spot in the Western Conference Finals.  But, if they know what's good for them, they'll keep their jubilation to a dull roar.  
Mighty San Antonio is now the only team standing in the way of a first-ever title shot for OKC, but the four-time NBA champs represent a formidable foe.  The Spurs, of course, remember how it felt last year to be eliminated by a young and passionate team. And the pain of their loss to the Memphis Grizzlies still stings.
Last year's shocking defeat was the fourth time a No. 8 seed upset a No. 1 seed and just the second time since 2003, when the NBA expanded the opening series to a best-of-seven.  But this is a new year and San Antonio is playing inspired ball.  They avoided a second straight embarrassment in the first round by demolishing eighth-seeded Utah four games to none.  The Spurs then kept the petal to the metal and swept the L.A. Clippers in four.
Dating back to the regular season, that's 18 wins in a row and counting for San Antonio. So do the Thunder stand a chance?
According to the great Dick Vitale, they could make things interesting, with the dynamic Kevin Durant and his high-scoring teammate Russell Westbrook.  Vitale even thinks the series will go seven games before the Spurs pull it out.  
But this writer believes San Antonio is all business this year, and despite an aging roster, they're destined for a fifth title. 
The Spurs are truly playing like a team possessed, and as always, Tim Duncan is the driving force. According to Fox News, Duncan is feeling the same vibe he felt with previous Spurs teams that captured titles with him.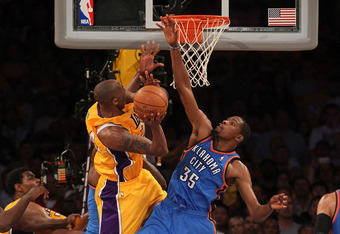 Stephen Dunn/Getty Images
"It feels a lot like some of the other championship teams. In saying that, we haven't done anything yet," Duncan said. "We've won two rounds. We haven't done anything so you can't qualify, or classify our team as anything other than that we've gotten this far."
Duncan has boosted his scoring from 15 points a game in the regular season to almost 18 per game in the playoffs.  Meanwhile, the Spurs will look to another All-Star in Tony Parker to slow down Westbrook. 
At 30, Parker is seven years older than Westbrook, but the difference in age won't stop him from challenging the talented guard. 
Like Vitale, I love the Big Three that the Spurs put on the floor each night. When you add a sharp shooter like Manu Ginobili to Duncan and Parker, you have an experienced core that's been around the block a few times.  In crunch time, experience usually wins.
The Thunder will surely cause a stir when Durant or Westbrook go on runs.  And with the team's overall youth and explosiveness, they can be downright pests.
But San Antonio can really defend, like some of the old Celtic teams, led by Larry Bird, Kevin McHale and Robert Parish.
Perhaps we'll see a series that resembles the early classics between Kareem Abdul-Jabbar's Lakers and the Celts.  It should be exciting, but as Boston proved a time or two, don't bet against the slow, old guys, who still know how to play fundamental basketball.