Everth Cabrera and Alexi Amarista Turning Things Around with San Diego Padres
May 25, 2012

Denis Poroy/Getty Images
The San Diego Padres made some big changes to their middle infield on May 18 when they released veteran second baseman Orlando Hudson, put veteran shortstop Jason Bartlett on the disabled list and called up youngsters Alexi Amarista and Everth Cabrera to replace them.
This was the right move at the right time for the beleaguered Padres. It has yielded positive results already and will significantly improve their standing in the National League for the rest of the season.
A career .276 hitter, Hudson was batting just .211 to this point in the 2012 campaign with 11 runs scored and 11 runs batted in over 35 games. Last year he hit slightly better at .246 but was still well under his historically typical numbers.
Bartlett meanwhile was hitting a disastrously bad .133 when he was placed on the DL. He has apparently been nursing a strained right knee, and it has sapped him of his ability to perform at the major league level.
Both Bartlett and Hudson are two more examples of why it is a bad risk to spend a bunch of money on players in their 30s. In the vast majority of cases, once a player gets past the big Three-Oh, the things they were able to do in their youth are suddenly gone. Sometimes, as in the case of Bartlett, it's due to the injury bug. But usually, it is simply Father Time marching inexorably on.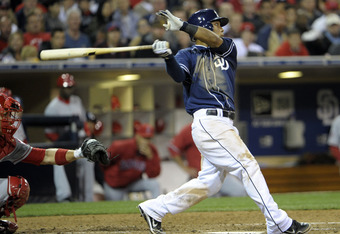 Denis Poroy/Getty Images
Hudson is now 34 years old, and the three worst offensive years of his career have been his last three, batting an anemic .225 in that time. He has not hit more than seven home runs in any of those years either, all career lows (with the exception of the partial season he had as a rookie).
Bartlett's fall from grace happened at age 30 with the Tampa Bay Rays, where he hit a career low .254, and it has been steadily downhill since then with this 2012 season being rock bottom.
And so begins the youth movement in the middle for the Padres.
Cabrera has been up and down from the farm over the last few years, and this experience should help him to finally stick with the major league club. He was hitting .333 with 15 stolen bases in Tuscon before the call-up. Although his .231 average in seven games since the promotion isn't setting the world on fire, it is a dramatic improvement on what they were getting out of Bartlett.
Amarista was hitting a solid .278 on the farm and had even made the Los Angeles Angels roster on Opening Day before being sent down and then moved to the Padres organization.
Thus far in eight games with San Diego, he's hitting just .208, but that puts him right on par with what the O-Dog was giving them, so it hasn't been a downgrade at second base, and his numbers will likely improve as he becomes comfortable seeing major league pitching.
Cabrera is 26 years old while Amarista is just 23. These two players are not only the Padres' middle infield of the future, they're the middle infield of the present. If San Diego hopes to develop into a contender once again, they need guys like this to make the jump to the Big Leagues and get the job done.
What they don't need are tired old men, who can't produce anymore, chewing up large pieces of their tiny team payroll.
San Diego is 3-4 in their last seven games since the changes. That's a 61-point jump in their team winning percentage since the days of Hudson and Bartlett and a good indicator that the youth movement up the middle will pay dividends.
If the kids are able to settle into their roles and continue to produce at their current numbers—or start to produce at a level anywhere close to where they were in the minors—things might be starting to look brighter for the Padres.