Albert Pujols and the LA Angels: Long-Term Deals for Old Guys Are a Bad Bet
May 17, 2012

Jonathan Moore/Getty Images
The Los Angeles Angels of Anaheim signed free agent Albert Pujols to a 10-year, $240 million contract during baseball's offseason.
His career .328 batting average—33rd best all time and tops of any active ball player at the time—along with all the home runs and his World Series performance from last fall all seemed too good to pass up.
Big mistake.
In a month with the Angels, Pujols has not hit his weight and has only picked up two home runs. Not the kind of production the Angels were expecting when they signed him.
However, this shouldn't have come as a surprise to them or to anyone else. The reality of baseball—and most other professional sports—is that careers generally end abruptly once a player gets to the Big Three-Oh.
Baseball history is littered with the corpses of players who were in the primes of their careers through their late 20s and who suddenly, when they reached their 30s, were seemingly incapable of doing anything that they could do previously.
George Bell was the AL MVP in 1987 when, at age 27, he hit 47 home runs and drove in 134. He lost his swing and was retired by age 34.
Hall of Famer Ralph Kiner led the NL in home runs seven straight years in his 20s; at age 31 his power disappeared, at age 32 so did his batting average. At age 33 he was out of the game.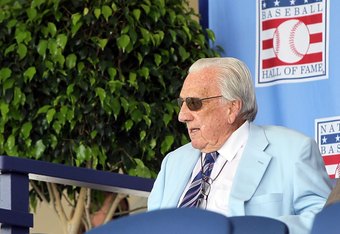 Jim McIsaac/Getty Images
Alvin Davis won the Rookie of the Year award while with the Seattle Mariners in 1984. Through his 20s he never batted worse than .271 and never hit fewer than 17 homers. His ability to hit vanished at age 30 and he retired at age 32.
Rocky Colavito was one of the most feared hitters in baseball in the late 50s and early 60s, averaging well over 30 home runs and 100 RBI per year to go along with a batting average consistently around the .300 mark. As a 32-year-old, he hit 30 more homers, but his batting average sagged to a career-low .238. He muddled through the next two years, between four different teams, before hanging up his cleats for good at age 35.
And who can forget the cautionary tale that was Adam Dunn's 2011 campaign?
Coming off eight straight years of 30 homers or better, Dunn signed a four-year, $56 million contract with the Chicago White Sox and, at age 31, didn't just have the worst year of his career; he arguably has the worst year in baseball history. His .159 batting average would now be enshrined as the lowest average ever by a non-pitcher had manager Ozzie Guillen not shut him down for most of September, leaving him short of the required number of at-bats to qualify for the "honor."
To Dunn's credit, he dedicated the offseason to getting into great condition and has had a resurgence at the plate, returning to numbers that are far more typical for his career. But the season is still young and another injury such as he tried to play through last year could completely derail his efforts again.
In fact, it should be celebrated when a player even gets to his 30s and still has a job in The Show; statistical analysis indicates that the average Major League career is a mere 5.6 years long, with one in five players not getting past their rookie season.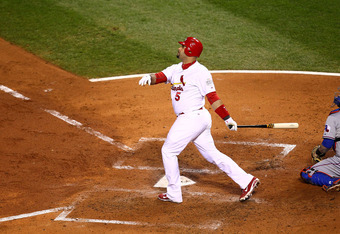 Dilip Vishwanat/Getty Images
The fact of the matter is that age is a harsh mistress. Aches and pains that a young person could shrug off become nagging issues as we age; fastballs a hitter could drive into the gap as a 25-year-old get fouled off when their reactions fade just a fraction. In a game where the best of the best can expect to fail 70 percent of the time, even a minute drop off in a person's abilities will end their career.
This is why red flags fly all over the place when a player suddenly becomes better in his 30s, such as in the cases of alleged performance enhancing drug abusers Barry Bonds and Roger Clemens.
Clemens is a perfect example in fact. After reeling off three Cy Young awards in his 20s, Clemens had the highest ERA of his career at age 30 followed by three more decidedly unremarkable seasons before the Red Sox finally cut him loose. After joining the Toronto Blue Jays and meeting trainer Brian McNamee, he suddenly—miraculously—won back-to-back Cy Young awards with two of the best years of his career.
Then another curious downswing happened when Clemens moved to the New York Yankees. Until McNamee and his "magic" training techniques showed up again and suddenly Rocket Roger was a Cy Young candidate again.
Curiouser and curiouser.
A handful of exceptional athletes can maintain their skills longer than other players but suddenly getting better than you ever were before? We simply aren't built that way.
Which brings us back to Albert Pujols. While it is likely that his numbers will improve as he settles in with the Angels and gets familiar with the pitchers he's now facing (he has improved his batting average by 20 points in just the last 10 games, in fact), it is reasonable to assume that his best days are behind him and that the .300/30/100 days of his prime are gone forever.
And that means that the mammoth contract the Angels laid out for him wasn't just imprudent; it was flat out stupid.
Age is a harsh mistress, and major league teams should know that by now.
Follow me on Twitter @calgaryjimbo