Oakland Raiders: Six Rookies Who Will Make an Immediate Impact in 2012-13 Season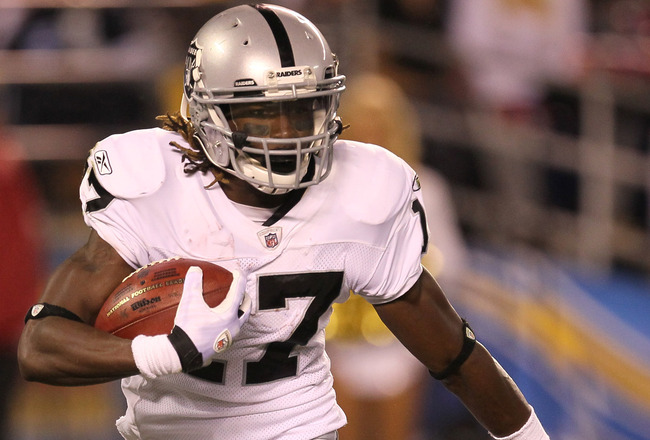 Denarius Moore
Stephen Dunn/Getty Images
Which rookie will turn out to be the star in 2012? While it's too early to predict who, if any, will be extraordinary this year, I do believe that we truly are on the brink of a new and winning era for the Oakland Raiders.
While the passing of the Raiders' late owner Al Davis was certainly a huge loss to the entire world of football and especially to the Silver and Black, the new year brings a new head coach in Dennis Allen, and a new general manager in Reggie McKenzie, and I have faith that they will take the Raider Nation back where we need to be—to the top. Just win baby!
Miles Burris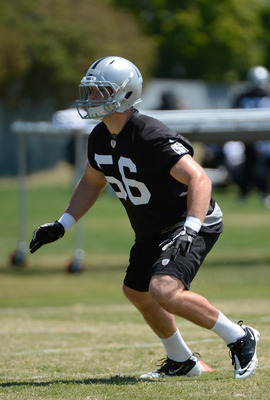 Miles Burris
Thearon W. Henderson/Getty Images
Linebacker Miles Burris was an important pick in the draft and may be the most likely rookie to crack the starting lineup in 2012. He grew up an Oakland fan, and although he's expected to start out at outside linebacker he's said to be versatile enough to play in a number of positions and could make a positive contribution to special teams. The 6-foot-2, 246 pounds player told the San Francisco Chronicle that he is "eager to help wherever they need me," and added, "I just want to contribute to this organization and am just very excited to be a Raider."
Defensive coordinator Jason Tarver remarked, ''He loves football, you can see it already. 'He got better today from yesterday. Excited about Miles. Love to put him in the mix with these linebackers and compete. The group got better. Now, we're going to put him in there, we're going teach him how to play and let him compete. Competition makes you better.''
Aaron Henry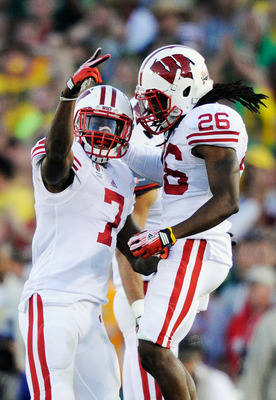 Aaron Henry
Kevork Djansezian/Getty Images
The safety out of Wisconsin, Aaron Henry, was one of the many undrafted rookie signings. Henry chose the Raiders over the Dallas Cowboys, the Cleveland Browns and Detroit Lions, and remarked that he felt the situation with the new coaching staff in Oakland was ideal commenting, "I can go in and show them what I'm made of, and go in and prove myself."
Henry has the kind of attitude the Raiders need, and was also selected to the 2011 All-Big Ten First football team. He was overlooked for an invitation to the Combine but reportedly many of the Scouts were shocked to not see him there. He stated in March, "In my 40 time, I did a (personal best) 4.53. I jumped an all-time high—I jumped 39 ½ (inches)—and when I was down training I was jumping 32, 33s, 34s. I got 16 reps on the bench. I felt like I fared well."
Nathan Stupar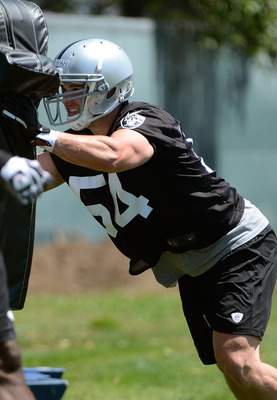 Nathan Stupar
Thearon W. Henderson/Getty Images
Linebacker Nathan Stupar wasn't a well-known name in the 2012 NFL draft, but he's a solid tackler as well as the nephew of Raiders' former quarterback, Jeff Hostetler. I think Stupar might surprise us all and become one of the stand-out rookies this coming season. The 6'2", 241 pounds player hails from Penn State and he seems to bring the passion and energy that we need on the Silver and Black.
When Stupar spoke with the Raiders' Jeanette Thompson, he told her he was very excited to be joining the Raider family. He also remarked that he will "not let the Raider Nation down."
Rod Streater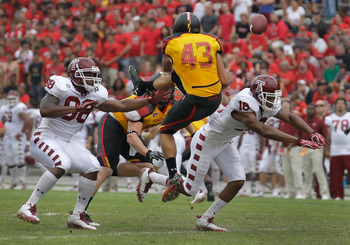 Rod Streater
Rob Carr/Getty Images
Rod Streater was another undrafted free agent signing. He's a wide receiver out of Temple University, and during his two years there he caught 49 passes for 882 yards and was credited with seven scores.
At the team's recent rookie minicamp, head coach Dennis Allen took notice of Streater and remarked that he "has done a really nice job."
Earlier this week, according to Levi Damien of SilverandBlackPride.com, he was said to continue to outstanding effort as a "favorite to hang on to a roster spot among the undrafted free agents on this team."
Damien noted that Streater made some "fine catches," and had nearly a flawless day catching the football.
Tony Bergstrom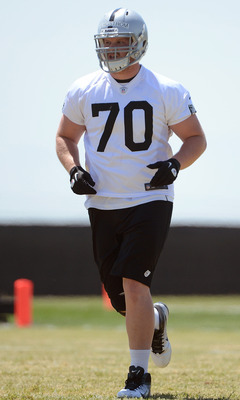 Tony Bergstrom
Thearon W. Henderson/Getty Images
Offensive lineman Tony Bergstrom comes the University of Utah and was the Raiders' first pick in the 2012 draft. The 6-foot-5, 315-pound player is said to be another tough player with a lot of intelligence and is likely to compete with Cooper Carlisle for the starting left guard position.
With his experience in a zone blocking scheme, there is talk that he could even win the starting job at training camp.
You have to like Bergstrom's work ethic too. He remarked, "I'm not stranger to coming home and studying all day and spending time with the family instead of going out at night. As soon as I get my playbook, I'm going back to that lifestyle of just studying every day and doing my workouts. I think having that schedule that you get used to, that's kind of a big part of maturity."
Juron Criner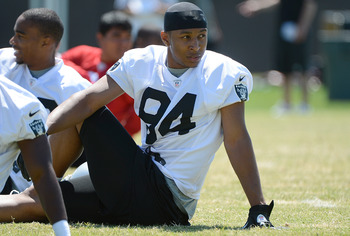 Juron Criner
Thearon W. Henderson/Getty Images
Almost everyone is talking about Juron Criner. The Arizona wide receiver may have the best chance of becoming this year's Denarius Moore.
Head coach Dennis Allen commented on a video of Criner stating, "Watch the tape, the guy is productive. And he's been productive at a high level. The Pac-12 is a good football conference. Usually when a guy is productive at a high level in college, they tend to be the same way in pro football."
At training camp recently, Paul Gutierrez of Comcast SportsNet was also rather impressed and tweeted, "Beauty TD catch by Criner, 50-yard bomb from Carson, goes up and between DVD and Tyvon," followed by, "Criner with another ridiculous catch, this one over the shoulder to beat No. 26."
There is no doubt that Criner gives the Raider Nation just one more reason to look forward to the 2012 season.
A New Era for the Oakland Raiders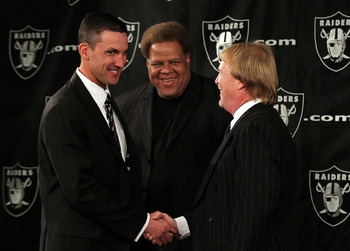 Dennis Allen, Reggie McKenzie, Mark Davis
Justin Sullivan/Getty Images
Hopefully these rookies will help lead the Raiders back into national prominence. I have faith that they will.
Just win baby.
Keep Reading

Oakland Raiders: Like this team?