Who Would the Miami Heat Rather Play, Celtics or 76ers?
May 25, 2012

Drew Hallowell/Getty Images
Thanks to Thursday's Game 6 win over the Indiana Pacers, the Miami Heat have a spot reserved for them in the Eastern Conference Finals; but their opponent in that seven-game series is still to be determined.
What's not unclear is who the Heat should be rooting for as they would much rather play the Philadelphia 76ers instead of the Boston Celtics.
The reason why is obvious— the Sixers have a very hard time beating the Heat.
Philadelphia went winless in four regular season meetings with the Heat this season, and have lost their past 10 regular season battles dating back to the 2009-10 season. The Sixers haven't beaten the Heat since March 15, 2009; so they should have very little confidence in defeating Miami in a seven-game series, with or without Chris Bosh in the lineup.
Looking even closer, the Sixers have lost this season's four meeting by an average of 13.25 points per game; so they haven't competed very well, even though the past two meeting were each decided by only six points.
The Sixers don't have the offensive firepower to beat the Heat; and defensively, they had a very tough time with LeBron James, who averaged 29.3 points, 8.5 rebounds, 6.3 assists, 2.3 steals and 2.0 blocks in the four previous meetings.
All around the court, Miami is just a bad matchup for Philadelphia.
Boston, on the other hand, gave the Heat fits—especially in the month of April.
The Celtics have won six of the eight regular season meetings, going 3-1 against Miami each of the past two seasons.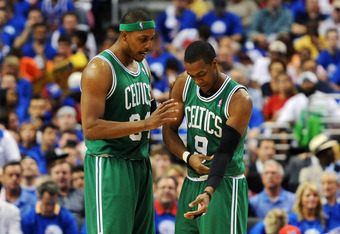 Drew Hallowell/Getty Images
In particular, Rajon Rondo owned Miami.
The Heat have had their problems during the season with athletic point guards; but Rondo especially. The three-time All-Star averaged 18.7 points, 13.7 assists and 7.7 rebounds against the Heat this season.
His playmaking ability alone can give Miami problems.
In addition, seven different Celtics averaged in double-figures against Miami on the season.
While Miami can certainly defeat the Celtics in a seven-game series, it's also one they can lose.
The same can't be said for playing the Sixers.
So with all things being equal, you can bet the Heat would much rather take on Andre Iguodala and company than have to deal with a Celtics team that could be a thorn in their side.