Why NBA Fans Would Love a LeBron-Kevin Durant Heavyweight Bout in Finals
May 25, 2012

Jamie Squire/Getty Images
Before the 2011-12 NBA season began, many experts predicted that the Miami Heat and Oklahoma City Thunder would meet for the NBA championship. Now that each team is within four wins of making that a reality, there's one reason NBA fans should be rooting for both Miami and Oklahoma City in their respective conference finals: Kevin Durant versus LeBron James is a dream NBA Finals matchup.
Durant vs. James not only showcases the two best basketball players in the game today, but it's comparable to a heavyweight fight. It's the NBA's version of Evander Holyfield vs. Mike Tyson—without the ear-biting, of course.
Durant and James squaring off, knocking down big shot after big shot, is also must-see television. It's the NBA's version of supplying drama and the suspense of good vs. evil.
Would you rather watch an episode of CSI or get some real prime-time time drama in the Heat vs. the Thunder?
LeBron and Miami would be cast in the role of villains—a team built via free agency with the acquisitions of LBJ and Chris Bosh to go along with superstar Dwyane Wade. They've become the team that people love to hate, and nothing would be as compelling as LeBron vying for his first ring against what has become America's darling.
Durant and the Thunder would certainly be the babyfaces in this epic battle.
Oklahoma City is viewed as the anti-Miami Heat, and Durant is certainly the anti-LeBron, being a humble and quiet superstar. Unlike the Heat, the Thunder were built from within and not bought. Durant, Russell Westbrook and James Harden were all original draft picks of the organization.
Forget the basketball, the storylines alone between the two teams will make for an interesting series.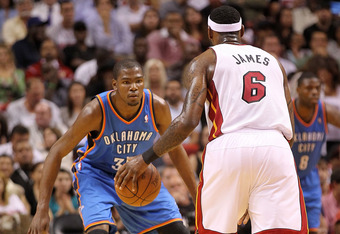 Mike Ehrmann/Getty Images
But there's some on-court stuff that makes this potential finals matchup compelling as well.
The two teams split a pair of regular season games, with each superstar rising to the occasion during their respective victories.
However, one storyline particularly worth following will be the closing abilities of both Durant and LeBron. Durant has become the best late-game clutch player in the NBA, especially this postseason. Meanwhile, LeBron is still widely criticized for his performance in those exact situations. With both players having a fantastic postseason to date, the season wouldn't have any better ending than seeing the two best players in the league go head-to-head, both in search of their first championships.
This potential NBA Finals series has everything a basketball fan wants and everything the NBA needs. At the very least, it will make for some very compelling television.