Los Angeles Lakers: Best and Worst-Case Scenarios for Next Season's Roster
May 25, 2012

Ronald Martinez/Getty Images
When the 2011-12 season began, Kobe Bryant and the Los Angeles Lakers probably didn't expect to be watching the Western Conference Finals from home.
Given the fact that they are, general manager Mitch Kupchak has some work to do in order to turn the Lake Show into championship contenders in 2013. That makes the upcoming offseason very important as things could go in multiple directions for the Lakers.
The good news is that Kupchak is an aggressive general manager who's not afraid to make the unpopular move in order to try to win a championship.
Kupchak recently told ESPNLosAngeles.com's Brian Kamenetzky that he's open to pulling the trigger on a big deal or two.
Why not? Sure. When you lose, and we went through it last year and we didn't make really, other than at the trade deadline, we didn't do anything last year, but when you lose before you think you should have lost, you have to open up all opportunities.
That brings me to the best-case scenario for next season.
The Lakers must have a quality point guard to run the offense. Kobe Bryant isn't the facilitator he once was and Ramon Sessions clearly couldn't keep up with the athletic point guards in the Western Conference.
According to Sam Amick of SI.com, Brooklyn Nets point guard and upcoming free agent Deron Williams has said that he would be interested in a sign-and-trade deal to the Lakers.
That should be all Kupchak needed to hear before making this priority No. 1 for the offseason.
Kupchak would have to deal Pau Gasol to Brooklyn to free up the necessary cap space, but I'm sure the Nets would rather have Gasol than risk letting Williams sign as a free agent with Dallas, where they would get nothing in return.
In addition, it appears more likely now than ever that the Orlando Magic will deal All-Star center Dwight Howard, and a Howard for Andrew Bynum deal makes sense.
Kupchak can then elect to not use the amnesty clause on Metta World Peace after a strong April and postseason and have his starting lineup nearly filled out.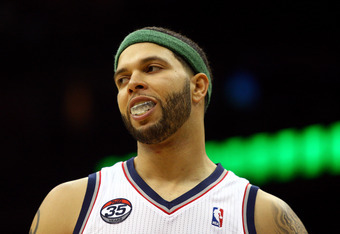 Chris Chambers/Getty Images
There will be a hole at the 4 and not a lot of money to fill it out with, but if his legal troubles clear up, re-signing Jordan Hill will be an option.
That leaves the best-case scenario lineup as Williams, Bryant, World Peace, Hill and Howard.
Meanwhile, the worst-case scenario lineup doesn't look a lot different than it did when the season ended.
Sessions exercises his option and Kupchak can't find a taker for Gasol, which means signing free agents becomes very difficult.
It would get more ugly if Sessions elects to not return to Los Angeles. If Kupchak can't move some money from the payroll, there won't be a lot to spend on a point guard.
The Lakers must get more athletic than the roster that finished the season. Competing with the athletic teams in the postseason becomes a more difficult task with each year.
While they may not be as good as what the best-case scenario lays out, I'm sure they will settle for something in between as improvements definitely need to be made.