There were a lot of reasons to pick the Indiana Pacers to win game six of their series with the Miami Heat. They were home in an elimination game in front of a college-like enthusiastic crowd. The Heat were missing big men Chris Bosh, Udonis Haslem and Dexter Pittman. There was talk that Eddy Curry might play. That's just crazy talk.
Here's why the Heat closed out the series last night. They lead the Pacers in stars, two to nothing.
Dwyane Wade torched the Pacers for 26 points in the first half and finished with 41. LeBron James chipped in with 28. Goodnight all.
Yes, Batman and Robin got some help, as Mario Chalmers had 15 and Mike Miller had 12. But make no mistake about it, this was about the stars not the supporting cast.
By the time the Pacers finally started trapping Wade to get the ball out of his hands it was too late. And when giving up the ball means it goes to LeBron, the Heat can live with that.
As good a job as Frank Vogel has done coaching the Pacers, they didn't play a very smart game last night. They forgot about their huge advantage inside in the second half. Pounding it in to Roy Hibbert and David West in the first half got them 34 points in the paint. The Pacers only scored 12 second-half points in the paint. Hibbert and West combined to shoot 15-for-24. Big mistake.
The Pacers had terrible spacing and ball movement the whole game. Turning the ball over 20 times will lose you a game every time, especially playing the Heat, who turned it over only nine times.
The Pacers just looked like the moment was too big for them. Darren Collison had a double dribble in the fourth quarter. West got a foolish technical for smacking Shane Battier in the back of the head after a play.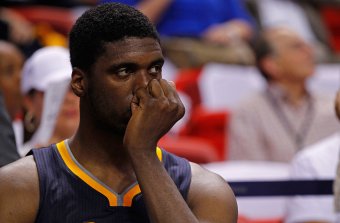 Mike Ehrmann/Getty Images
The Heat did something in game six that hadn't been done all series: they won a game while losing the rebounding battle. The Pacers, not surprisingly, out-rebounded the Heat, 37-26.
Stars win in the NBA. Talk all you want about parity—it has never existed in the NBA. The Celtics have won 17 titles, the Lakers 16, the Bulls six and the Spurs four. That's it. That's the list of franchises with at least four championships.
What do they all have in common? Stars.
Check out the list of NBA Finals MVPs. The only possible exceptions to stars winning might be 2011 with Dirk Nowitzki of the Dallas Mavericks and 2004 with Chauncey Billups of the Detroit Pistons. I would argue they are stars.
It certainly seems as if that means the Boston Celtics will beat the Philadelphia 76ers and advance to play the Heat. That gives us a Final Four that is star-studded—as it always is.
Follow me on Twitter @sprtsramblngman