Fedor Emelianenko and the 15 Best Heavyweights of All Time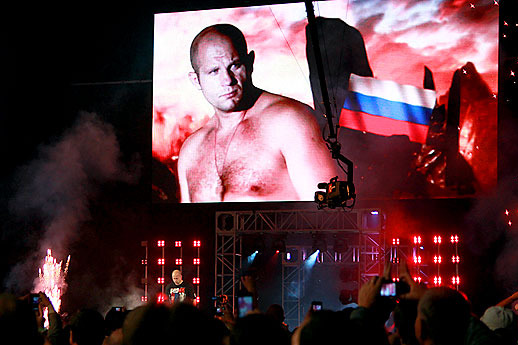 mmaweekly.com
In preparation for UFC 146 on Saturday, MMA fans should take a glance at just how far the heavyweight division has come in MMA.
As the sport continues to grow, these names will likely fade from fans' minds, but they should never fade from the history books they helped write. Names like Emelianenko, Nogueira and "Cro Cop" will forever be etched into our minds as some of the best heavyweights to grace the sport of MMA.
There's also a litany of other fighters that should have their place in history remembered as well. Some have had controversial pasts or are going through current struggles that make their place on this list laughable, but a glance at their track record would make any fan think twice about discrediting these fighters' history.
Whether they made history overseas or in North America, all of these fighters deserve to be remembered as some of the best to compete in the heavyweight division.
Begin Slideshow

»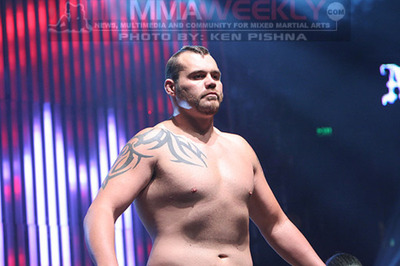 mmaweekly.com
Although the brunt of many jokes in the MMA community, Tim Sylvia still holds one of the more esteemed heavyweight careers. The jabs about the talent level during his time on top will be the topic of discussion, but the fact remains that Sylvia was a two-time UFC champion and is tied for most title defenses.
He won't get as much credit as he deserves due to his relationship with the fans, but he is one of the most accomplished heavyweights in UFC history. The MFS product was able to build a successful career by using his large frame to keep opponents at bay while delivering power shots of his own.
Sylvia holds wins over Andrei Arlovski, Jeff Monson, Ricco Rodriguez and Ben Rothwell among others.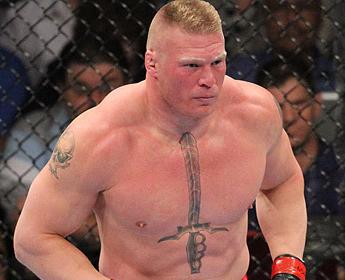 mmaweekly.com
His MMA career may have been brief, but it was one wild ride for Brock Lesnar. His UFC career got off on the wrong foot as he was submitted by jiu-jitsu ace Frank Mir.
That didn't seem to stop Lesnar's momentum in the sport as he ran through the durable Heath Herring and secured the UFC Heavyweight crown in just his fourth professional MMA bout.
Regardless of how fans feel about his exit from the MMA scene, Lesnar brought legit wrestling skills with freakish athletic ability for someone his size. For a guy who can't take a punch, he sure accomplished a lot more than 90 percent of heavyweight fighters in MMA history.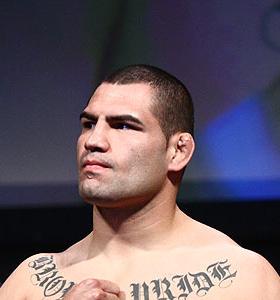 mmaweekly.com
Like many heavyweights on this list, Cain Velasquez comes from a wrestling background. Velasquez wrestled at the D-I level for Arizona State and has used that skill effectively thus far in his MMA career.
However, Velasquez has developed his two greatest assets since moving to the AKA camp: his cardio and kickboxing. The former UFC champ has one of the best array of strikes in the division, easily mixing punches and kicks into fluid combinations. He also has a virtually unlimited gas tank and has yet to fade in a fight.
Velasquez tasted the sting of defeat for the first time against Junior dos Santos last year to drop the UFC title, but that should only push the AKA product into becoming a better fighter in the future.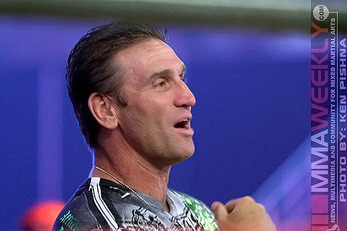 mmaweekly.com
Ken Shamrock may have finished his career in the light heavyweight division, but the heavyweight division is without a doubt the place that earned him the moniker "Most Dangerous Man in the World."
Shamrock made a name for himself in the MMA world by competing in Pancrase where he defeated the likes of Bas Rutten, Maurice Smith and Masakatsu Funaki.
One of the most storied careers, Shamrock could've accomplished a lot more in his UFC career had he not gone to the WWF but he was still one of the major names in the earlier days of the sport.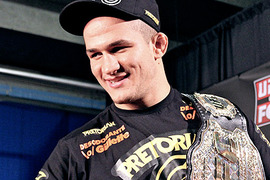 mmaweekly.com
Junior dos Santos may be adding to his career accomplishments and has only been in the game for a short time, but the current UFC champion has looked dominant to say the least.
Dos Santos has beaten K-1 level kickboxers, BJJ black belts and collegiate wrestling champions in his path to the UFC title. It's not even the fact dos Santos has emerged victorious as he has some of the best boxing in MMA history, but it's also the manner in which he's defeated his opponents.
Leaving a path of destruction en route to becoming the top dog would be an understatement when describing dos Santos' career thus far.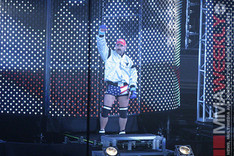 mmaweekly.com
One of the more colorful competitors in MMA history, Don Frye can always be found near the top of any fan's list for favorite fighters. Besides having a wonderful personality, Frye also has some serious MMA credentials to his record.
Frye won the UFC 8 tournament in just barely over three minutes with two KO's and one submission to punches in the tournament finals. He would be the runner-up in the UFC 10 tournament, losing to only future UFC Hall of Famer Mark Coleman.
Frye's career will be remembered by two bouts for two very different reasons. His rivalry with Ken Shamrock concluded in one of the most intense battles in the sport's history, and his brawl with Yoshihiro Takayama is still one of the most entertaining bouts to watch.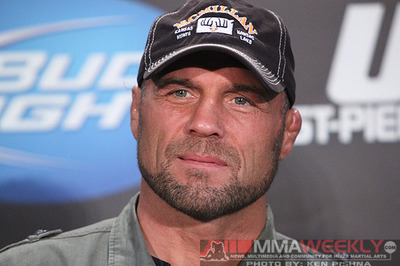 mmaweekly.com
Although not a full-time competitor in the heavyweight division, Randy Couture's accomplishments shouldn't be overlooked.
He's won the UFC Heavyweight title three times and successfully defended the title three times, the latter being a UFC record. Couture defeated Kevin Randleman, Pedro Rizzo and Tim Sylvia to win the UFC heavyweight crown.
Being a master game-planner allowed Couture to overcome some of his physical disadvantages while competing with the big boys. He may have not fought at heavyweight very often, but he will definitely be remembered as one of the all-time bests in the division.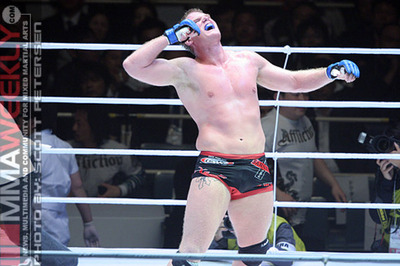 mmaweekly.com
A catchwrestling expert, Josh Barnett added a deadly submission game to his repertoire in becoming one of the best heavyweight fighters of all time.
Barnett began his career on a 10-0 run but was stopped by another great heavyweight in Pedro Rizzo. Barnett would rebound and go on to defeat Randy Couture for the UFC Heavyweight title. It was here where Barnett's checkered career with PED's began to take shape as he was stripped of his title following the victory for failing a drug test.
"The Warmaster" would put together a nice career overseas but would once again be hampered by drug tests as he attempted to resurrect his career in the states through the Affliction promotion. Barnett was on the way to becoming an elite level heavyweight fighter again, but was thoroughly beaten by Daniel Cormier in the Strikeforce Heavyweight Grand Prix finals.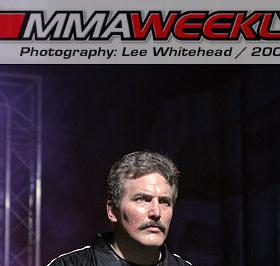 mmaweekly.com
One of the true pioneers of MMA inside the UFC, Dan Severn used his strong wrestling to control and manhandle his opponents.
Severn was one of the first competitors to take away some of the aura of invincibility from Royce Gracie by lasting nearly 16 minutes with the BJJ ace, but he would eventually become a two-time UFC tournament winner.
"The Beast" holds victories over Ken Shamrock, Oleg Taktarov and Forrest Griffin among his 101 victories.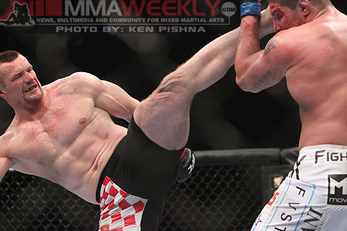 mmaweekly.com
Fans had some high expectations for Mirko "Cro Cop" given he was one of the most accomplished kickboxers to ever compete in MMA.
"Cro Cop" used those kickboxing skills to become the owner to some of the greatest highlight-reel finishes in MMA history, such as his head kick KO of Wanderlei Silva."Cro Cop" became one of the most feared strikers during his prime in Pride as he not only had some of the best striking but also some of the stiffest takedown defense.
Although "Cro Cop" was never able to win a heavyweight title in Pride or the UFC, fans cannot question the fact that the Croation fighter was one of the best heavyweights in MMA history.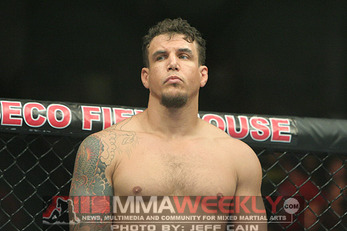 mmaweekly.com
Perhaps one of the more overrated or underrated (depending who you ask) heavyweights to compete in MMA. He's certainly one of the most decorated fighters in UFC history.
A two-time UFC heavyweight champion, Mir originally entered the UFC as a jiu-jitsu ace that used his BJJ skills to secure a number of submission victories, including a breaking of Tim Sylvia's arm to win the title.
A motorcycle accident took years off of Mir's career, but he has since recovered and developed a new-found dedication to the sport. After completely transforming his body to cope with the new wave of stronger heavyweights, Mir has also developed a very nice striking game as well.
Mir holds victories over such notable opponents as Antonio Rodrigo Nogueira, Brock Lesnar and Mirko "Cro Cop."
mmaweekly.com
When mentioning guys who helped the sport grow, one name you'd have to mention is undoubtedly Bas Rutten. The master of the liver punch/kick ruled the world of Pancrase before fans truly knew what the UFC was.
In Pancrase, Rutten would have legendary battles with Masakatsu Funaki and Frank Shamrock among others. Since Rutten's last career loss to Ken Shamrock in 1995, the Dutch fighter won and unified the King of Pancrase title.
He had a great MMA career but could possibly be on the way to having an even bigger career as an MMA analyst.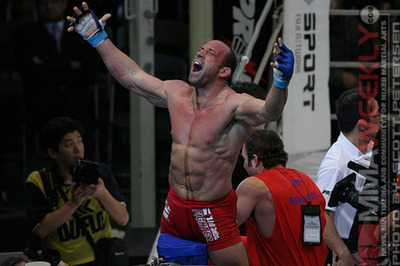 mmaweekly.com
No list of heavyweight legends would be complete without mentioning "The Godfather of Ground and Pound" Mark Coleman.
A Division I national wrestling champion at Ohio State and Olympic competitor, Coleman transformed his strong wrestling into a deadly art form by adding some serious strikes. Having Coleman on top of you in a MMA fight was akin to being mauled by a grizzly bear during his prime.
Coleman won two UFC tournaments and became its first heavyweight champion by defeating Dan Severn. He also won the 2000 Pride Openweight Grand Prix.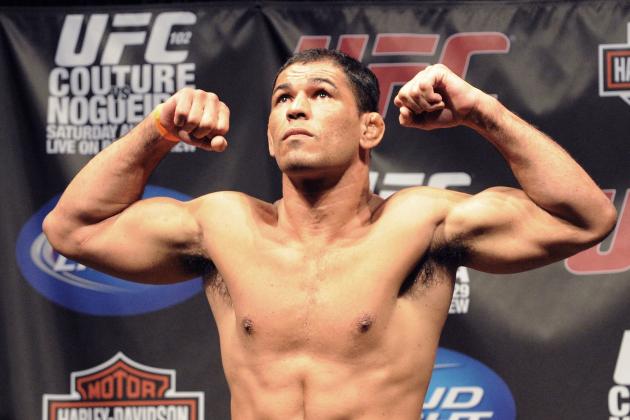 Jon Kopaloff/Getty Images

One of the greatest legends to compete in MMA, Antonio Rodrigo Nogueira will undoubtedly be near the top of lists like this for years to come. A true master of BJJ, Nogueira has used his submission skills to make many of his foes tap out from the pain.
Other than having slick submission skills, Nogueira gained a strong fanbase from his numerous come-from-behind victories in Pride where he became the first Pride Heavyweight champion.
During Nogueira's run in Pride only Josh Barnett and Fedor Emelianenko were able to defeat the MMA legend. He holds victories over top heavyweights Barnett, Mirko "Cro Cop" and Fabricio Werdum among others.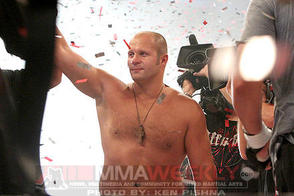 mmaweekly.com
Fedor Emelianenko's run in the heavyweight division will likely never be matched. Emelianenko ruled the division for years, going undefeated from 2001-2010. The Russian-born fighter possessed world class Sambo skills but also had some of the most powerful strikes in the division.
What made Emelianenko so great was that he'd routinely defeat his opponents where they least expected him to: in their worlds. He out-struck the K-1 strikers like Mirko "Cro Cop" and survived inside the dangerous guard of BJJ expert Antonio Rodrigo Nogueira.
His downfall may be remembered most by fans today, but we should never forget the run of dominance Emelianenko had inside the Pride ring.