How to Repair the Ridiculous Voting Process for NBA Awards
May 24, 2012

Mike Ehrmann/Getty Images
There has been a lot of talk about how to fix the voting process for NBA awards. 
After Tyson Chandler was awarded the Defensive Player of the Year award and wasn't then named to the All-Defensive first team, people weren't impressed. They also couldn't get over the fact that Carlos Boozer had been given a vote (I'm not arguing that, either). 
The All-Defensive teams were especially interesting because LeBron James --who received the most votes of any single player-- was the only player who appeared on all eligible 29 ballots. How does that even happen?
Every season we end up in discussions about the voting process for these awards and every season we talk about how people got them wrong. The solution seems to be a simple one.
Let the players vote.
I'm not the only one who thinks this way, either. New Orleans point guard Jarrett Jack tweeted as much yesterday, also saying that there's nothing more flattering than getting praise from your teammates and peers.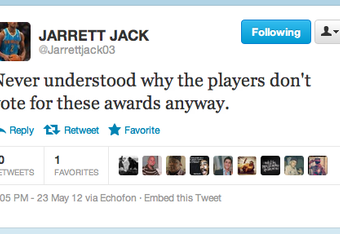 He's right.
We currently have sports writers voting for some awards and NBA coaches voting for others. Unfortunately, some coaches hand their votes off to their assistants, or rush through them without giving them any thought. Even for writers who cover a team daily, it can be tough to follow everything that's going on in the entire league when they're living and breathing the beat that they're on.
Even when thinking about the All-Star game, this idea works. How fun would it be to see players vote for their own captain and then those captains pick their respective teams? 
With players voting for awards, if we get angry or disagree, we have no one to blame but the players themselves. And even if we disagree, we're disagreeing with the guys who are actually hitting the floor every night and going up against the best players in the world. They know who is the toughest to match up against, and the toughest to stop. They know how high the bar is set for the best of the best. 
If I disagree with someone, I want to disagree with the collective whole of the NBA. And why would they care to take time to put thought into their vote? Because players care about awards. They can say they don't, they can say that the only thing that matters is winning, but every competitive athlete wants to be the best that they can be. Being recognized for being the best is something that fuels them.