Injury to Hakeem Nicks Very Unlikely to Hurt New York Giants
May 24, 2012

Elsa/Getty Images
It takes a lot to faze the New York Giants, a team that suffered a slew of injury setbacks last offseason and yet still showered in confetti and ticker tape come February. 
And while losing a stud 24-year-old wide receiver for a long stretch in season would be a different story, there's no reason to believe the Giants can't survive an offseason without Hakeem Nicks.
Nicks broke a bone in his right foot during practice at organized team activities Thursday, and the early guestimates call for him to miss about 12 weeks. If that's the case, he'll be back with three weeks to spare before the Giants open the season in prime time against the Dallas Cowboys.
And under that scenario, the G-men will be just fine. Nicks would miss the majority of training camp and a good chunk of the preseason, but heading into his fourth year with quarterback Eli Manning and an offense that hasn't changed much during his career, that's not a concern. 
Assuming he can stay in decent shape, a mid-August return would give Nicks plenty of time to prepare for the opener against Dallas.
Now, that's the expected outcome. However, as Mike Garafolo of The Star-Ledger points out, cornerback Prince Amukamara broke the exact same bone during training camp last year and wasn't able to practice until the week prior to his career debut Nov. 20 against Philadelphia. 
Last year, Prince Amukamara broke his 5th metatarsal on Aug. 6. He didn't practice fully for almost 15 weeks. We'll see about Nicks. #nyg

— Mike Garafolo (@MikeGarafolo) May 24, 2012

If that 15-week timetable is the worst-case scenario, Nicks' status for Week 1 would be jeopardized, especially since the defending champs open the regular season four days before the rest of the league.
"He feels very confident about it," Giants coach Tom Coughlin told NFL Network. "The doctors have expressed it as being something that they think will heal very, very well."
If Nicks is forced to miss time
Here's the good news: During his three-year career, the Giants have never lost a game without him. They're a perfect 6-0 sans Nicks. However, two of those games took place during his rookie season when Nicks wasn't as integral to the offense's success as he is now.
Here's the bad news: Mario Manningham was a significant part of the offense on all six of those occasions, with other former Giants like Steve Smith, Kevin Boss and Derek Hagan also playing roles at different points in time.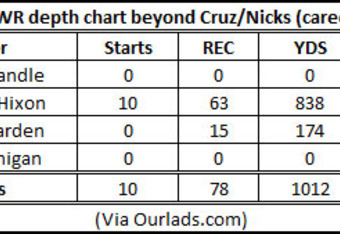 With all of those receiving options gone, the Giants would have to hope for big performances from Victor Cruz, who emerged as the most productive receiver on the team last year. Beyond that, they'd have to hope that oft-injured veteran Domenik Hixon or unproven youngsters Rueben Randle, Jerrel Jernigan and Ramses Barden can stay healthy and emerge to help replace a man who caught 76 passes for nearly 1,200 yards in 2011.
Bleacher Report draft expert Sigmund Bloom wrote earlier that this could be a golden opportunity for Randle, a rookie second-round pick out of LSU considered to be pro-ready.
Barring a serious complication, it's hard to imagine Nicks having to miss any time at all, let alone anything past that Dallas opener. The Giants have 10 days off between that affair and their Week 2 home game against a Tampa Bay Buccaneers team that isn't likely to be given much of a chance at the New Meadowlands, regardless of who's starting in the New York receiving corps.
In fact, with Carolina on the slate in Week 3, the Giants don't face a pass defense that was ranked better than 20th in the league until they travel to Philadelphia in Week 4.
So even if in the far-fetched scenario that Nicks misses a few games, and even if none of those backups are able to emerge, this injury isn't likely to hurt the G-men in the win column in 2012.
The key now for Nicks is to recover fully because there's a very good chance the offense wouldn't be able to survive a re-injury.