10 Philadelphia Eagles Players on the Hot Seat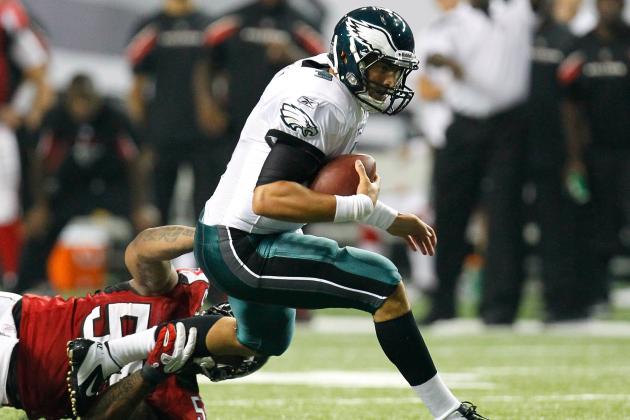 Kevin C. Cox/Getty Images

The competition at OTAs and training camp will be fierce this summer for the Philadelphia Eagles. They are loaded with young talent, savvy veterans and up-and-coming rookies looking to make a splash in their first NFL season. There will be a handful of still talented players who won't make the final roster cut this fall.
There will be a handful of players that have been a part of the 53-man Eagles roster the past couple of seasons that get handed their walking papers. If you're not pegged to be a starter, your job is not safe. There is depth everywhere. When the Eagles have depth at linebacker, you know they have depth everywhere.
When there is this much competition, players can respond in two different ways. Some players step up their game and some fold under the pressure. Some players understand that they are privileged to be in this league, and they work for every opportunity they got, while others expect to be handed a roster spot and feel betrayed when they aren't.
It will be interesting to see how these players respond this summer. Here are 10 players that are on the hot seat and in danger of losing a spot on this team altogether.
Begin Slideshow

»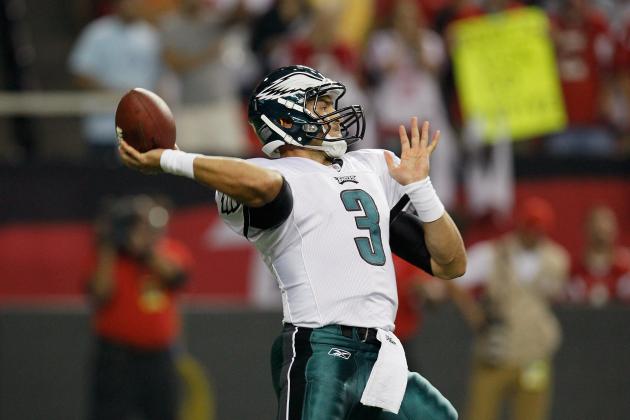 Kevin C. Cox/Getty Images

It's a make-it-or-break-it type of summer for Mike Kafka. This is too important of a season for the Eagles to not have a backup quarterback that they can trust for any given week. If they don't believe in Kafka or his competition, Trent Edwards, they will be going after a veteran to get the job done.
Kafka does a lot of things well. He showed his ability in preseason last year when he led the Eagles in completion percentage, yards and quarterback rating. He also showed his ability when he came in for relief of Vick last season in Week 2. Kafka came in during the fourth quarter against the Atlanta Falcons and completed seven out of nine passes.
Kafka throws a pretty accurate, intermediate ball. He reads blitzes well and moves well in the pocket. What he hasn't shown is the ability to throw the deep ball. Defenses will start bringing their safeties up if he can't drive the ball deep and accurately.
Quarterbacks can get better with their deep ball if they hit the weight room hard and improve their technique. Hopefully, Kafka does just that this summer.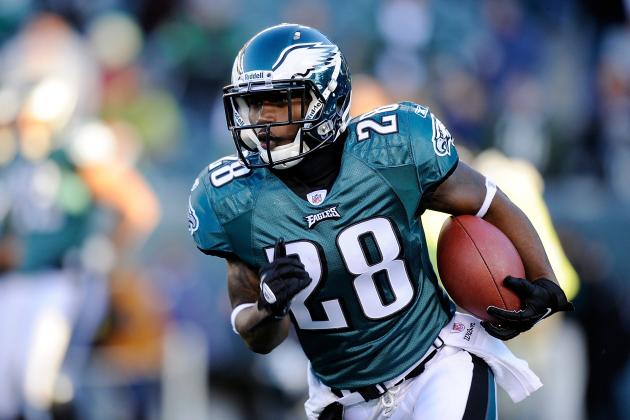 Patrick McDermott/Getty Images

Dion Lewis is a promising young running back. Unfortunately for him, he has to contend with Bryce Brown and Chris Polk in camp this summer. Both players have the talent to be every-down running backs in the NFL. Commitment issues for Brown pushed him out of the first two days of the 2012 NFL draft, and major injury concerns for Polk pushed him out of the draft completely.
Brown is a 220-pound back who runs like he is 190. He has been saying all the right things at camp so far. If he becomes a team-oriented player and picks up the speed of the game quickly, he will be a lock to make the roster.
Polk is another bigger back who catches the ball with ease out of the backfield. He was the center of Washington's offense the past two seasons. Concerns about his shoulders dropped him out of the draft. There isn't a talent or character issue with Polk. If he is healthy, he is an Eagles this fall.
So where does that leave Lewis? That's a good question. He is still a talented back, but he doesn't catch the ball all that well and can't be relied on pass protection just yet. All three backs could be deserving to be LeSean McCoy's backup if all goes well. The Eagles won't keep four running backs. Someone will get cut or traded.
It doesn't matter when each player was drafted or if they went undrafted. The two best players of these three backs will make the roster. Right now, any of these players could get the boot.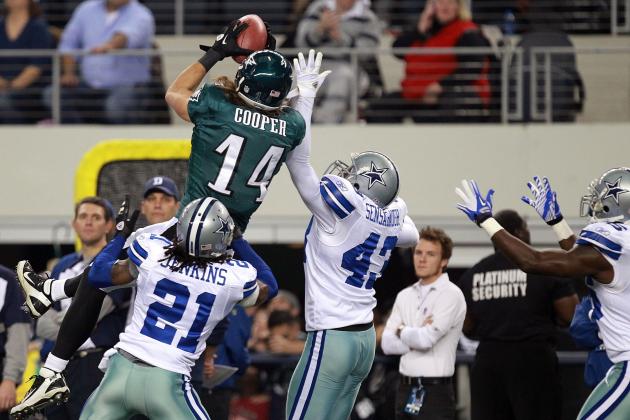 Ronald Martinez/Getty Images

2012 will be the year where Riley Cooper either gets replaced or becomes the red-zone target the Eagles need so badly. He has shown glimpses of being a really good possession receiver. He also also looked soft and passive at times as well.
Cooper has to become a much more physical receiver. He has good size at 6'3", 220, but he doesn't utilize it well enough in traffic. He's also a good leaper. He should haul in at least four or five touchdowns a season as a role receiver who sees a lot of time in the red zone.
Last season, Cooper got a lot more time on the field in his second season. He made three starts and played in all 16 games. He had just one touchdown and 16 catches.
Cooper isn't the only big receiver on the Eagles roster. Marvin McNutt, a sixth-round draft pick, is also long and lean. At 6'3", 215, McNutt has the ability to be a really good possession receiver. He is also a very polished receiver who is used to being the No. 1 target for an offense,
McNutt was the top offensive weapon this past season at Iowa and had over 1,200 yards and 12 touchdowns. He will challenge Cooper for extended time inside the 20.
Cooper knows the offense and has three starts under his belt. If he can't beat out McNutt on the depth chart, he may not even make the final 53-man roster in September. Remember, DeSean Jackson, Jeremy Maclin and Jason Avant are locks to make the team. If Cooper can't crack the top four, he may be on his way out in Philly.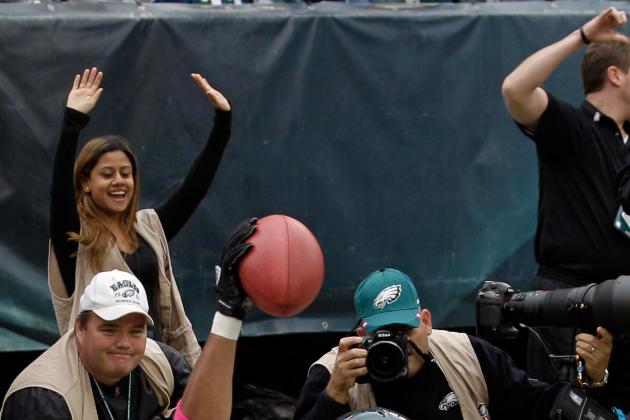 Rob Carr/Getty Images

There was some speculation that the Eagles might draft a tight end at some point during the 2012 NFL draft. They didn't, and Clay Harbor is pretty much guaranteed to be the No. 2 tight end. But, that doesn't mean he is off the hook.
It's a big year for all of the Eagles' 2010 draft picks. It's year three for these players, and the majority of them signed four-year deals. Year three is where a rookie needs to prove their worth. If they don't, year four is usually when they get replaced by a veteran or a rookie from the next draft class.
The Eagles don't need Harbor to be the next Rob Gronkowski. Celek is the man at tight end. Harbor just needs to be a solid receiving option on two tight end sets. Last season Harbor had 13 receptions for 163 yards and one touchdown. That's not exactly setting the world on fire, even for a backup tight end.
The Eagles offense would greatly benefit from two solid receiving tight ends. Their receivers aren't physical enough to consistently make plays over the middle and in the red zone. Harbor is, and the Eagles need to see that on the field.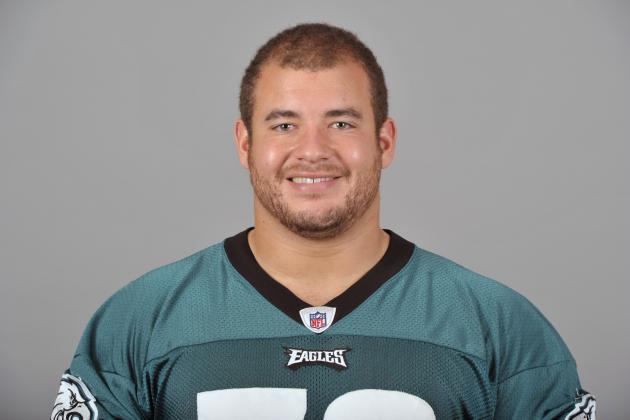 Handout/Getty Images

I have to be honest, I have no idea whether or not Julian Vandervelde will be on the Eagles roster this season. The Eagles signed Mike Gibson, who can play both guard and center and also Brandon Washington in the sixth round of the 2012 NFL draft, who is also a guard. Will the Eagles keep three reserve guards on a very crowded roster?
Mike Gibson has been lining up at guard on the No. 2 team during OTAs. I fully expect him to be the backup center this season. Other than Jason Kelce, he has the most experience at center on the roster. He can play guard as well, so he is a very valuable backup.
I really like Brandon Washington's potential. He is a very physical guard and has the ability to consistently push his man backwards. He played left tackle last season at Miami, but was a guard in previous seasons. He looked much better at guard and will stay there at the pro level. If he shows the potential that he showed early in college he should make this team.
I don't believe the Eagles will really keep three reserve guards when their right tackle, Todd Herremans, has logged a lot of starts at guard. In a pinch, they could move him to guard if absolutely necessary.
Vandervelde has to perform well in camp. He has to prove to the coaches that he deserves to be on this team. He won't be handed a roster spot because he was just drafted last year.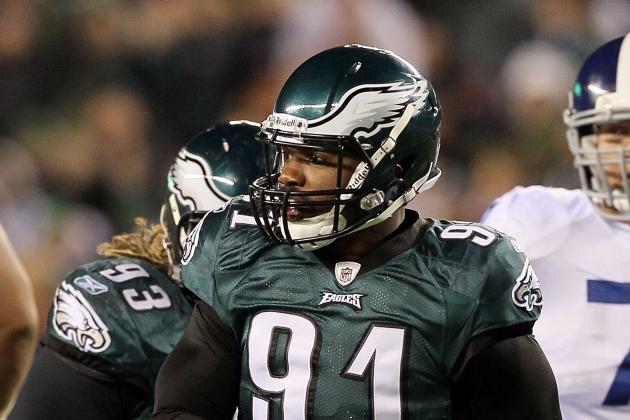 Jim McIsaac/Getty Images

It's a bad summer to be Darryl Tapp right now. He is surrounded by Pro Bowl-caliber players and young talent at his position. He has odd man out written all over him. It would be a major upset for him to make this roster.
Trent Cole and Jason Babin combined for 29 sacks last season. They are locks to make this team. Vinny Curry was the Eagles' second-round pick in this year's draft. He is a pass-rushing specialist who should thrive in the wide-9. Brandon Graham is a former first-round pick from the 2010 draft who is finally healthy and in top shape. Phillip Hunt is in his second season removed from the CFL and has added bulk and speed.
So where does that leave a player who will be making over $2 million in 2012, but has only 5.5 sacks in the past two seasons combined? Probably on another NFL roster. There is depth upon depth at defensive end for the Eagles. Even Jim Washburn will struggle on what to do with all this depth.
Tapp still needs to play well. Eventually, some starting defensive end will get hurt in training camp or preseason. Tapp could become trade bait for that team. No team wants to be left without much of a pass-rush. You can't survive in this league without a pass-rush. Tapp is still a good player; unfortunately for him, he is only the sixth-best defensive end on the Eagles roster.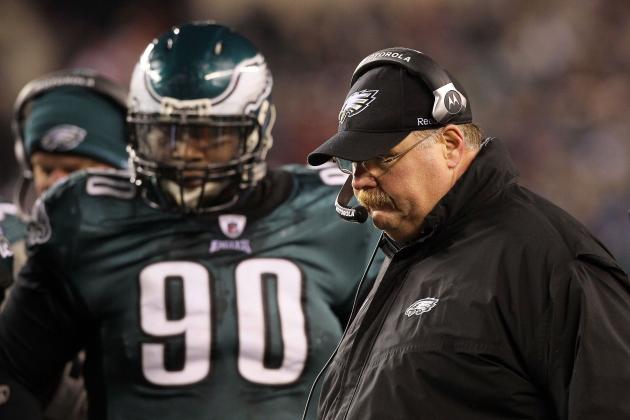 Jim McIsaac/Getty Images

Antonio Dixon was one of the better run-stuffing defensive tackles in 2010 under defensive coordinator Sean McDermott. Then, 2011 happened. Juan Castillo took over as defensive coordinator and Jim Washburn's defensive line scheme changed everything. Dixon didn't get a chance to prove how good or bad he fits into the wide-9, as he was put on IR following a tear in his triceps muscle very early in the 2011 season.
Dixon is still a good run-stuffer, but you have to do more than clog holes in Washburn's scheme. You have to be able to penetrate as well. I believe Dixon can do this, but he will have to prove it quickly. There is a lot of depth at defensive tackle.
The Eagles will probably keep five tackles between Mike Patterson, Fletcher Cox, Cullen Jenkins, Dixon, Derek Landri and Cedric Thornton. Dixon was given a golden opportunity during OTAs with Patterson(brain surgery) and Jenkins(personal) both not participating.
Dixon's performance might be the most important of all the Eagles at OTAs. Patterson and Jenkins will be back for training camp. If Dixon looks great at OTAs, he will have a leg up against those players.
Dixon has the potential to be a solid starting defensive tackle on any defense. He has to prove he is healthy and can penetrate in the wide-9 scheme. If he can do that, he should be a lock to make the roster in a crowded position.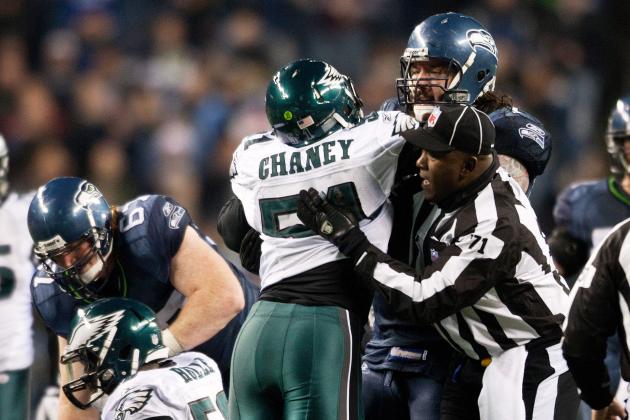 Jay Drowns/Getty Images

Jamar Chaney has a big summer ahead of him. He looked like a franchise linebacker when he took over for Stewart Bradley at middle linebacker late in the 2010 season. In 2011, he was moved to the strong side linebacker position until Casey Matthews had to be replaced at middle linebacker, where Chaney took over for the rest of the season.
Now Chaney isn't the middle or strong side linebacker. He isn't the projected weak-side linebacker either. He is second in the depth chart as the weak-side linebacker, behind Brian Rolle. He wasn't supposed to be participating during OTAs as he recovers from neck surgery. He did, and he will get the respect of his coaches for that.
Chaney has played at both the strong side and middle linebacker positions. He will be worked in at weak side during camp. That means he will have experience at all three linebacker positions. That bodes well for him. There's a lot of competition at linebacker. He could still win a starting spot at weak side if he outplays Rolle this summer.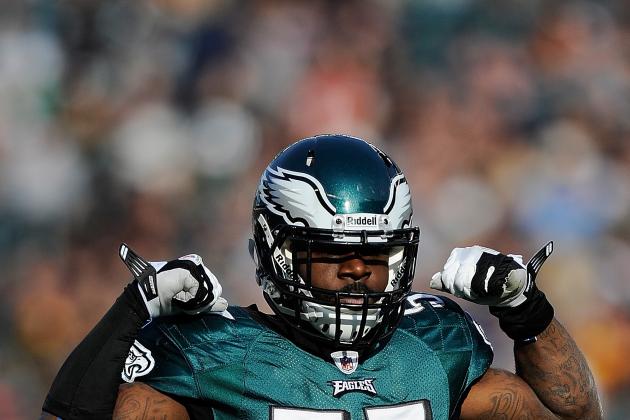 Patrick McDermott/Getty Images

Keenan Clayton is one of a handful of players to miss OTAs. Colt Anderson is still recovering from his ACL surgery. Cullen Jenkins is out for personal reasons. Mike Patterson is recovering from brain surgery, and Clayton is out while he recovers from sports hernia surgery.
Clayton can't afford to miss any reps in OTAs. He could be the odd man out at linebacker. He is a coverage linebacker who excels in nickel packages, but the Eagles have two every-down linebackers (DeMeco Ryans, Mychal Kendricks) who excel in coverage as well, but they can play the run just as well. Clayton can't.
He doesn't have the size or the instincts right now to be good in run support. He will be listed as a weak-side linebacker this summer. He will most likely be behind both Jamar Chaney and Brian Rolle at the position. The Eagles would have to either carry one more linebacker or one less strong-side linebacker in order to keep Clayton.
This is why his sports hernia came at such a bad time. He needs every possible opportunity to impress the coaches.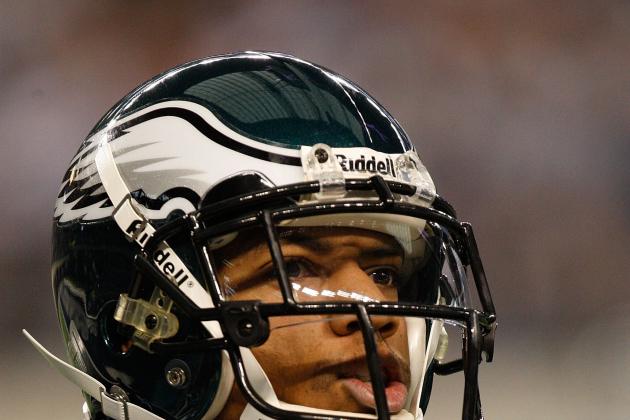 Ronald Martinez/Getty Images

Joselio Hanson is one of the best slot corners in the game. In 2010, he allowed just 1.5 yards after the catch and just 4.4 yards per pass attempt, according to footballoutsiders.com. Hanson's play hasn't dropped off that much since then, but he is on the wrong side of 30, on the final year of his contract and is facing some fierce competition at the slot corner spot from rookie Brandon Boykin.
Hanson has struggled as an outside corner, and he doesn't have return ability. He really has only one specific position. Boykin can play on the outside if needed and has exceptional return ability. Hason is going to have to really prove himself this summer to earn a roster spot.
The Eagles could keep six cornerbacks, with four of them being outside corners and two of them (Hanson and Boykin) being slot corners. The NFL is pass-orientated enough to warrant that. That Eagles do have a crowded roster, and keeping six corners would mean another position would carry one less player. Someone like Keenan Clayton, Julian Vandervelde, Derek Landri or somebody talented could lose their roster spot.
It's unlikely the Eagles would keep two slot corners. Curtis Marsh has the ability to play in the slot and probably will play in dime packages this season. That doesn't mean Hanson has nothing to play for this summer. He can try his best to convince the coaches that he deserves a roster spot, or he can convince another team that he would be a good fit.