2012 Dallas Cowboys: Jerry Jones Feeling Pressure to Win Is a Good Thing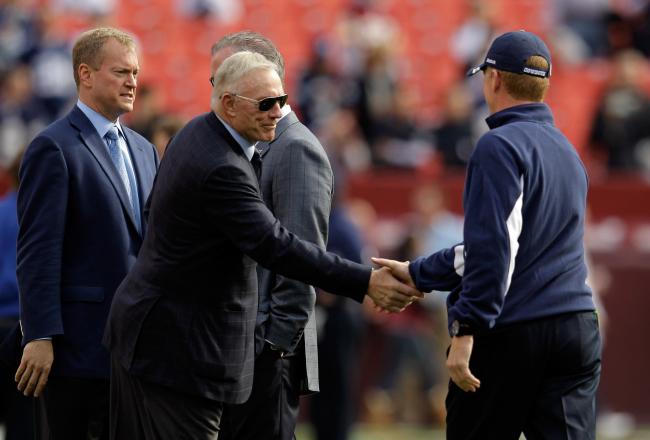 Rob Carr/Getty Images
The sense of urgency has arrived in the world of Jerry Jones and he finally realizes that time isn't on his side. While he admits that the window is closing fast, he also feels that the Cowboys have the pieces in place to win right now.
I guess that's what happens when you fall short in a winner-take-all battle for the right to reach the playoffs. He feels that if you were good enough to be in that position, then you're not that far away.
That mentality couldn't be more wrong and Cowboy fans know it.
Jones believes the Cowboys have been contenders for the past couple of years and he uses the New York Giants as an example of that. One could understand his logic in doing so, but what he doesn't understand is that it's not the most talented teams that win but rather the best football teams.
There's a big difference in that comparison and when you factor in some of his decisions regarding personnel and direction, it's hard not to see why Jones feels the walls are caving in on him.
But that's what happens when you purge the offensive line and start guys like Phil Costa. That's what happens when you convert Alan Ball from safety back to corner for depth and pay Orlando Scandrick. And that's what happens when you can't produce any depth from the 2009 draft.
The cumulative effect of such moves finally caught up to the Cowboys in 2011 and it uncovered many weaknesses.
That's not the formula of a contender. It's a clear sign that our owner and general manager needs to stop experimenting.
When you look through Jones' lens, he probably sees the current team leaders and star players entering the back end of their already productive careers. The ability for them to produce at their highest levels has a shrinking shelf life and he knows it's not always easy to replace star quality. But that's why the emphasis has to be placed squarely on solid drafting, smart decision-making in free agency and an emphasis on talent evaluation. All of which seem apparent based on the last few drafts and free-agent signings.
It's hard to assess the exact size of the window of opportunity that remains for this team, but Jones feeling the pressure is a good thing.
Players like Romo, Witten, Ratliff and Ware still have productive years ahead of them andwill undoubtedly be counted on in 2012. What's hard to predict is not only when those elite skills will erode, but what contingency plan the Cowboys have when that time comes.
I do believe the Cowboys have already taken measures for the future by purging their roster of veteran players like Leonard Davis, Mark Colombo, Andre Gurode, Keith Brooking and Bradie James, but it's difficult, in the current economic landscape, to have a roster of superstars in waiting.
The Cowboys organization will have to have the foresight and planning to brace for the inevitable.
The current collection of talented, young players on Dallas' roster like Sean Lee, Dez Bryant and DeMarco Murray shows promise that the future is bright and that they will lead this team to greatness. When you add in Morris Claiborne and prized free agent Brandon Carr to the mix, the future becomes clear.
When Jerry Jones says he feels pressure and sees a narrowing window of opportunity, it shows me that he's focused visually on both the short- and long-term wellbeing of this franchise.
I never questioned his commitment to winning and his passion for the Cowboys, but this recent buzz around his comments has to leave fans wondering.
Is this his indirect message to the team that they need to step it up? Does he see this as an underachieving group that has major changes in store for 2013? Or is Jerry Jones, for the first time in a long while, starting to come to grips with the reality of being mediocre since they last hoisted the Lombardi trophy?
I think Jerry Jones is starting to feel the reality of his own show.
The 2012 season will go a long way in determining the short- and long-term success of the Dallas Cowboys. It will provide many answers to a lot of questions that surround the team, individual players and coaches and one ultimate question—what is the remaining window of opportunity for this team to succeed ?
The fact that Jerry Jones feels the pressure to succeed in what he perceives to be a short time frame can only be a positive for this team.
The time has come to forget about the grand stage, marketing gimmicks, rodeos, concerts and boxing matches. It's time to answer the question of how much time does this team have.
2012 will go a long way in determining that. I'm sure Jerry Jones will be paying attention.
This article is
What is the duplicate article?
Why is this article offensive?
Where is this article plagiarized from?
Why is this article poorly edited?

Dallas Cowboys: Like this team?