Could Tony Sparano Be Just What Mark Sanchez Needs to Thrive for New York Jets?
May 24, 2012

Jeff Zelevansky/Getty Images
The New York Jets brought in offensive coordinator Tony Sparano to help the offense find its ground and pound identity once again, but adding the former Dolphins head coach to the staff could also have a positive impact on quarterback Mark Sanchez.
Needless to say, former offensive coordinator Brian Schottenheimer wasn't having much of one.
In the Sparano offense, though, early signs are good, with Sanchez looking "pretty sharp," according to the Newark (N.J) Star-Ledger. Sanchez also admitted that he's "getting a good vibe from what we're doing now," per the New York Daily News.
In the past, Sanchez has deflected the blame of the offensive struggles away from Schottenheimer, but a change in offensive coordinator may have a little something to do with the increased comfort level for Sanchez despite the increased pressure.
Sanchez feels that much of the pressure was a product of Tim Tebow, though, but also feels he can handle it and knows that ball security is key this season.
If he didn't know it before, he knew it when Sparano barked at quarterback Tim Tebow for a pair of interceptions at practice.
QB Tim Tebow threw two INTs during team drills and said OC Tony Sparano didn't mince words, yelling at him, "You gotta take your check downs. They're right in front of you."
According to the Daily News:
A couple weeks after quarterbacks coach Matt Cavanaugh told the Daily News that "poor decision making" contributed to bulk of Sanchez's career-high 26 turnovers last season, Sanchez admitted that the theme this offseason has been ball security. (Running backs coach Anthony Lynn had a 20-minute power point presentation on the correct ways to secure the ball).

 
"I got to take care of the ball better," Sanchez said.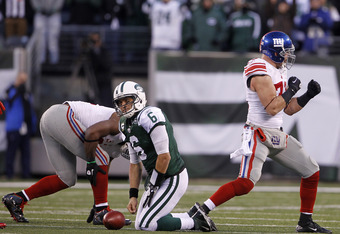 Rich Schultz/Getty Images
The offensive coordinator isn't the only thing that has to change. A large part of the blame has fallen on Sanchez's erratic play, and specifically, his rash of turnovers—nine in the final three games of the season.
It wasn't just last year, either. According to The Inquisitr, Sanchez has the second-most turnovers in the NFL since 2009.
That's not something a new offensive coordinator can change by himself; Sanchez has to play within the system and protect the football, two hallmarks of solid quarterback play in Sparano's offense and just about any other in the NFL, but that system had little if any identity last year under Schottenheimer, and the Jets players know it.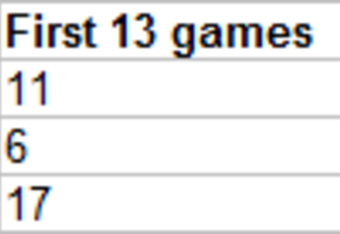 Per the Daily News, tight end Dustin Keller had this to say when asked about that identity crisis:
Last year, more than anything, we were a really game-plan specific team. You may see a heavy running game one game and then we're throwing the ball 70 times the next. We know who we are now: We're a power football team that can (also) throw the ball.
That the Jets have an identity is only half the battle, but the other half is executing that offense and asserting their authority.
The identity that Sparano wants to implement plays right into Sanchez's hands, and now, it's on him to make sure he keeps his hands on the ball.
Erik Frenz is the AFC East lead blogger for Bleacher Report. Be sure to follow Erik on Twitter and '"like" the AFC East blog on Facebook to keep up with all the updates.