Mark Teixeira: Where Does He Fit in Among Major League First Basemen?
May 25, 2012

Al Bello/Getty Images
By most accounts, 2011 was a subpar year for Mark Teixeira.
He hit 39 home runs and drove in 111 runs, but he hit just .248 with a .341 on-base percentage. His batting average was the lowest of his career, and his on-base percentage was the lowest since his rookie year. His OPS (on-base plus slugging) declined for the third year in a row to. 835, his lowest since his rookie year.
And yet, he still had the seventh-best OPS among all first basemen in baseball and led all players at the position in home runs.
2012 has not been nearly as kind to Teixeira. The season is only a quarter of the way through, but his average is a measly .228, and he holds a .291 on-base percentage and a .671 OPS, which is especially poor for him but still sits in the middle of all major league first baseman (he his currently 15th in that category).
Where does Tex fit in to the hierarchy of all first basemen? Is he closer to top-five than top-ten status, like he was last year, or is he simply middle of the pack?
Despite his early-season struggles, Albert Pujols is still a top-three first baseman in baseball. Prince Fielder, Adrian Gonzalez and Joey Votto belong in the top-tier, as well.
Beyond those four, other first basemen who can be considered among the game's elite (besides Teixeira) are Lance Berkman, Freddie Freeman, Eric Hosmer, Ryan Howard, Adam LaRoche, Paul Konerko and Carlos Pena.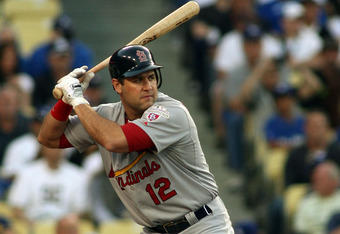 Jeff Golden/Getty Images
Lance Berkman: Berkman has had a great career, mostly with Houston, at first base and in the outfield. He had a comeback 2011 in which he hit 31 homers and drove in 94 runs with a .301 average.
This year, however, he's only played in 13 games and has a torn meniscus that will keep him on the Disabled List for at least two months (longer if it turns out he tore his ACL). He's 36 years old, and who knows what he will have left in the tank if and when he comes back from surgery?
Despite Mark Teixeira's struggles offensively this year, he's still a better defensive first baseman than Berkman and still hits for better power. I'd rank Tex over Berkman, but not by much.
Freddie Freeman: Freeman is a nice young player for the Braves who showed great promise last year in his rookie season. He hit .282 with 21 home runs. He has not carried his 2011 success into 2012, though. He's at just .254 with a .311 on-base percentage, albeit with seven homers. Freeman may have a bright future, but he's not the player Teixeira is right now.
Eric Hosmer: Hosmer is another young stud who came up from the minors last year and excelled, but he's struggled greatly at the beginning of 2012.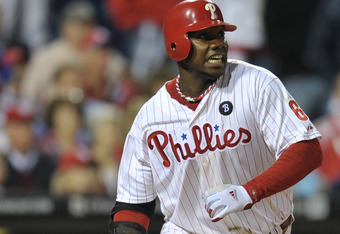 Drew Hallowell/Getty Images
He managed to hit 19 homers in 128 games for the Royals last year, but was moved down to the seventh spot in the order after a prolonged slump to begin the year. Through 41 games, he's still hitting just .191, albeit with five home runs.
Hosmer will be a stud in the future and may even have a better career than Teixeira has had, but Teixeira's the better player for now.
Ryan Howard: It's tough to compare Howard to anyone at this point, since he's still recovering from a torn achilles and hasn't played in 2012.
His power numbers have gone down in the last couple of years (he hit "just" 31 home runs in 2010 and 33 in 2011) and he's not as good a defensive first baseman as Teixeira, so at this point I'd take Teixeira over Howard. But at Howard's peak, when he was good for at least 45 home runs, the decision would not be the same.
Adam LaRoche: LaRoche missed most of 2011 with injury, but he's turned himself into one of the better first basemen in the game this year. With a .937 OPS, LaRoche has smacked eight home runs and has driven in 33 runs at the halfway point of the year. His career high is 32 from way back when he was with the Braves, but he's on pace to tie that. He's been a reliable first baseman his whole career and he's done a great job propping up a Nationals' offense that has lost Wilson Ramos, Jayson Werth and Ryan Zimmerman to injuries this year. I'd still take Teixeira over LaRoche, but Adam is certaintly in the discussion with the best first basemen in the league.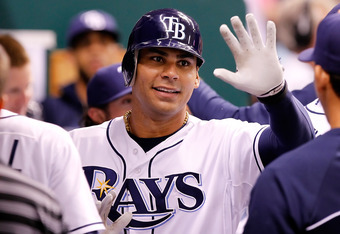 J. Meric/Getty Images
Paul Konerko: Because of the dominance of other first basemen, Paul Konerko has quietly been one of the best at his position over the last decade. He has a career .863 OPS with 405 home runs. He's hardly ever been injured and can always be counted on for a 30 home run, 100 RBI season.
He's also off to a great 2012; he leads the majors with a .384 average and has hit 10 home runs. To be honest, between him and Teixeira it's a toss-up. Teixeira has always gotten more publicity because he came up as a highly-touted prospect, but their career numbers are pretty similar. Teixeira gets the nod on defense and because he's younger, but they're pretty close.
Carlos Pena: After hitting .198 with the Rays in 2010, Pena could have been out of a starting job. But he signed a one-year deal with the Cubs and hit 28 homers with a respectable .819 OPS to go along with stellar defense.
He re-signed with the Rays for 2012 and has put up similar numbers. Teixeira is still better, but Pena is a 25-30-homer threat with stellar defense. He's in the upper-tier of major league first basemen.
Mark Teixeira may not be in a class with Albert Pujols, Prince Fielder, or even Adrian Gonzalez anymore. But he's still a top-five first baseman, despite his early-season struggles. He's more in a category with Paul Konerko, Ryan Howard and Lance Berkman now, but that's no small feat; they're great players.
Yankee fans are certainly growing impatient with their team's first baseman, and for good reason - he's been bad. But he will bounce back, and when he does he'll be one of the best at his position in all of baseball.