Nebraska Football: The 5 Toughest Losses in Bo Pelini's Nebraska Career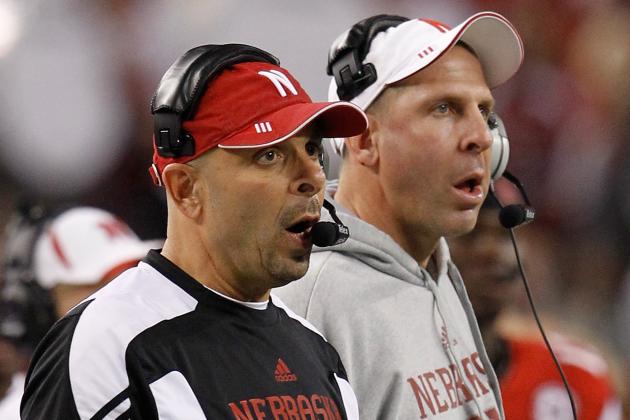 Tom Pennington/Getty Images

While Bo Pelini has provided Nebraska fans plenty of exciting moments, there have been soul-crushing defeats in his tenure as well. For every Alex Henery miracle kick, there is an extra-second field goal to snatch BCS dreams away from the Children of the Corn.
In the interest of equal time, then, let's take a look back at the five toughest-to-take losses in Pelini's career at Nebraska. Buck up, Nebraska fans, adversity builds character.
Begin Slideshow

»
In year two of Bo Pelini's time at Nebraska, the Children of the Corn were still waiting for Nebraska to notch a win over a rated opponent.
NU went into Blacksburg, Virginia, expected to struggle against the Hokies. But Nebraska moved the ball effectively and kept dual-threat quarterback Tyrod Taylor bottled up almost the entire game.
NU had a 15-10 lead with under two minutes to play and Virginia Tech inside its own 20-yard line. A signature victory was almost in the bag. Almost.
Taylor hit an 81-yard bomb to Danny Coale, getting all the way to the Nebraska 3-yard line. The Hokies punched it into the end zone with 21 seconds left, stealing a victory and leaving Nebraska fans gasping for air and wondering when the breakthrough would come.
"The BCS! That's why they made that call!"
If there was one play that predicated Nebraska's exit from the Big 12 conference, this game may have provided it.
A heavy underdog, Nebraska's defense roughed up the undefeated Longhorns and put Nebraska in position to shock Texas in the Big 12 title game, knocking Texas out of the national championship and giving NU its first conference title since 1999.
Ndamukong Suh chased Texas quarterback Colt McCoy on what looked to be the last play of the game, forcing him to throw the ball away as the scoreboard clock at Cowboys Stadium expired. Pelini and the Nebraska sideline rushed the field in joy, celebrating NU's 12-10 upset.
But, not so fast. After further review, the officials determined that the ball hit a railing with one second left to go. That second was put back on the clock, and Texas kicked a 46-yard field goal to snatch Nebraska's conference title away and leave a scar on the psyche of Nebraska football that has yet to heal.
What's the number that defines Nebraska's loss to Texas A&M in College Station?
Was it the 16 penalties for 145 yards, including some truly mystifying calls that fed a theory that the Big 12 was out to get Nebraska in its final season before departing for the B1G? Or was it the zero touchdowns Nebraska's offense was able to generate against a subpar Wrecking Crew defense?
Pelini did himself no favors with his neck-bulging sideline rages, and his chastisement of Taylor Martinez created an Internet rumor storm about Martinez leaving NU.
It was an ugly game in all senses of the word, and may have summed up the feeling Nebraska had about the conference it was departing (as well as the feeling of the conference toward Nebraska as it headed to Rose Bowl land).
Eight turnovers. In one game. Nebraska had more turnovers against Iowa State than points. And the Cyclones were able to convert one busted coverage into enough points to hold off a Nebraska team that looked more and more confused and shocked as time melted away.
At halftime, Iowa State led 9-7. No one in the building, other than perhaps head Cyclone Paul Rhoads, believed that Iowa State would hold that lead.
But turnover after turnover ensued, the clock continued to run, and when it struck zero, Nebraska had failed to score any further points.
Rhoads celebrated with an epic locker-room speech as Nebraska fell victim to the sloppiest loss in Lincoln since NU was knocked off by Southern Miss in Bill Callahan's first season.
Be Loud. Wear Red. Beat Texas. That was the initial slogan for the "Red Out Around the World" game against Texas, the game that was supposed to be Nebraska's revenge for the Big 12 championship game loss the year before.
That slogan was quickly removed, perhaps by someone who realized that NU didn't need any additional pressure going into the contest.
How prophetic that concern would turn out to be. Texas quarterback Garrett Gilbert was held to 62 yards passing, but rushed for 71 and a touchdown, in what was likely his best game as a Longhorn. Meanwhile, the Texas offense controlled the ball and the Longhorn defense stifled Nebraska's fledgling offense.
A 95-yard punt return by Eric Hagg with just over three minutes to go in the game made the score respectable, but at no point in the contest did Nebraska seriously threaten to beat Texas as promised.
In Nebraska's biggest red-letter game of Bo Pelini's career at Nebraska, NU came out astonishingly small before a Memorial Stadium crowd, and suffered its most humiliating loss to a Texas team that would end the season at 5-7.
Sadly enough for Nebraska fans, it's hard to limit Nebraska's gut-crunching losses under Pelini to five. Here are a few more that didn't quite make the cut.
Oklahoma 23, Nebraska 20 (Dec. 4, 2010)
A nightmare season looked to have a magical end for Nebraska. After dealing with the slings and arrows of departing the Big 12 Conference, NU had a chance to win the conference by beating storied rival Oklahoma and walk away with its head held high.
It looked so promising. Nebraska held a 17-7 lead in the second quarter and was driving for another score deep in Oklahoma territory. But a Taylor Martinez interception in the end zone seemed to swing momentum in favor of the crimson and cream, and Nebraska could not answer the bell thereafter, ultimately losing another close contest in a title game.
Missouri 52, Nebraska 17 (Oct. 4, 2008)
When Bo Pelini arrived, Missouri was flying high and looked to establish itself as the dominant force in the Big 12 North. Pelini tried some tweaks in his defense to catch Mizzou's high-scoring spread offense off balance.
Oops. Missouri rattled off 462 yards of total offense, led 31-10 at the half, and scored 21 unanswered third-quarter points to dominate Nebraska, leaving MIZ-ZOU chants to echo through Memorial Stadium.
Texas Tech 37, Nebraska 31 (Oct. 11, 2008)
After being demolished the week before, few held out hope that Nebraska would succeed in Lubbock, Texas, where NU was last beaten 70-10.
Texas Tech had Michael Crabtree and looked to be a dark-horse (pardon the pun) national title contender, while Nebraska was coming off an embarrassing loss to Missouri at home.
But NU's offense was able to keep up with the Red Raiders, and the defense was able to make enough plays to keep the game close. And Tech needed a miracle conversion on 4th-and-5 to push the game to overtime.
In the overtime, however, Nebraska quarterback Joe Ganz made the one mistake in the game, throwing an interception to cost NU the contest but give Nebraska at least a moral victory.
Wisconsin 48, Nebraska 17 (Oct. 1, 2011)
Welcome to the Big Ten, Nebraska. NU's first conference game in the B1G was in Madison, and Nebraska came out strong. NU scored first, had a 14-7 lead midway through the second quarter, and looked poised to at least go into halftime tied at 14.
But two Taylor Martinez interceptions, caused at least in part by an inexplicable decision by rookie offensive coordinator Tim Beck to have Martinez throw six straight passes, allowed Wisconsin to take a 27-14 lead into the locker room and give the Badgers enough momentum to pull away in the second half.
If you would like to contact me directly to schedule an interview, ask a question or to get my recipe for a killer peach cobbler, you can send an e-mail to patrickrunge@gmail.com. (DISCLAIMER: Peach cobbler recipe might not be all that killer.)
Or, you could always...follow @patrickrunge