Nebraska Football: The 5 Most Exciting Moments in Bo Pelini's Nebraska Career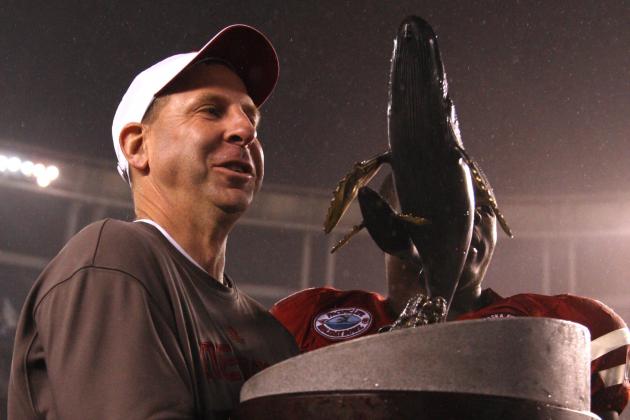 Donald Miralle/Getty Images

In his four years in charge at Nebraska, Bo Pelini has given NU fans some incredibly exciting moments. As I watched the incredible end to the Premier League season last Saturday, it made me think back to the times in the last four years where Nebraska had me on the kind of emotional roller coaster that fans of Manchester City, Manchester United, Arsenal, Tottenham, Newcastle United, QPR and Bolton were on last weekend.
(And, if you'll permit me a brief aside, all you soccer-haters who complain the sport isn't exciting might want to pipe down a bit. Just saying.)
So, let's fire up the Wayback Machine and enjoy the five best heart-stoppers Pelini has given the Children of the Corn since his return to Lincoln.
Begin Slideshow

»
After the Callahan years, Nebraska fans were just happy to be back in a bowl game. And while the 2008 season did feel like a redemption of sorts after the disaster of 2007, Nebraska fans ached for the feeling of victory in a big game. Bo Pelini's best win that year was a 40-31 defeat of a very average Colorado team, needing an improbable 57-yard field goal to make the win possible.
And with just over 10 minutes left in the third quarter of the Gator Bowl, it looked like that win would continue to elude Nebraska. Clemson held a 21-10 lead over NU, and Nebraska's offense looked incapable of scoring enough to mount a comeback.
But Nebraska responded with a touchdown pass from Joe Ganz to Todd Peterson and three Alex Henery field goals to take the lead. And then, with Clemson having a first down on Nebraska's 10-yard line, the Blackshirts dug in and kept the Tigers out of the end zone, preserving the win and allowing a Nebraska had coach to get a Gatorade shower for the first time in quite a while.
Nebraska had its ups and downs in 2010 as it worked its way through a contentious "farewell tour" of the Big 12. Prior to the season, Nebraska had announced it would be leaving for the Big Ten, meaning that every conference foe wanted one last shot to knock off NU as it left the conference.
Iowa State very nearly had a two-game winning streak over Nebraska as NU headed to Rose Bowl land. After upsetting Nebraska 9-7 in Lincoln the previous year, the Cyclones scored 14 points in the fourth quarter to send the game into overtime. Nebraska scored first on a Rex Burkhead touchdown, but Iowa State answered with a touchdown pass from Austin Arnaud to Jake Williams.
Head Cyclone Paul Rhoads went for the kill, faking the extra point in an attempt to win the game. The play was open, but a poor throw from holder Daniel Kuehl allowed Eric Hagg to slide underneath and intercept the pass, securing Nebraska's victory.
2009 was Bo Pelini's second season in charge of Nebraska. While NU ended 2008 well with wins over Colorado and Clemson, Nebraska had yet to beat a ranked team and really make a statement about itself under Pelini. After being embarrassed by Missouri the year before in Lincoln, Nebraska was anxious to redeem itself against the Tigers.
It wasn't looking good in Columbia. On a rain-soaked night, Missouri took a 12-0 lead into the fourth quarter and looked on track to humble their hated rivals to the north for another season.
And then the floodgates opened for Nebraska. Zac Lee threw three touchdown passes as NU roared back, taking the lead and silencing a shocked Mizzou crowd expecting to have NU's number again. Roy Helu's touchdown capped off the comeback and gave Pelini his first win over a ranked opponent.
Things were not looking good for Nebraska in their introduction to the B1G. The week before, Nebraska was embarrassed in Madison, losing their conference opener to Wisconsin 48-17. The following week, Nebraska's conference home opener wasn't faring much better. With eight minutes left in the third quarter, Nebraska was losing to Ohio State 27-6. NU was staring an 0-2 conference start straight in the face, and they were being outscored by their conference opponents 76-23.
But then Nebraska scored. And scored. And in the fourth quarter, Rex Burkhead scored two touchdowns to cap the biggest comeback in school history and, in all likelihood, save Nebraska's 2011 season.
In Bo Pelini's first season as head Husker, things looked grim at the end of the season. Nebraska was losing at home to Colorado 31-30 with 1:43 left to play. NU faced a 4th-and-25 and had only one timeout remaining. Rather than going for the miracle fourth-down conversion, Pelini sends on a skinny sophomore to kick the longest field goal in school history.
The rest, of course, is history. And the skinny sophomore became the Skinny Assassin, the author of one of the loudest noises in the history of Memorial Stadium.
If you would like to contact me directly to schedule an interview, ask a question or to get my recipe for a killer peach cobbler, you can send an e-mail to patrickrunge@gmail.com. (DISCLAIMER: Peach cobbler recipe might not be all that killer.)
Or, you could always...Follow @patrickrunge.