11 Detroit Lions Who Should Be Feeling Most Uneasy Heading into Camps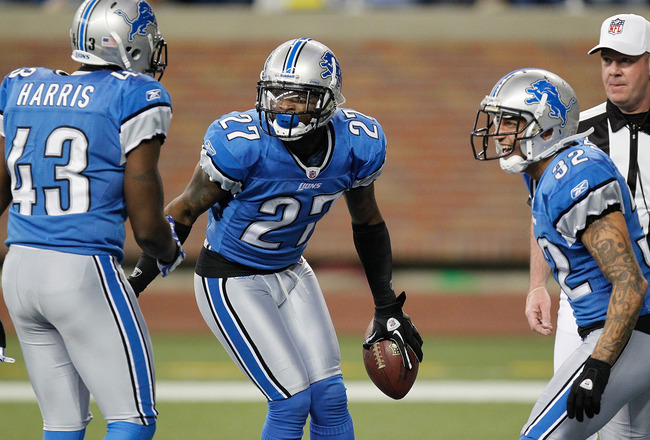 Gregory Shamus/Getty Images
The NFL Preseason is a time for optimism and hope springing eternal.
If you're a fan, that is.
If you're a player, it's a time of hard work, stress and watching your back.
Every year, rookies come to training camp and work their tails off trying to earn a living playing football. They are in a state of constant unease because they have had nothing handed to them yet.
Sure, most of the draft picks are under contract already, but none of them will earn much more than their rookie contracts if they don't work hard from day one
But this isn't about the rookies. We already know they're under pressure.
This is about who the rookies are putting pressure on.
Veterans, especially the younger, somewhat unproven ones, have to look at these fresh faces as threats. Every one of them is a threat to take their spots, either on the depth chart or the 53-man roster.
Which guys are the most threatened this year by the new models? Who is most threatened by this year's draft class (and even free-agent signings)?
Your mileage may vary, but in my book, these are the 11 guys who should be the most on edge as training camp approaches.
Stephen Peterman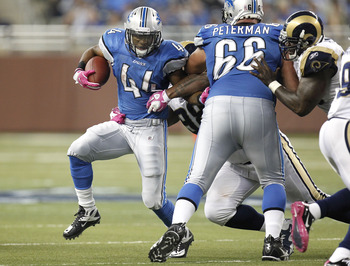 Gregory Shamus/Getty Images
Is this really a surprise?
Stephen Peterman has been the weak link on the offensive line ever since Rob Sims shored up the left side.
It should say something that the Lions drafted an offensive tackle in the first round of the draft, and a good portion of the focus shifted to how to replace a guard with that move.
The Lions have a few players deep on the roster who could step into a guard position (2011 seventh-round pick Johnny Culbreath comes to mind), but the scenario most often presented is one that puts Riley Reiff at right tackle and Gosder Cherilus at guard.
That's not impossible, but I don't think the Lions are any more comfortable putting Cherilus at guard than they are with Reiff there. Cherilus' frame is long and lanky—not exactly tailor-made for guard.
Still, Peterman is out of excuses for subpar play. First it was playing through injuries, then it was a lack of consistency in the offense.
He can't claim either of those anymore, and at age 30, any hope of upside is long gone as well.
Peterman's displacement on the roster is no longer a question of "if." And, considering he is the 12th-highest paid guard in the NFL, according to Spotrac, he's a likely candidate to be a cap casualty if anyone comes close to outperforming him in training camp.
Andre Fluellen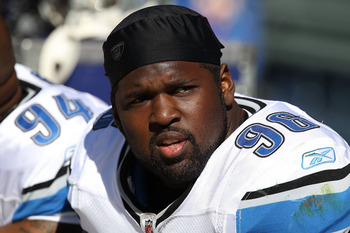 Jonathan Daniel/Getty Images
I've been calling for Andre Fluellen's release from the team for a long time. It seems like his name comes up every year when I predict roster cuts.
Here we are again.
Fluellen has earned himself another one-year contract, despite notching only 11 tackles in 13 games played last season.
Last year, Fluellen's presence made sense since he was effective taking snaps from the injured Nick Fairley. So, maybe Fluellen's presence this year is just insurance for another potential injury in training camp.
With the Lions' defensive line looking stronger than ever (and possibly even bolstered with defensive ends Everette Brown and Ronnell Lewis in tow), I can't see where Fluellen fits in.
Again. Or still.
Whatever.
Jahvid Best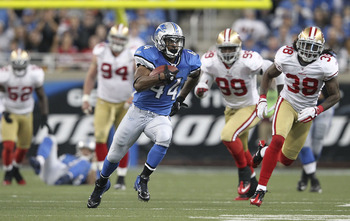 Leon Halip/Getty Images
What Jahvid Best has to worry about this offseason isn't some young running back who is going to jump in and knock him out of his role.
He has to worry about some defensive player coming in and knocking him out—period.
At age 23, Jahvid Best's head injuries are already starting to stack up, and the common (if unsubstantiated) perception is that one more concussion could wrap up his career in a very bad way.
Regardless, Best is going to give it another go, leaving us to cover our eyes and hope he gets up every time he gets hit.
This is much the same as Zack Follett's 2011 dilemma. Follett wanted to come back and play, but a dangerous neck injury presented too great a risk.
Best's concussion history presents a different set of risks than Follett's neck and spinal injury, but neither is going to get better from increased wear and tear.
It's a risk Best seems willing to take, so all we can do is hope it's worth it.
Alphonso Smith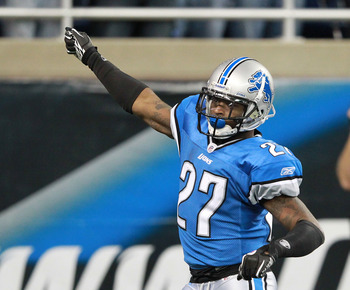 Leon Halip/Getty Images
For all his potential and promise, Alphonso Smith was arguably sitting last on the theoretical depth chart after Brandon McDonald's contract was up.
Since then, the Lions have signed Jacob Lacey from the Colts and drafted three cornerbacks.
The Lions are a good team with a smart front office, which means that we can assume at least half—likely more—of these players will be worth a roster spot by the time 53-man rosters are set.
In turn, that means someone is going to lose his spot. Alphonso Smith seems like a likely candidate unless he shows up big in camp.
Smith isn't devoid of talent. In only 11 games last year, he notched 27 tackles, three interceptions—including two in one game vs. Minnesota, and ran one back for a touchdown—and a forced fumble.
The guy can play. If the Lions don't keep him, he should be plucked off the waiver wire quickly.
That's just a sign of how far the Lions have come as a team. They no longer cut bad players for good players. They're now cutting good players for better players.
The question now is whether Smith is still "good."
Or, is he "better?"
DeAndre Levy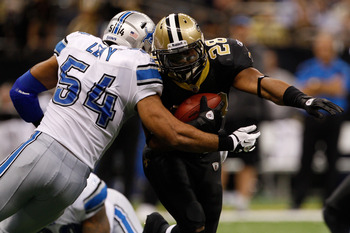 Chris Graythen/Getty Images
Like Alphonso Smith, DeAndre Levy should be feeling the heat from the Lions' defense-heavy draft.
Unlike Smith, Levy likely isn't in danger of losing his spot on the team because the fight for depth at linebacker is not that heated.
In other words: the cornerback positions are currently overloaded with players.
Some value is going to be cut because the team can't take 10 cornerbacks into the regular season.
The linebacker position, on the other hand, was crying out just to have some warm bodies on the roster. The Lions obliged with some late draft picks: Tahir Whitehead in the fifth round and Travis Lewis in the seventh.
These guys shouldn't pose a threat to any existing players. It's certainly too early to make any determinations about rookies playing in shorts but, to this point, Lewis looks like a monster.
I would not be surprised to see Lewis at least challenge Levy for his starting spot.
That aside, we have yet to see what kind of progress Doug Hogue has made in the Lions' defense. He may be spending another year relegated to special teams, but he could just as easily be ready to break in on defense. We'll just have to see.
Levy will have to keep an eye out either way.
Kyle Vanden Bosch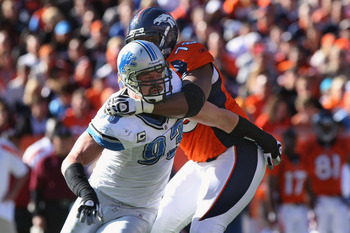 Doug Pensinger/Getty Images
Kyle Vanden Bosch is a good football player and a great leader.
Vanden Bosch is not beyond reproach or getting any younger. The number of players that are younger and cheaper than him is growing by the year.
If the Lions had any intention of cutting Vanden Bosch, it would have happened months ago when they were in salary cap trouble. He'll be on the 2012 without question.
The real question is whether he will stay in the starting lineup.
Also, will he keep a steady amount of playing time?
Ronnell Lewis is a project, and will need some time before he gets a considerable look on the defense.
Willie Young and Lawrence Jackson have grown within the Lions' defense and neither is too big a step down from Vanden Bosch, especially considering the injury problems Vanden Bosch has been facing.
Vanden Bosch had eight sacks in 2011 as a starter, while Young had three and Jackson had 4.5 as reserve players. If their playing time was reversed, you have to wonder if their statistical success would too.
Amari Spievey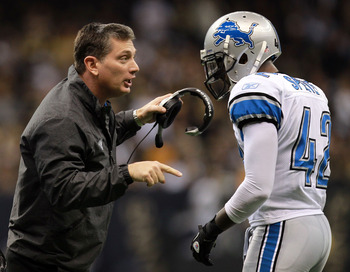 Ronald Martinez/Getty Images
Amari Spievey, contrary to popular belief, was okay in 2011.
Not terrible or atrocious. Not particularly good.
Just okay.
Spievey could take either a step forward or back in 2012. Considering the return of Erik Coleman and the young talent on the roster, Spievey's role on the team is anything but assured.
The Lions kept only two players out of mini-camp and tryouts in early May.
One of them was Sam Proctor, a young safety out of Oklahoma. Reading too much into that is a mistake, but the fact is that the Lions are not settled at the safety position.
The Proctor signing reflects that, even if only slightly.
If Spievey continues to develop into a solid player, he has nothing to worry about. If he slips, he has a bunch of guys chomping at the bit to replace him.
Mikel Leshoure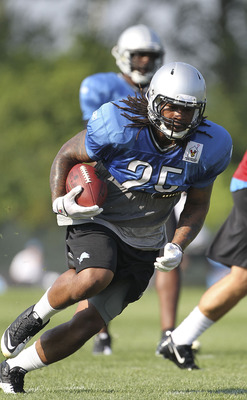 Leon Halip/Getty Images
Mikel Leshoure had some issues last year with injuries.
He's had some issues this year with drugs.
He needs to figure his issues out and stop having them soon because Lions fans have seen this situation get out of control before.
I'm not saying Mikel Leshoure is Charles Rogers. There are some disturbing common threads, and I think everyone would be more comfortable if he went ahead and snapped those trends early on.
Like with Jahvid Best, Leshoure isn't afraid of anyone coming up through the ranks and beating him out on skill. He needs to be more concerned with getting on the field, staying healthy and hoping the league office doesn't levy too great a suspension on him.
Aaron Berry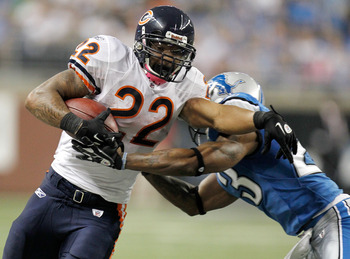 Gregory Shamus/Getty Images
Like Alphonso Smith, Aaron Berry should be feeling a great deal of pressure from the Lions' cornerback-heavy draft.
Where Smith is afraid of losing his roster spot, Berry should only be concerned with where he falls on the depth chart.
A couple months ago, Berry seemed like the best option to start across from Chris Houston, especially considering the loss of Eric Wright to Tampa Bay.
With the signing of Jacob Lacey and the Lions' selection of cornerbacks in the third, fifth and sixth rounds, there appears to be a much greater logjam at the position than before.
While defensive coordinator Gunther Cunningham's aversion to rookie cornerbacks is well-documented, head coach Jim Schwartz's tendency to go with the "best player available" is even more so.
With a couple years of experience, Berry should be that guy—possibly over new arrival Jacob Lacey.
If Bill Bentley lights it up in training camp, don't think for a minute the Lions won't give him his shot. This is the same team that lined Berry up at nickel corner—effectively a starting role in today's NFL—as a UDFA rookie.
Stefan Logan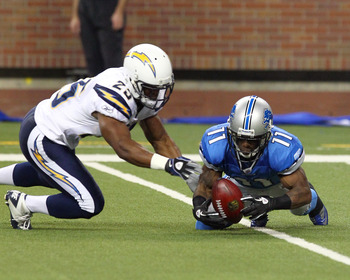 Dave Reginek/Getty Images
In 2010, Stefan Logan looked like one of the best return men in the league.
In 2011, Lions fans were just hoping for him to be average.
It's a short amount of time to turn on a guy who was, at times, a hero in 2010. But, this is the nature of the return man.
If sustained success as a returner was common, then you would have more guys like Devin Hester than guys like Dante Hall, Eddie Drummond and Leon Washington.
More importantly, the Lions have brought in some players (Bill Bentley, for instance), who can fulfill return duties and play a role on defense. While Logan made it into the offense on some gadget plays, he was mostly just a special teams specialist.
Last year, he wasn't that special. While his kick return average dropped by only a yard, his punt return average dropped from 12.1 yards to 8.1 yards. His longest return of any kind all year was a 42-yard kick return.
The Lions are too good of a team to devote a roster spot to an average return specialist. If they want average production, they can get it from a player who brings value to either the offense or defense as well.
Gosder Cherilus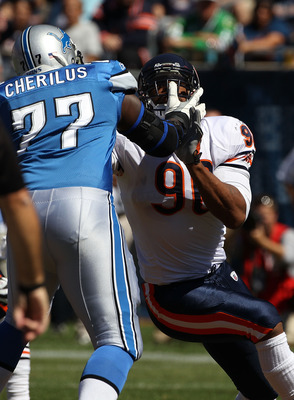 Jonathan Daniel/Getty Images
Riley Reiff is only one guy, so how is it that his presence threatens both Stephen Peterman and Gosder Cherilus?
In part, it's that nobody knows where Reiff is going to end up by the end of training camp.
But, Cherilus isn't only feeling the heat from Reiff. He's in a contract year and facing the reality that he could end up displaced just as he tries to prove his worth.
To make matters worse for Cherilus, Jason Fox lurks in the background as a possible—if unreliable—option at right tackle. Fox has spent the majority of his young career on the shelf with various injuries, but he seems fully recovered and ready to go this season.
In a few months, Cherilus has gone from facing no legitimate competition for his position to likely fighting off two younger players.
Reiff's long-term projection is to left tackle, but unless he blows everybody's doors off in training camp, he won't start there in 2012.
That means both Reiff and Fox will be gunning for the right tackle position this year.
Cherilus might want to brush up on guard responsibilities in the Lions' offense if he want to stay on the field this year.
Keep Reading

Detroit Lions: Like this team?