NBA Playoffs 2012: How the Heat Can Beat the Pacers with Small Ball
May 24, 2012

Mike Ehrmann/Getty Images
The Miami Heat will have a different look tonight as they head into Indiana for Game 6 without suspended big men Udonis Haslem and Dexter Pittman.
If the Heat weren't small before, without Chris Bosh in the lineup as well, they are now and will have to rely on small ball to close out the series Thursday night.
Small ball is something Miami excels at, but they will have to do it nearly flawlessly to prevent this series from being going to a seventh game.
Here's a look at how they will have to do it.
Rebounding
The Heat need a collective effort on the glass and that means from the guards and everyone else on the perimeter and not just the big men in uniform.
LeBron James has averaged nine rebounds per game in the postseason, leading the team. The guy with the next highest total among players who will be active Thursday night is Mario Chalmers with 4.6.
Instead of someone stepping up and have a big game crashing the glass, Miami needs a collective team effort rebounding at both ends.
Allowing the Pacers second and third shot opportunities will be a killer, as will being one-and-done at the offensive end.
LeBron James and Dwyane Wade
James and Wade combined for 70 points in Game 4 and another 58 in Game 5. It's going to take a huge combined effort from the two superstars to win Game 6.
That means shooting a high percentage from the floor and making big plays when needed.
Role Players and Perimeter Shooters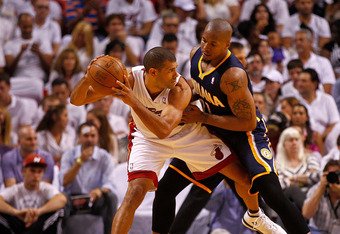 Mike Ehrmann/Getty Images
You may see the Heat take more perimeter shots than usual tonight, but taking them is one thing and making them is something different altogether.
The Heat are shooting 33 percent from behind the arc in the postseason and the likes of James Jones, Shane Battier, Mike Miller and Chalmers must step up and knock down shots when presented with the opportunity.
In addition, a third option must present itself. Even if Wade and James combine for 70 points, someone will have to pick up the rest of the slack.
Force Indiana to Make Shots
Even without Haslem in the lineup, the Heat must stick with the same strategy on defense as they did in their victories in Game 4 and 5.
They held David West and Roy Hibbert to a combined 18 points in both games while the Pacers struggled mightily from the perimeter, going only 13-of-42 (.309) from behind the arc.
If the Pacers are going to win, the Heat must force them to do it from the perimeter.
They have the capable shooters to do it, but it's a better strategy than allowing Indiana to pound the ball on the inside and kill them in the paint.