Indiana Pacers vs. Miami Heat: 5 Bold Predictions for Tonight's Game 6 Matchup
Mike Ehrmann/Getty Images

The 2012 NBA Playoffs have been highlighted by the unpredictably hostile Indiana Pacers vs. Miami Heat series; it's only fitting that the Game 6 predictions are bolder than the headline.
Although South Beach and Indianapolis represent the same nation, they're worlds apart.
Generally, the two cities share few commonalities: the philosophies are as distinguished as the geography.
Considering that most professional athletes are adopted by their franchise's hometown—as opposed to locally homegrown—it's rare for teams to reflect their respective city's personality.
This series is the glaring exception to the rule.
The Pacers' mindset is embedded with a hard-working persona that resonates with blue-collar Indiana natives.
The Heat compose flashy highlights that leave stadiums illuminated and, in return, grant the cameras an opportunity to return the favor.
If these five pre-game predictions evolve into prophecy, buckle up.
Begin Slideshow

»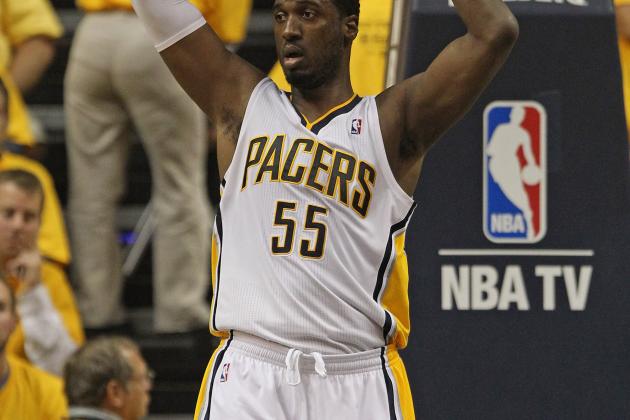 Jonathan Daniel/Getty Images

Tonight, Miami's roster will only contain two big men.
However, Ronny Turiaf—the tallest of the tandem—is still dwarfed by Roy Hibbert, who accounts for a four-inch height advantage.
The 7'2" Hibbert is currently averaging 12 rebounds in the 2012 playoffs.
The Heat's crippled front line, combined with a potentially hobbled David West, should translate into a statistical jackpot for Indiana's giant.
Plus, the normally poised center will likely showcase a more aggressive mentality, thanks to Larry Bird's documented disgust.
However, he can expect constant company from an opposing No. 6.
Given the unique scenario, it would be mildly disappointing if both stars didn't eclipse the double-digit rebound mark.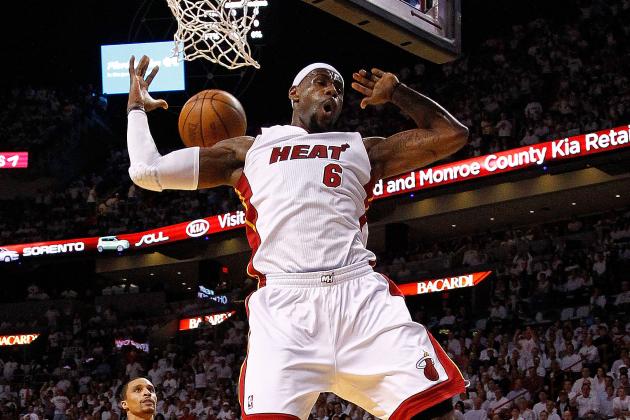 Mike Ehrmann/Getty Images

LeBron James would hear less boos in a haunted house than an away game; coincidentally, he's also haunted by his past.
A Game 6 victory will bring LeBron one step closer to exorcising a multitude of burdening demons.
He's aware.
On the court, the criticism for basketball's most polarizing figure generally stems from one issue: the inability to close in crunch time.
Considering that Miami trounced the opposing road blocks on its way to the 2011 NBA Finals, a victorious Indiana team would unleash a wrecking ball targeting James' image.
In the context of sports, Game 7s are the textbook definition of the term "pressure cooker." Even those loosely affiliated with each franchise are emotionally invested to an extent—it's the determining battle of a fluctuating war. Two adversaries sit across from each other and push every chip towards the center of the table. The stakes consist of bragging rights, reputations and jobs.
The solution to avoiding Game 7's sweat-inducing anxiety and immeasurable stress? Simple, avoid Game 7 altogether.
With a 3-2 series lead, there are two trains of thought that Miami can board heading into Game 6. The players can rest reassured that the sky isn't going to fall—a one-game lead serves as a security blanket. Adversely, the Heat can view tonight's clash as an opportunity to cease the moment and capitalize on their runaway momentum.
No Bosh, no Haslem, no problem.
Miami has reconfigured and adapted to life without Chris Bosh.
Udonis Haslem's recent contributions haven't gone unnoticed, but his presence throughout the preceding eight playoff games did. And justifiably so—he's only averaging five points alongside five rebounds per game this postseason.
Offensively, Miami's post-game has graced the back of milk cartons since Bosh's injury. The critical responsibilities for the Heat's big men reside at the defensive end.
After compiling impressive numbers in the first trio of games, David West's production has dwindled due to a harassing Shane Battier.
LeBron showcased his best Dennis Rodman impression in Game 4, owning the boards by snatching 18 rebounds. Offensively, he tallied a seemingly effortless 40 points, but fell shy of a triple-double with 9 assists.
The defending MVP has illustrated, time and again throughout this season, that he simultaneously grows stronger with the weight of responsibility.
A triple-double may have narrowly eluded James on May 20 (which hard-headed critics undoubtedly found a smidget of pleasure in), but expect the superstar to shine in a similar fashion tonight.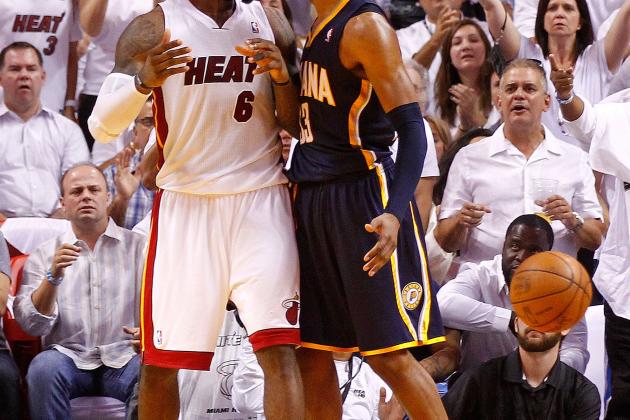 Mike Ehrmann/Getty Images

The Pacers vs. Heat series in a nutshell: Members of Indiana have labeled Miami as masters of flopping, drawn blood from the face of the franchise (see cover photo) and mocked its MVP's late-game failures via sideline Charades.
Individuals from the Heat have rotated between staring contests with the Pacers' star player, insinuated that his insecurities stem from low self-esteem issues, and summoned the spirit of the late Randy Savage before elbowing the aforementioned mocker.
Both organizations have also proven that criticism doesn't discriminate.
Before being separated, Dwyane Wade sent a piercing glare his head coach's way that would've turned Medusa to stone. Larry Bird—Indiana's front-office mastermind—called his players "soft," then proceeded to spell it out as if he just asked for the definition and language of origin.
The demeanor enveloped within this series usually takes place on a blacktop, not a hardcourt. The steady streamline of retaliatory bickering is reminiscent of a 3 AM run-of-the-mill Springer repeat.
Similarly, it's also a guilty pleasure for the targeted demographic.
When mutual disdain breaks out of its restraints and culminates into physical confrontation, it adds an extra layer of unsuspected, visually induced adrenaline. It's like a skydiving veteran nosediving towards earth, when fireworks abruptly start coloring the atmosphere and bombarding the vicinity. (That might be overdramatized.)
Last game, three collisions caused technicals and two ultimately evolved into suspensions.
The trash talk has reached a boiling point; it's a minor provocation away from violently spilling over the brim.
If Miami authors the series' ending tonight, the only surprising plot twist would be peacefulness.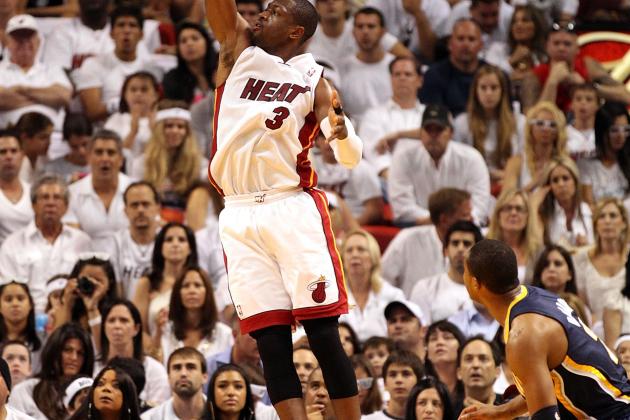 Marc Serota/Getty Images

With No. 40 suited up—literally, with a tie and slacks—the remainder of Miami's scoring burden will fall onto the shoulders of two players: Mario Chalmers and Shane Battier.
The vast majority of Battier's buckets originate from the corner, behind the arc. Lately, his offensive production has been streaky, at best.
Chalmers—averaging 10 points, five rebounds and four assists during the playoffs—has assembled a diverse repertoire over his four-year career. When an injury-laden duo of LeBron and "D-Wade" were forced to spectate this season, Miami's point guard dropped 30 points. Chalmers also added 25 in a Game 3 loss to the Pacers, then contributed a team-high 11 rebounds in the two teams' most recent bout.
However, while Dwyane Wade kicked his aggression into overdrive in Game 5, he'll need to infiltrate redline territory tonight.
Three games ago, the notion seemed implausible.
But Wade has reverted back to his signature form.
Agile double-team splits, effortless bank shots and contorting finishes will likely predicate a 35-plus-point scoring clinic.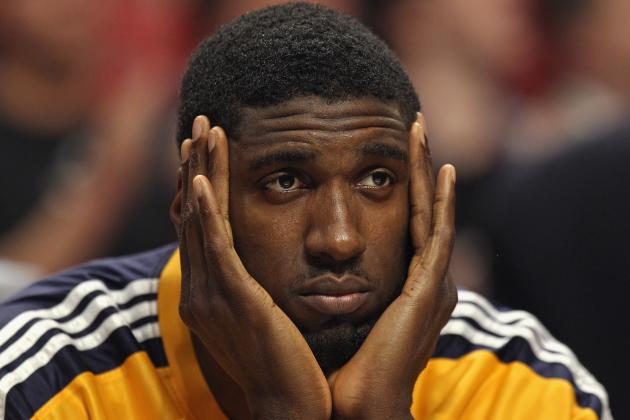 Jonathan Daniel/Getty Images

Suspensions and injuries have depleted Miami's big-man rotation for tonight's tip-off.
It will undoubtedly impact South Beach's favorite team; quantities of minutes will increase, priorities will alter and fatigue will likely rear its ugly head sooner than what players are accustomed to.
However, a sidelined Chris Bosh is old news considering the All-Star had only played the first half of Game 1. Until Miami's two previous matches, Haslem remained trapped in a seemingly unbreakable shell of potential. Dexter Pittman was... Dexter Pittman. A player that, figuratively and literally, sits atop a permanent hot seat as a bench-warmer.
Due to the aforementioned suspensions, the media has directed its spotlight Miami's way and doubled the wattage.
However, the knee injuries of the Pacers' Danny Granger and David West are the most attention-worthy.
Granger represents Indiana's only consistent playmaker that can single-handedly shift the tides of momentum. West ranks second on the team in scoring and rebounding—arguably, the two most critical factors when taking the floor against the Heat.
With their season on life support, nothing short of a last-minute tragedy will deter the duo from suiting up. But considering that Miami engineered an eight-point road victory while the pair were healthy, the margin could easily accommodate an extra digit.