Why Danny Granger Will Go Down as Biggest Chump of 2012 NBA Playoffs
May 24, 2012

Jonathan Daniel/Getty Images
Danny Granger is making a past-time of getting in LeBron James' face, but it hasn't exactly had the desired effect.
Yes, it's managed to ruffle the Miami Heat's feathers—but not in the way any of the Indiana Pacers would have hoped. Rather than becoming mired in frustration, Erik Spoelstra's club responded to the challenge with decisive victories in games four and five, including a 32-point romp in the latter contest.
It's easy to sympathize with where Granger is coming from. He speaks for a sentiment that countless Pacers fan undoubtedly embrace (via ESPN's Brian Windhorst):
"I think there is a line and I'm tiptoeing it," Granger said. "That's a product of the chip on my shoulder and we have on our shoulder as a team of not being respected. That goes not just for this series, but all year. We had the fourth- or fifth-best record in the NBA and I think we only had one televised game. Three or four teams that didn't make the playoffs had more televised games than us. It was just a matter of being disrespected nationally."
Of course, Indiana's best hope of earning that national respect would require Granger and his colleagues to let their play do all the talking. On this count, the Pacers' leading scorer has come up short.
Granger has shot under 38 percent from the field against the Heat, including a horrid 1-of-10 outing in Game 1. He's also failed entirely in his effort to slow LeBron.
In James' last two games, the three-time MVP has combined for 70 points, 28 rebounds and 17 assists.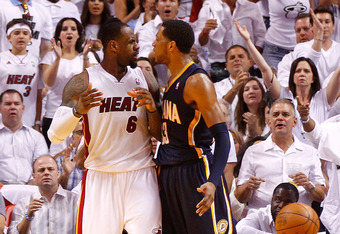 Mike Ehrmann/Getty Images
Instead of establishing his team as a force to be reckoned with, Granger appears to have awoken something inside James. And as a result, a once very winnable series now looks all but out of reach.
To his credit, Granger agreed wholeheartedly with team president Larry Bird's suggestion that the Pacers "went soft" in Game 5. He understands—perhaps better than anyone—that the Pacers have got caught up in the same kind of distractions that plagued Miami in games two and three.
It's hard to imagine Granger being able to do much about his team's woes after rolling his ankle in Game 5.
At this point, his best chance at redemption may be restoring some focus and professionalism to a team flirting with one grudge-match after another.
A few timely three-pointers wouldn't hurt either.