6 Current Los Angeles Lakers Who Need to Play a Bigger Role in the Future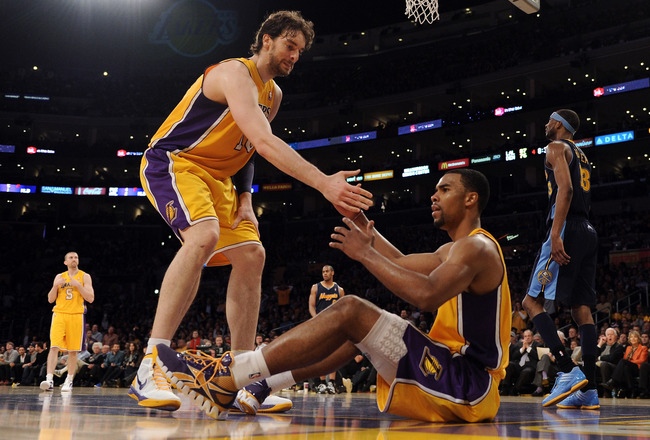 Harry How/Getty Images
The 2012 NBA season came to a disappointing end for the Los Angeles Lakers, with a 42-point performance from Kobe Bryant failing to will the team to victory in a deciding Game 5. While blame could be placed in a handful of places, it has become clear that the supporting cast of the Los Angeles Lakers could have done more.
In 2013, they'll need to step up as Bryant enters his 17th year in the NBA at age 34.
From underachievers to players who couldn't find consistent playing time, the Los Angeles Lakers never received an adequate output from the majority of their players. The question is, which players are most important?
With the franchise's chance to win a sixth title since the turn of the decade in doubt, here are the six players who must step up for Los Angeles to bring home the gold.
Andrew Goudelock: Guard, 6'3", 200 Lbs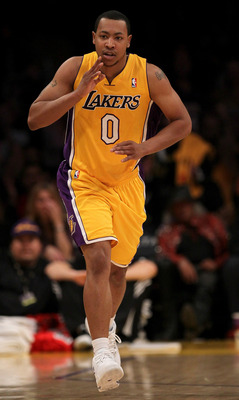 Stephen Dunn/Getty Images
The Los Angeles Lakers' greatest need is that of a three-point shooter. Both Andrew Bynum and Pau Gasol are elite low-post scorers, but neither had the proper spacing due to an opponent's ability to close out on the interior and leave perimeter shooters with little-to-no concern. When Steve Blake is your best option from the perimeter, that will happen.
Enter Andrew Goudelock.
The Lakers' 2011 second-round draft choice averaged 10.5 minutes per game in 40 appearances, shooting 37.3 percent from distance; good for sixth amongst rookies. In 2013, it's only right to assume Goudelock, a career 40.7 percent three-point shooter in college, will improve upon those numbers. The Los Angeles Lakers just need to make sure he has the opportunity to do so.
While Steve Blake is a likeable player, Goudelock, is the better fit for substantial playing time. At 23 years old, he'll spread the floor with his shooting and add fresh legs to an aging team.
Season Averages: 10.5 MPG, 8.48 PER, 4.4 PPG, 37.3 3PT%, 91.7 FT%

Jordan Hill: Center, 6'10", 235 Lbs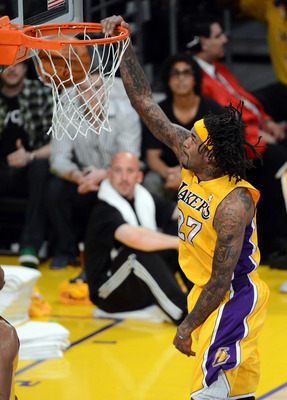 Kevork Djansezian/Getty Images
The 2012 postseason was a launching pad for Jordan Hill, who was once considered to be a bit of a bust. The 24-year-old former Arizona Wildcat tallied two double-doubles, three double-digit rebounding games and an average of 16.8 rebounds per 48 minutes. Unfortunately, his minutes were the furthest thing from consistent.
In 2013, Hill must find a stronger sense of certainty in terms of playing time. He brought an unmatched energy to the floor for the Lakers, and on most occasions was the best rebounder on the floor. Furthermore, the Lakers gave up longtime point guard Derek Fisher and a first-round draft choice to acquire Hill.
If you're going to bet the bank, do all you can to reap the benefits. At the least, make sure this guy is around in 2013.
Season Averages: 14.1 MPG, 15.80 PER, 5.0 PPG, 4.8 RPG, 0.7 BPG

Darius Morris: Point Guard, 6'4", 190 Lbs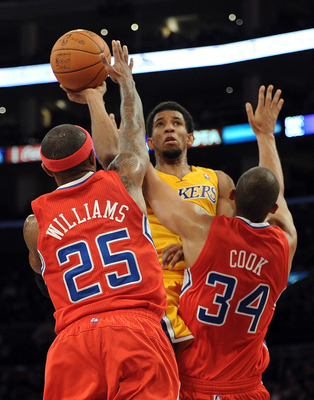 Harry How/Getty Images
Andrew Goudelock's shooting is a key to the Lakers' future. Darius Morris, the Lakers' other 2011 second-round draft choice, is just as pivotal due to his ball-handling and facilitating abilities.
Unlike the point guard the Lakers traded for, Ramon Sessions, Morris' size and strength match up well against most Western Conference point guards. The 21-year-old former Michigan Wolverine excels in penetrating off the dribble, thus opening up lanes for his drive-and-dish tendencies. This takes a major weight off of Kobe Bryant's shoulders, who was worn down on a nightly basis by his consistent need to carry the ball-handling burden.
If nothing else, Morris is an upgrade from Steve Blake in terms of athletic ability and excitement. The fundamentals are yet to be seen.
Season Averages: 8.9 MPG, 5.22 PER, 2.4 PPG, 1.1 APG, 44.4 3PT%

Ramon Sessions: Point Guard, 6'3", 190 Lbs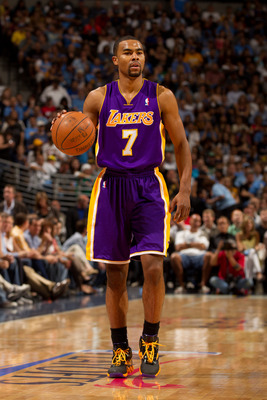 Justin Edmonds/Getty Images
When the Los Angeles Lakers acquired Ramon Sessions at the trade deadline, the aim was to alleviate the pressure from Kobe Bryant as the team's primary facilitator. Unfortunately for the Lakers, Sessions failed to succeed in that role.
After a solid regular season, the 26-year-old Sessions was, at times, a ghost in the playoffs. His regular-season averages of 11.3 points and 5.5 assists dropped to 9.7 points and 3.6 assists in the postseason. Strangely, he saw a pretty significant increase in terms of playing time.
The true problem cannot be found in the statistics, though. Instead, it's the fact that Sessions struggled against the elite point guards, which can be found on nearly every Western Conference playoff team.
At first, it was an inability to defend his matchup. As the postseason progressed and Sessions' frustration grew larger, however, it became his tendency to disappear as a facilitator and go into a "score-first" mentality that produced 37.7 percent shooting from the floor.
This must change for the Lakers to contend in 2013. That is, if Ramon Sessions is to be re-signed.
Season Averages: 26.7 MPG, 16.79 PER, 11.3 PPG, 5.5 APG, 3.3 RPG, 0.7 SPG

Josh McRoberts: Power Forward, 6'10", 240 Lbs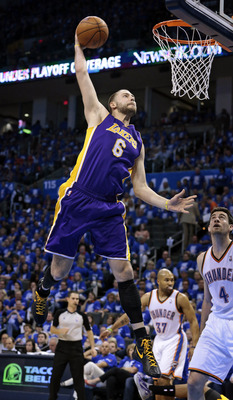 Brett Deering/Getty Images
While Josh McRoberts, 25, may not be the most awe-inspiring name on the Los Angeles Lakers roster, his motor and effort cannot be questioned. This makes for quite the intriguing second unit tandem should the Lakers pair McRoberts with Jordan Hill for a crash-the-boards tandem.
On the offensive end, McRoberts can handle the ball well and isn't afraid to take an open jump shot. While shooting isn't necessarily his bread and butter, it does make him a player who must be accounted for. Should an opponent play overzealous defense, however, the former Duke Blue Devil can penetrate off of the dribble, and he finishes very well around the rim.
His highlight-reel dunks and blocks may have defined him early in his career, but his fundamentals and motor should be what win him a consistent spot in the Lakers' 2013 rotation. Should Pau Gasol indeed see his tenure with the Lakers come to a close, that may just happen.
Season Averages: 14.4 MPG, 10.89 PER, 2.8 PPG, 3.4 RPG, 47.5 FG%

Pau Gasol: Power Forward, 7'0", 250 Lbs
Stephen Dunn/Getty Images
Assuming Pau Gasol remains a member of the Los Angeles Lakers, it's pivotal for the 31-year-old, 11-year veteran to find his niche on the offensive end of the floor.
To put it kindly, the presence of an elite passer on the interior is a serious weapon. A player who is afraid of contact and fails to score in the ways his ability would suggest, however, is not.
For the second consecutive postseason, Pau Gasol saw a major drop-off in terms of production from the regular season to the playoffs. After posting averages of 18.8 points and 10.2 rebounds per game in 2011, the playoffs saw Gasol put up a petty 13.1 points and 7.8 rebounds per game.
In 2012, the results were just as disappointing, as Gasol went from 17.4 points and 10.4 rebounds to 12.5 points and 9.5 rebounds with the lights shining bright.
He also shot 42.0 percent from the floor in 2011 and 43.4 in 2012.
Either this guy cannot handle the postseason pressure or he just isn't fit for the Lakers' game plan. Time for Gasol to define himself—unless Kobe already has.
Postseason Averages: 37.0 MPG, 12.5 PPG, 9.5 RPG, 2.1 BPG, 43.4 FG%
Keep Reading

Los Angeles Lakers: Like this team?