UFC 146 Fight Card: 5 Questions We Have About Frank Mir
Jeff Zelevansky/Getty Images
This coming Saturday at UFC 146, Frank Mir will once again have a shot at the UFC heavyweight championship. This time, Mir will meet the dangerous Junior dos Santos.
Mir won the title back in 2004, but was forced to give the title up after a devastating motorcycle accident.
Mir won the interim UFC heavyweight title four years later against Antonio Rodrigio Nogueira, but lost the title unification bout against Brock Lesnar.
After a failed attempt to gain the interim title once again against Shane Carwin, Mir has won three straight and finds himself in the biggest battle of his career.
Here are some questions that Mir must answer Saturday night.
How Will His Chin Hold Up Against Dos Santos?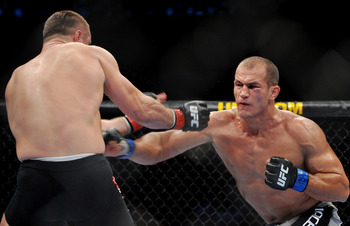 Jon Kopaloff/Getty Images
When it comes to heavyweights with the most dangerous hands, Dos Santos may be at the top of the list.
His mix of speed, crisp boxing and power makes him one of the most lethal strikers in the game today.
If Mir is smart he will try his best not to stand with Dos Santos.
Each of Mir's five losses have come by knockout, and has been rocked by some of the world's best.
Although Mir thinks he can stand with anybody, Dos Santos is not the guy to test your striking with.
Can He Get Dos Santos to the Ground?
Jon Kopaloff/Getty Images
If Mir is to win this fight, odds are he will have to find a way to get it to the ground.
The problem is Dos Santos has avoided 85 percent of the takedowns thrown his way.
Mir will have to find some type of way to get the fight on the ground so he can have a more even playing field.
Whether it be by takedown, trip or somehow knocking Dos Santos down with a strike, Mir needs to get the fight to the ground and keep it there.
Can He Submit Dos Santos?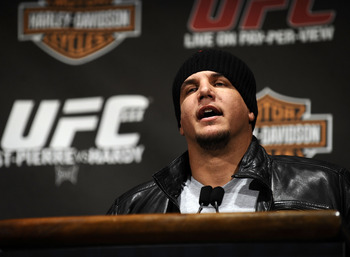 Jeff Zelevansky/Getty Images
When it comes to submissions, there may not be anybody who is more dangerous in MMA than Frank Mir.
Mir holds the record for most submission wins in the UFC heavyweight division, including bone-breaking performances against Tim Sylvia and Brazilian Jiu-Jitsu black belt Antonio Rodrigo Nogueira.
Nogueira just happens to train with Dos Santos, and could give him pointers on how to avoid the same mistakes he made.
Although we haven't seen much of his jiu-jitsu and he's ranked at a lower level, Mir can not underestimate Dos Santos on the ground.
Did He Have Enough Time to Prepare for Dos Santos?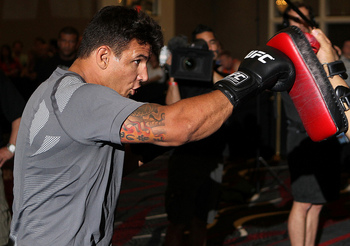 (Photo by Josh Hedges/Zuffa LLC/Zuffa LLC via Getty Images)
After originally preparing to meet Cain Velasquez, Mir got the call to fight Dos Santos.
While preparing for a championship fight in a month's time is never ideal, Mir may not be too far off from his game plan.
Like Dos Santos, Velasquez is a devastating striker.
But Velasquez also has a well-known wrestling game and a better gas tank than Dos Santos.
Although neither were a factor when they met at UFC on Fox 1, Velasquez be a more difficult fighter to prepare for.
Regardless, Mir will have to hope that his previous preparation along with what ever plan he's come up with in a month's time is enough to earn him a win.
Will He Become UFC Heavyweight Champ Again?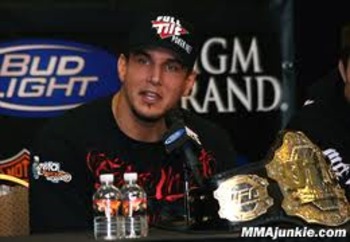 Photo by MMA Junkie
Ever since Frank Mir came back to the UFC from his motorcycle accident, he's been on the road to the heavyweight title.
He's won an interim title and been in two more title fights, but has been knocked out in both.
Mir is a very dangerous fighter and has the most wins in the UFC's heavyweight division.
But if Mir losses in yet another title fight, it could prove that he just is not championship material.
Do you think Mir has it in him to win another title? Or will the short notice and Dos Santos hands be too much for him?
Share your thoughts!
Keep Reading