Boston Red Sox: Mark Melancon in Holding Pattern Down in Pawtucket
May 23, 2012

Elsa/Getty Images
It wasn't supposed to be like this.
Mark Melancon was supposed to be striking out hitters in friendly Fenway, not in Pawtucket's McCoy Stadium. But that's exactly where Melancon finds himself these days.
He's riding the bus to games instead of comfortably sitting on a chartered flight. 
But lack of comfort seemed to be part of Melancon's problem during his brief stint as setup man for the Boston Red Sox. At times, he simply seemed overwhelmed by MLB hitting.
This was not what the Red Sox had in mind when they brought in Melancon from the Houston Astros during the offseason.
In 71 games last season, Melancon was 8-4, with a 2.78 ERA and 20 saves.
In four games with the Red Sox, Melancon is 0-2, with a 49.50 ERA. He has allowed five home runs in two innings pitched.
He struggled against the Detroit Tigers to start the season, allowing four earned runs in two games. Things didn't get much better against the Tampa Bay Rays where he allowed a home run in his only inning pitched.
But that was all just a preamble to what ESPN called, "one of the worst outings in major league history." 
On April 17, Melancon took the mound in the eighth inning against the Texas Rangers with the hope of turning around his ugly season.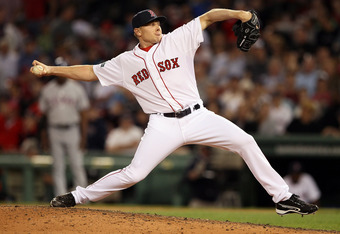 Elsa/Getty Images
That didn't happen. Melancon only sank deeper into the abyss of his nightmare.
Melancon faced six batters, did not record an out, allowed three home runs and gave up six earned runs.
According to CBS Boston, "Melancon became the eighth pitcher in the last 90 years to allow three home runs without recording an out." 
He gave up a bomb to Josh Hamilton that is still lingering somewhere in the clouds high above Fenway.
The decision wasn't difficult. It was time for Melancon to go to Triple-A Pawtucket to straighten things out.
And Melancon has done just that. In 15 innings, he has struck out 23 batters and has only walked two. He has six saves and a 0.60 ERA.
This is the Melancon the Red Sox thought they were getting.
But a funny thing happened since Melancon was sent down to Pawtucket in the middle of April.
The Red Sox bullpen actually has become one of the best in the league. 
Relievers Scott Atchison, Matt Albers, Andrew Miller, Alfredo Aceves and Vicente Padilla have been great out of the pen for the Red Sox.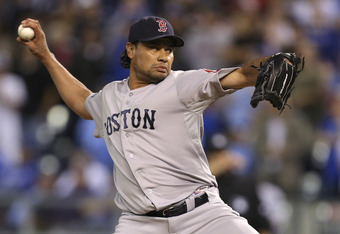 Ed Zurga/Getty Images
The true star is Padilla. He has become a real stopper for Boston.
While Melancon has turned it on down in Pawtucket, Padilla has turned it on up in Boston.
According to Tim Britton of The Providence Journal, "No pitcher in the majors has inherited more runners without allowing a single one to score this season than Padilla."
Padilla has stranded all 15 runners he has inherited this season (ESPN).
He also has nine holds, fifth-most in the American League (MLB.com).
This is great for the Boston Red Sox. It's not so great for Melancon.
Melancon is doing everything within his power to get back to Boston, but there just isn't room for him right now.
When asked about Melancon, Bobby Valentine told The Boston Globe:
 "Getting great reports. I think it's just figuring out the mix and how it is to get him back here. It's not like we don't want him here; it's not like he hasn't done what he was supposed to do down there. It's a roster situation. It's not a talent situation.''
As for Melancon, he's taking a cerebral approach to his time in the minors.
He told Mike Andrews of ESPN, "I'm just taking the opportunity to learn and progress as much as I can while I'm down here. Hopefully, in the long-run that will help me more than anything else."
If the Red Sox bullpen continues to pitch the way they've pitched in May, the long run may be much longer than anyone could have predicted.