St Louis Rams: Wednesday's Rams News and Notes at Noon
April 12, 2017
Welcome to Wednesday's St. Louis Rams "News and Notes at Noon", the one stop destination for all major Rams headlines and other information of interest relevant to Rams Nation. 
Jersey Numbers Change for Several St. Louis Players
According to this report from Ron Clements of CBS Sports, several Rams players are changing uniform numbers. 
Some of the players changing numbers include Jason Smith, Josh Gordy and Steve Smith.  For the specifics of who took what number, please click the aforementioned link.
Danny Amendola's Return Could Be Critical 
According to Don Banks of sportsillustrated.cnn.com, Rams wide receiver Danny Amendola is one of a select group of players primed for a bounce-back season in 2012 who were injured in 2011. 
As you can read here, Banks also expects big production from Jamaal Charles of the Kansas City Chiefs, Andre Johnson of the Houston Texans and Mario Williams of the Buffalo Bills, among others.  
As for Amendola, Banks says the following (and more):
Without his security-blanket receiver (Amendola) to look for whenever he was in trouble, St. Louis quarterback Sam Bradford simply didn't look like the same passer, and the Rams' already thin receiving corps slid into full-blown mediocrity.

St. Louis didn't come remotely close to replacing Amendola's 85 catches from the slot in 2010, and with the Rams' pass protection issues, those chains-moving, quick-hitting connections between he and Bradford were glaringly missed. No wonder the Rams tendered him at a second-round level in restricted free agency, moving to effectively ensure that Bradford has his favorite receiver back at his disposal this season.

The Rams stocked up at receiver in the draft, but getting Amendola to return to the lineup is where the upgrade at the position begins.
Earlier in the offseason, I offered a detailed look at how Amendola's return could be pivotal for the Rams and Sam Bradford in 2012. 
Greg Cosell of NFL Films Analyzes Sam Bradford 
In an interesting piece for nflfilms.nfl.com, Greg Cosell analyzes St. Louis Rams quarterback Sam Bradford (as well as Tampa Bay Buccaneers QB Josh Freeman.)
Cosell looks at Bradford's NFL Offensive Rookie of the Year season in 2010 and his sophomore slump of 2011.  
There is a great deal of meat via the above-linked piece, including the following on Bradford and his disappointing second season: 
So what happened in 2011? The problems began the opening Sunday. Bradford was tentative in the pocket, not mentally sharp, and at times he did not let it loose when he had a throw. An inconsistent profile had been established.

What really stood out as the year progressed was Bradford's reaction to pressure — the issue that first surfaced in his rookie season against Kansas City. It is easy to place the blame on the Rams' poor pass protection, but that circumvents the more essential point. You must be able to function effectively in a muddied and noisy pocket to play quarterback well in the NFL, and Bradford began to perceive pressure that was not there. He was anticipating the rush, and you cannot perform that way, no matter what kind of talent you have throwing the football.
Former Rams quarterback Tony Banks offered some similar thoughts on Bradford recently, too.  You can check those out here at fox2now.com. 
Rams Fullback Excited About New Offense 
According to this article from Stu Durando of the St. Louis Post-Dispatch, St. Louis fullback Brit Miller is excited about the new offense of offensive coordinator Brian Schottenheimer. 
In looking at the new playbook, Miller sees an offense that a fullback would be hard-pressed not to love: 
It's great.  Last year there wasn't really anything in there for us that stood out where we could get downhill and block people and do the things we like, things we're good at. This playbook is full of it.

 
Rams Tee Off For March of Dimes
Evan Glantz contributed this piece for stlouisrams.com and the Rams efforts to assist the March of Dimes for the third consecutive year. 
Those participating in the event included Rams linebacker James Laurinaitis, quarterback Sam Bradford, head coach Jeff Fisher, Chief Operating Officer Kevin Demoff, Bob O' Loughlin of Lodging Hospitality Management (and the Chairman of the St. Louis Convention and Visitors Commission) and March of Dimes state director Elizabeth Grimes (who is also a commissioner with the CVC.)
Demoff shared background information regarding the event and the purpose therein: 
The ideal day is raising awareness for everybody who's participating (in the tournament.) We have a lot of generous companies who participate in this challenge. We have a lot of excited players, bringing them together, trying to find a solution for premature birth and research funding for the March of Dimes.

I've got a five-year old and a three-year old who were both born early. So I think any young parent with young children can identify with the March of Dimes and the mission to have healthy babies and to give babies a great jump start on life. We've got a lot of young players who are just entering that stage of their lives with young families, and this is a great cause they can relate to as well.
And Grimes, interestingly, shared some information regarding Demoff and his background in relation to this worthy cause:
It just so happens Kevin did experience prematurity in his family. So this is not only something the Rams are doing from the standpoint of supporting a good cause. We have what we call a 'mission parent' that's associated with the organization and understands what it's all about.
Finally, Rams cornerback Bradley Fletcher shared these words: 
(March of Dimes) informs the mothers of the children on birth defects and the way they should carry themselves during pregnancy – ways to avoid problems they could have during pregnancy. Organizations like this keep babies healthier.
Demoff and O' Loughlin co-chaired this meaningful and most-worthwhile event.  The event was expected to raise over $150,000. 
For video footage and additional interviews for the event, please watch this from stlouisrams.com.
Turf Show Times Looks Back at Rams Assistance Following the Historic Joplin Tornado
Ryan Van Bibber of Turf Show Times took a look back at the Rams work in Joplin last year and the one year anniversary of the catastrophic EF-5 tornado that ripped through the heart of Joplin, Missouri and prematurely ended the lives of 161 people in this piece. 
The Rams, however, are not done in Joplin.  
Later this year, the St. Louis Rams will join the St. Louis Cardinals to assist the Joplin Habitat Challenge and an effort to build 35 homes in seven city neighborhoods.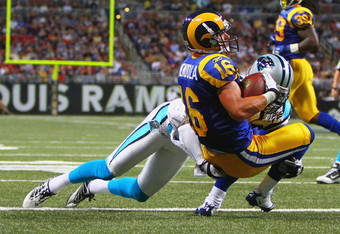 James Laurinaitis One on One 
In an interview from last week that I just found at stlouisrams.com, James Laurinaitis talks about the first set of organized team activities (OTA's) for the Rams in 2012. 
Laurinaitis shares some interesting insight and background info in the above-linked interview, including some talk about members of the Rams rookie class.  
Have a great day as always, STL Rams Nation. 
Shane Gray covers the St. Louis Rams daily as a Featured Columnist for Bleacher Report. You are encouraged to check out the rest of his work here. Gray also owns and operates stlramscentral.com.