Big 12 Football: Multiple Teams Reportedly Showing Interest Is Bad Sign for ACC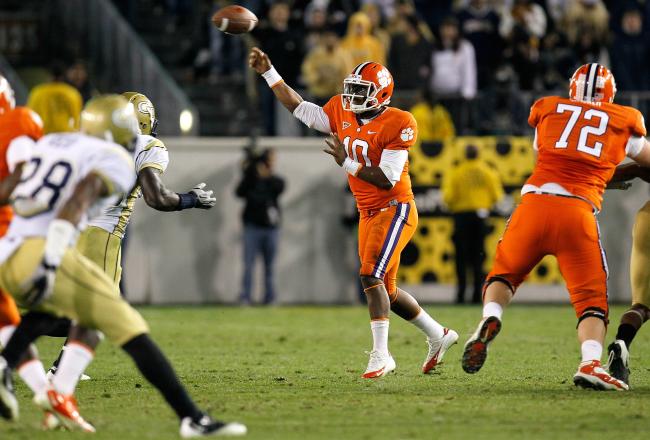 Kevin C. Cox/Getty Images
Florida State has already raised quite a stink in its push to see what else is out there from a revenue standpoint. The Seminoles are interested in the Big 12 and, it appears, other teams in the ACC are following suit.
In a report from OrangeBloods.com's Chip Brown, Virginia Tech, Miami and Clemson have reached out to the Big 12 to gauge interest ($$). Another report from the same site has the Yellow Jackets joining the fray, as it seems everyone is at least looking at the possibility of getting out of the ACC ($$).
Obviously, as is the case with all expansion rumors, these must be taken with a grain of salt until they can be confirmed by more sources.
However, if one is operating on the assumption that they are true, this is not a good look for the ACC. Losing any of these schools in addition to Florida State would strike a blow to the conference's marketable product from both an inventory and name-recognition standpoint.
Certainly, of the three rumored teams, the Hokies have been the most consistent on-the-field winners. They fill up Lane Stadium and they get to BCS bowls on a consistent basis. Losing a product of that magnitude, especially a team that has proven they are willing to play big-money television games, would hurt the conference's cache on the field.
For the Clemson Tigers, marketability would take a hit if the Tigers were the Seminoles' travel partners. Although the Tigers have only been to one BCS bowl during the BCS era, Clemson is a legitimate brand in the conference. The school has a football culture that helps pack the league's second-largest stadium and a name brand that people will watch.
With Georgia Tech, the loss is a bit more difficult to see for the ACC. The Jackets do not draw the same on television as the Tigers, and they lack the success cache of the Hokies.
However, Georgia Tech is a team that's been in the conference for quite some time, and it has built up its place in the conference since its first season in 1978.
Ultimately, going forward, we'll be monitoring this situation as more facts bubble to the surface. As is the case with Florida State, if the teams can improve their long-term standing and solidify their place at the college football table then they have to make the move that makes sense.
While the schools look to better themselves and the Big 12 is making a decision on expanding, the ACC must try to avoid total implosion at all costs. There are no schools on the horizon, save for long shot Notre Dame, that can raise the conference's sails more than the departing schools will drop them.
This article is
What is the duplicate article?
Why is this article offensive?
Where is this article plagiarized from?
Why is this article poorly edited?