Early Predictions for LA Lakers Starting Lineup Next Season
May 23, 2012

Stephen Dunn/Getty Images
With the disappointing end to the season for the Los Angeles Lakers, it's never too early to look towards next season.
General manager Mitch Kupchak is faced with a ton of questions for 2012-2013, which surround the point guard position and the futures of both Pau Gasol and Andrew Bynum.
There's no question the Lakers roster not only needs upgraded, but also needs to get more athletic in the process. But there's not a whole lot of money for Kupchak to throw around, so major free agent signings are likely out of the question.
With that being said, here's a look at what the Lakers starting five could look like in 2013.
Point Guard: Kyle Lowry
The Rockets have long coveted Pau Gasol and Kupchak should be looking to unload his contract.
The Lakers had interest in Lowry at the trade deadline, but Houston was unwilling to part with Lowry at the time, but with the emergence of Goran Dragic, who the Rockets will certainly look to re-sign, Lowry could be dangled for the Rockets to land the productive big body they need.
Los Angeles needs to upgrade at the lead guard spot and targeting Lowry is a huge upgrade over Ramon Sessions.
Shooting Guard: Kobe Bryant
After an MVP-caliber season in which he nearly led the NBA in scoring at 27.9 points per game, there's no doubt that Bryant will be back at his familiar 2-guard spot for the 2012-13 season.
Small Forward: Metta World Peace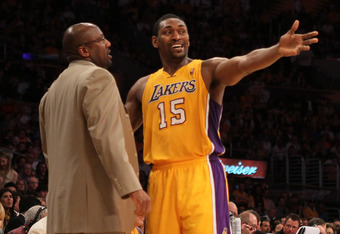 Stephen Dunn/Getty Images
There's a chance that Kupchak could elect to use the amnesty clause to get rid of World Peace's remaining two years and $15 million, which would make sense long-term for this team.
But the small forward free agent class isn't very strong this season and while re-signing Devin Ebanks is also an option, I have a feeling World Peace will be in a Lakers uniform come opening day.
He will be 33 next season, but if he comes to camp in shape then he still has a lot to offer.
Power Forward: Luis Scola
To make a deal for Lowry, the Lakers will also have to likely take on the contract of Scola as well. It would certainly be more complicated than just Gasol for Lowry and Scola, and a third team may need to be involved, but ultimately targeting these two guys will make the Lakers a better team.
He's an energy guy that could do some good things in the Lakers lineup. With Jordan Hill also facing legal troubles, the Lakers could again be very thin upfront and if Scola could average anywhere near the 15.5 points and 6.5 rebounds he did for the Rockets, then it would be huge for the Lakers.
Stephen Dunn/Getty Images
Center: Andrew Bynum
Talks of acquiring Dwight Howard will again heat up in the offseason and while I think the Lakers will make an aggressive push for Howard, eventually they will stick with Bynum.
Hopefully he matures some in the offseason, but if he gives the Lakers anywhere near the 18.7 points and 11.8 rebounds he did in 2011-2012, then the Lakers will be happy with that.
Head Coach: Mike Brown
While Lakers fans may want to see Brown ousted after his first year in Lakerland, Brown will be back for next season.
With a full training camp under his belt and actual practice time during the season, the results may be different.