Jerry Jones Says Dallas Cowboys' Window Is Closing for Title Contention
April 8, 2017
Tom Pennington/Getty Images
Every Dallas Cowboys fan has their own opinion about owner and general manager Jerry Jones.
Some people say he's perhaps the best owner in the NFL. Others will say that his evaluating of talent is nowhere close to expert standards and that he should step down immediately, at least as general manager of the Cowboys.
And with star players such as Tony Romo, Jason Witten, Dez Bryant and DeMarcus Ware on the current roster, one would like to think that Dallas still has a chance to make some noise come playoff time and finally show the rest of the world what they're capable of.
But if you ask Jones himself, he thinks the window on bringing a sixth Super Bowl trophy to Dallas in the near future is closing.
Via ESPN Dallas' Tim MacMahon:
"Well, my window is getting shorter. Time goes by," Jones told NFL Network at the owners meetings in Atlanta. "I do feel real pressure because we do have players not only in (quarterback) Tony Romo, but (tight end) Jason Witten (and outside linebacker) DeMarcus Ware, to leave out several that are (also) in the prime of their career. And we need to strike and strike soon with those guys.
It can be said that there are times to be optimistic about the current state of the Cowboys. Not only did they sign free-agent cornerback Brandon Carr, but the Dallas front office also moved up eight spots to pick up LSU corner Morris Claiborne with the sixth pick overall in April's NFL draft.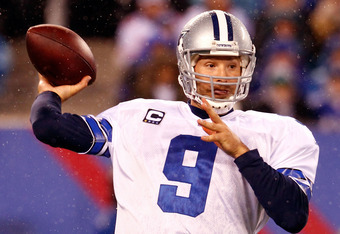 Jeff Zelevansky/Getty Images
Ware is playing at a level where people need to start considering him as one of the greatest pass rushers of all time, and a young core of linebackers featuring Sean Lee is definitely something to take note of.
Then of course there's the electrifying offense starring Romo, with DeMarco Murray being the featured running back and a core of receivers and tight ends that could rival most teams in the NFL.
But for once, Jones is not going crazy because of his old age. He's indeed correct to some extent.
The cream of the crop in the NFC is stacked beyond measure at the top with teams like Green Bay, San Francisco and the defending Super Bowl champion New York Giants. Not to mention that there are young teams looking to make the leap, like Atlanta and Carolina.
It's not just in the nature of the Dallas Cowboys to start winning as of right now, because of their historic culture. But they need to win now because no one's sure how much longer some of the main pieces on this team can go for 16 weeks out of the year, including the playoffs if they get there.
The division alone is tough with the Giants and the Philadelphia Eagles running shop as perhaps the two clear leaders of the NFC East. Having faced those teams, along with Robert Griffin III and the Washington Redskins twice a year, it won't be easy for the Cowboys to get to where they want to be.
However, if there's a time when this team can make a statement and show that they are indeed ready to take that leap into NFL supremacy, then this year's schedule provides that opportunity to be in a good position to do so.
With Romo coming off arguably the best statistical year of his career, one can only wonder how he'll be able to respond this upcoming year and lead the Cowboys to the promised land. And with a full training camp and offseason to get things going—not to mention Murray's emergence being a key factor—there's a lot of optimism going around in Valley Ranch right now, and rightfully so.
No one would think any differently if Jones was, once again, getting older and senile as the days go by. But at the same time, not one person would be faulted in agreeing with him. In a few years, the future of the Dallas Cowboys will be in full effect, and something has to give sooner or later.
And if there's a time for things to happen, that time is now.