Why Philadelphia 76ers Should Trade Andre Iguodala Before Next Season
May 25, 2012

Drew Hallowell/Getty Images
With the Philadelphia 76ers forcing the Boston Celtics to a Game 7 and Andre Iguodala having stellar performance in the postseason, the spotlight could not shine any brighter on Iguodala. His trade value just keeps getting higher.
Before I get into it, I'd like to make it clear that I have nothing against Iguodala. He's a really good player who is capable of doing a lot of things on the court like being a facilitator and playing shutdown defense (and who can overlook his flashy dunks?).
He brings a lot to the table.
However it has become evident, despite this great run they are on, that Philadelphia will not be able to win it all with the squad they have now. As much as I like to believe you can win without a superstar (2004 Detroit Pistons-esque), it is very unlikely, especially with the amount of competition in the Eastern Conference.
The Sixers have a solid young core of players starting with Evan Turner, Jrue Holiday and Thaddeus Young (all of whom have shined in the postseason at one point or another). All of these players still have potential to fill, and unfortunately it seems as though Iguodala is infringing upon their growth to fulfill their full potential, especially Turner.
If Turner averaged 9.4 points and just under six rebounds per game in just 26 minutes per game, imagine what he could do with more playing time and being the center of the team. 
True, the Sixers are making a run now, but they are a young team built to win in the future.
With that being said, the future of this team must be looked at because obviously there is a need for change. The Sixers need to make some key moves. One of the first steps in the process is trading Iguodala.
Iguodala averaged 12.5 points, 5.5 assists and 6.1 rebounds per game this season. Although not as flashy as his dunks, the stats are still pretty well-rounded. Plus, he shot a career high .394 from three-point range this year.
Still, we walk into the major problem of his performance not equating to his huge contract.
The hardest part about trading Iguodala is two things: finding a team that will be able to take his contract and a team that wants him to begin with.
As shown, his stats are not flashy, and many teams, just like fans, are deterred by his inability to perform late in games and hit free throws.
But has he not proven otherwise during the playoffs?
Game 6 against Chicago says it all. Iguodala scored 20 points and recorded seven assists. And more importantly, he went a perfect 4-of-4 from the line. But what really stands out about this game was when he hit two of those free throws. 
With 2.1 seconds left on the clock, Iguodala sank both free throws to put the Sixers up 79-78 and win the game—a script that could not have been written any better.
He overcame his flaw in free-throw shooting and he came through in the clutch. Plus, he is playing even better in the current series against the Celtics.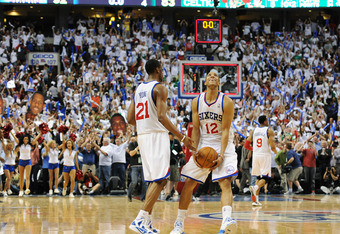 Drew Hallowell/Getty Images
No matter how the Sixers fare in Game 7, Iguodala's trade value right now is the highest it will ever be. Now is the time to trade Iguodala where they can get the most for him.
Overall, Iguodala has really sold himself this postseason and has turned into an attractive option for teams looking to win now. The Sixers should be trading Iguodala anyway, but the fact that his great level of play in the postseason has hit the ceiling of his trade value just solidifies the reason to do it sooner.
Whether or not it feels normal, it is clear that the Sixers need to trade Iguodala and pass down the reins of leadership to a new, young core set for the future.