Cam Newton: Why He Will Avoid the Dreaded Sophomore Slump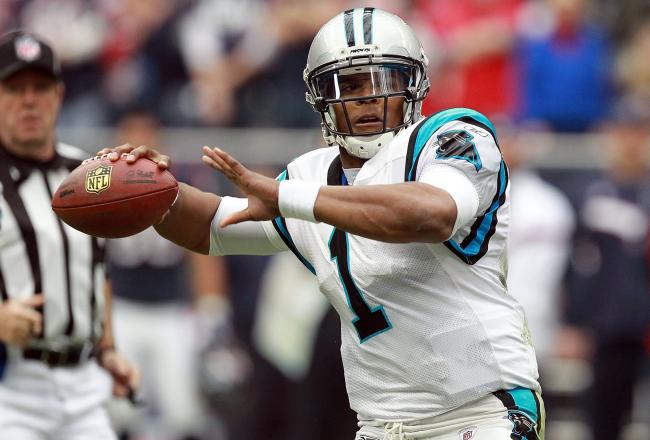 Ronald Martinez/Getty Images
I've seen a lot of articles posted online recently about the sophomore slump and predicting that Cam Newton will fall victim to it. I think that Newton will be able to avoid backtracking in year two.
There are two main reasons that a QB falls victim to a sophomore slump.
1. Defensive coordinators realize what you're strengths and weaknesses are and take the plays you're good at away from you.
2. A player is overconfident after experiencing success and feels that he no longer needs to work hard.
Let's start out discussing the adjustments that defensive coordinators are going to make to try to stop him.
Unfortunately, the job for opposing defensive coordinators facing the Panthers will not be easy.
When you're facing a QB that struggles to throw when rolling out to his right, you bring pressure on his left side so that he has to make a throw that he isn't comfortable with. When you're facing a QB that spends all day completing dink-and-dunk 5-yard passes, you keep your safeties shallow because you don't have to worry about the deep ball.
As a rookie, Newton threw for 4,051 yards, the most ever by a rookie QB. You don't rack up that many yards unless you can make every throw that an NFL QB needs to make.
Everyone knows that the previous rookie to hold the record for most passing yards was Peyton Manning. In 1998 Manning threw for 3739 yards with 26 TDs and 28 INTs. He followed that up with a sophomore campaign of 4135 yards with 26 TDs and 15 INTs, showing that a rookie QB that racks up tons of yards through the air is capable of improving in year two.
On top of Cam's passing ability, he's the most athletically gifted QB to enter the league since Michael Vick, and ran for more TDs than any QB in the history of the NFL. So at least one member of the defense needs to be dedicated to the role of "QB spy," meaning that there's one less defender Cam will have to worry about when he's throwing the ball.
As far as Cam becoming overconfident, I don't think that will be a problem, either. I think Cam's the type of person that reads every negative article about him and listens to every negative report about him, and uses that as fuel to work harder.
Coming in to the NFL, he was the most publicized and criticized member of any recent draft class aside from Tim Tebow. I remember watching a behind-the-scenes type show on either ESPN or NFL Network before the 2010 draft showing Newton preparing for the combine.
I remember him working out after dealing with reporters and making comments along the line of, "If I have a bad workout, the media's gonna jump all over me, and if do well at my workouts, the media's just gonna say 'we knew he was gonna work out well, that doesn't mean he can be a good QB in the NFL.'"
It seemed to me like he was genuinely bothered by all the negative reports about his ability to transition to the NFL and worked hard to prove those reports wrong. I'm pretty confident he's now reading the reports about how he's about to have a sophomore slump and working to prove those reports wrong.
The final reason why I think Cam won't have a sophomore slump is because he improved through the course of his rookie season. It would be easy to throw for 400 yards your first two games and think "OK, I've got this. I don't need to try very hard here," but I don't think that's what Cam did.
If you're going to look at Cam's passing yards in each game through the course of his rookie year, you'll see that Cam threw for more yards early in the year than he did later on. The last three games of the season he threw for under 200 yards, and he didn't have a 300-yard game after Week 4.
I think the more important statistics to look at are INTs and wins. Cam only threw three INTs in the last six games of the season after throwing 11 INTs in the first 10 games. That shows that he was doing a much better job of not turning the ball over as the season progressed.
Most importantly, the Panthers were 4-2 in the last six games. After starting off the season at 2-8, Cam showed that he could do the one things that all great QBs are expected to do, win football games.
I think Cam Newton's going to be spending his time leading up to the season looking at the 17 INTs he threw and the 10 games the Panthers lost his rookie season, and figuring out ways to get both those numbers to go down.
This article is
What is the duplicate article?
Why is this article offensive?
Where is this article plagiarized from?
Why is this article poorly edited?

Carolina Panthers: Like this team?