New York Knicks Rumors: Dwight Howard and the Danger of a Revolving Roster
May 23, 2012

Chris Trotman/Getty Images
Dwight Howard does not play for the New York Knicks, and many of us would do well to remember that.
When word came that Stan Van Gundy and the Orlando Magic had parted ways, the expectation was that Howard would continue to call the Amway Center his home.
That expectation was torn to shreds almost immediately, though, on the heels of a report from Chris Sheridan of SheridanHoops.com which stated the "All-Star center desperately wants to be traded prior to the start of next season."
None of this should come as a surprise, though. Howard has been indecisive, at best, regarding his future plans and the fact that he wants to disassociate himself from an organization on the verge of self-inflicted implosion is far from shocking.
But at the risk of subjecting us to an identical routine, Howard has, in fact, implemented some changes into his exit strategy.
According to Sheridan, the big man still has a list of preferred destinations, one that is strikingly similar to the infamous "wish list" of this past season, except that it has been expanded upon to include none other than the Knicks.
The Knicks always seem to find themselves in the thick of trade rumors, yet this time, it's different. This is the first set of Howard-initiated chatter, far more significant than the musings put forth by ESPN's Stephen A. Smith back in January.
Suddenly, it all seems real. And exhausting.
Let's ignore the highly plausible theory that Howard is simply joining the ranks of many athletes before him who name-dropped the Knicks to drive their price up and force other teams into action. Let's ignore all of it.
Are we really here, again?
The last thing the Knicks need to focus on is blowing up their roster yet again, even if Howard is the one at stake.
The Magic are likely to want to unload Hedo Turkoglu's contract in any deal, essentially meaning the Knicks must relinquish two of their three superstars to get the ball rolling.
Try as Orlando might to make one of those stars Carmelo Anthony, it simply isn't happening. New York has invested too much time and too many assets into making him the face of the franchise.
That leaves Tyson Chandler, the reigning Defensive Player of the Year, and Amar'e Stoudemire. Even with Stoudemire's recent fall from grace, that's a steep price to pay.
Of course, the Magic could continue their string of questionable decision making and opt for a package built around Chandler or Stoudemire and youth, but even that makes little sense for both parties.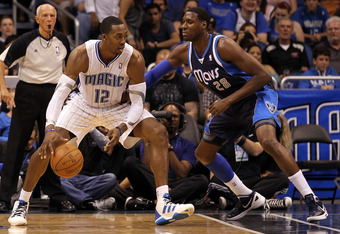 Sam Greenwood/Getty Images
For nearly a decade, the Knicks have had a revolving roster. Players came and went, games were won and lost, and each day, week, month and year, there was a different outside face to covet.
Such an approach was acceptable for awhile, because it was all in pursuit of building a contender. Now, however, it has become old, and borderline dangerous.
Expectations soared in New York over the past two seasons, yet the team failed to meet them. And though many chalk it up to an unfit dynamic, such conclusions cannot be drawn until a legitimate opportunity to develop cohesion presents itself.
That's what the Knicks have now—a chance to finally fit the pieces of a roster and front office, that have been in a perpetual flux, together.
There's a plethora of reasons why teams like the Celtics, Spurs and Thunder find themselves contending for a title on a yearly basis, none more important than continuity.
True championship hopefuls do not acquire or develop stars only to swap them out for different ones, they build around them.
The time for New York to assemble a foundation is over. It's time to build upon the one they already have and establish a new precedent, one that promotes stability and not precariousness.
Regardless of Howard's intentions, or lack thereof, the Knicks must remove themselves from the sweepstakes. They can ill afford to be goaded into this all-too familiar and seemingly unbearable territory.
"These are the days you dread in this business," Magic CEO Alex Martins said leading into his justification behind Orlando's decision to part ways with Van Gundy.
And he was right, in more ways than one, for more teams than one.