Forecasting Kobe Bryant's NBA Future as Dynasty Crumbles in L.A.
May 22, 2012

Ronald Martinez/Getty Images
The 2012 season came to a crashing halt for Kobe Bryant and the Los Angeles Lakers Monday night when the Oklahoma City Thunder sent them packing from the NBA playoffs.
The Lakers dynasty as we knew it is all but done, and changes need to be made in Lakerland.
But if changes are made, what does that mean for the future of superstar Kobe Bryant?
Looking at Black Mamba, here's a guy who's 33 years of age, has played 16 seasons in the NBA and close to three additional seasons if you count postseason games. There's a lot of mileage on Bryant's body.
But for everyone who thought he was about to slow down before this season, Kobe sent the NBA world a loud message by averaging 27.9 points per game in the regular season and 30.0 PPG during the postseason.
What Bryant showed is that he's hungry as ever and has three or four more years left as a productive NBA player.
Still, for a guy who's accomplished everything a basketball player can accomplish, what's the motivation for Kobe going forward, especially with the Lakers window closing fast?
For Bryant, it's all about the championship, and he still wants to take a run at a sixth ring and, if he's lucky, possibly a seventh.
However, looking ahead at how Bryant accomplishes that, the Lakers roster must not only get better, it must also get more athletic in the process. The Thunder and the Denver Nuggets exposed the Lakers' lack of athleticism, and with the amount of quality young athletes in the NBA, that has to be priority No. 1 for Lakers general manager Mitch Kupchak in the offseason.
Bryant also needs an elite point guard if he's going to contend for a title soon. At his age, Bryant isn't the facilitator he once was, and he needs a legitimate point guard to take that load off his shoulders.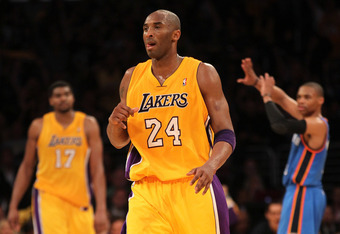 Stephen Dunn/Getty Images
Kobe's mostly just a scorer now, and he needs talent around him for the remainder of his career.
Can the Lakers do that for him, though? They are in horrible shape financially, and going out and upgrading the roster won't be an easy task for Kupchak. Getting the contracts of Pau Gasol and Metta World Peace off the books could save the franchise $26.2 million, but remember, they will have to take salary back in a Gasol trade, so the return has to be something that can help Los Angeles compete for a title.
Kobe is staring at a lot of potential changes around him if he's going to realistically have a chance at winning at least none more ring.
Can the Lakers surround him with the proper pieces? That's debatable, but my gut feeling is that they will.
So, while everyone will want to start the countdown clock on the rest of Kobe's career, don't start doing that until he wins another ring, which, in his case, likely has to happen in the next two years.