Arsenal Transfer Speculation: 3 Playmakers Who Could Improve the Gunners' Style
May 22, 2012

Gabriele Maltinti/Getty Images
One option for Arsenal this summer could be to boost their creative options in midfield, as the Gunners found it difficult to replace the playmaking talents of Cesc Fabregas.
The overall quality of their usually flawless passing game struggled as a result. Here are three technically-gifted playmakers Arsenal could consider adding to the ranks this summer:
Adam Ljajic, Fiorentina
Arsenal continue to be linked with a move for Fiorentina misfit Adam Ljajic. Givemefootball.com speculated about a potential swap deal involving underwhelming forward Marouane Chamakh.
There is no denying Ljajic has the talent, but there are also legitimate concerns regarding his temperament. He was involved in a physical altercation with his former coach following an early substitution.
However, Ljajic does have the technical ability, quick feet and craft that Arsenal have lacked too often in the forward areas this season. The player dubbed the "Kaka of Eastern Europe" can play wide or centrally and offers the flair Arsenal need behind the strikers.
Yoann Gourcuff, Lyon
Yoann Gourcuff has been linked with a move to the Emirates Stadium several times in the past two years. In December, 2011, Metro reported that the French schemer was a prime candidate for a January switch to Arsenal.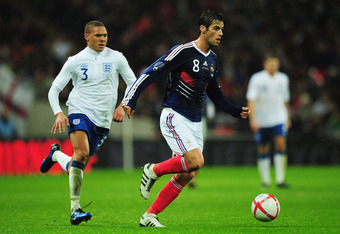 Shaun Botterill/Getty Images
The move didn't materialise, but Gourcuff remains the kind of cerebral link player Arsene Wenger could help thrive. He is an immense talent capable of some dazzling moments of skill, and has the awareness and invention Wenger covets in an advanced midfielder.
Yet Gourcuff's career has been stop-start to say the least. He has played for a litany of clubs and never managed to stay consistent, prompting concerns about his attitude and work ethic.
However, Gourcuff is still only 25, and Wenger has worked wonders in the past with talented, but sullen players. Gourcuff is the type of player with magic in his boots that Arsenal's midfield is currently lacking.
Moussa Dembele, Fulham
Recent reports have indicated that Arsenal have a genuine interest in Fulham attacking midfielder Moussa Dembele. Eatsleepsport.com suggests that languid forward Andrei Arshavin could be offered as part of a deal to tempt Fulham into letting go of one of their prized assets.
This author is a big fan of Dembele and has advocated an Arsenal move in the past. The 24-year-old Belgian is an intelligent schemer, blessed with clean touch and passing ability.
He is full of good ideas around the box and also offers the size to cope with the physical responsibilities of dropping back into midfield when Arsenal are forced to defend. Dembele has the Premier League experience Arsenal should covet in their summer acquisitions and would be a smart addition.
Conclusion
This list is mere speculation and rumour, but Arsenal certainly need to add another midfield player this summer. A disciplined, defensive presence would seem like the obvious choice for a team that still managed to score 96 goals without Fabregas this season.
However, at key moments during the campaign, Arsenal were found short of ideas and the pace of their game frequently became pedestrian when it mattered most. With Alex Song, Mikel Arteta and the returning Jack Wilshere available, Wenger may feel that an advanced playmaker is what the team needs most.