Memphis Grizzlies: 4 Reasons Why 2012-13 Will Be Their Best Year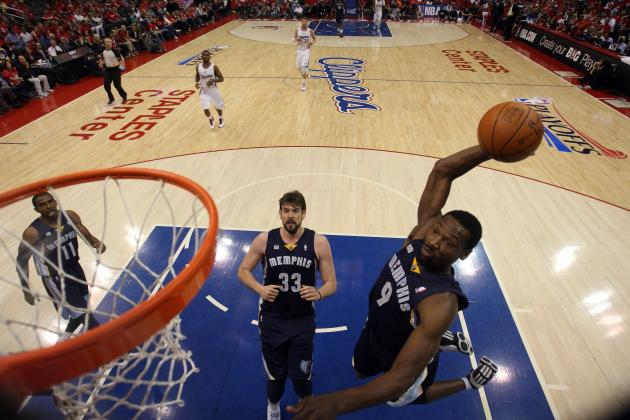 Stephen Dunn/Getty Images

The Memphis Grizzlies had a disappointing finish to a very strong season. The Grizzlies lost to the Los Angeles Clippers in seven games after earning their best winning percentage in franchise history and first home-court advantage in franchise history.
For the regular season, it was the most accomplished year for the Grizzlies.
Still, they must find ways to go deeper in the playoffs. Zach Randolph was still off a touch in the playoffs, and he could be better next season. Mike Conley has improved each season of his professional career and could be in for another year of growth.
Still a young team, the Grizzlies have plenty of room for growth.
Following is a breakdown of some reasons why the Grizzlies are on their way up and won't slow down in the coming season.
Begin Slideshow

»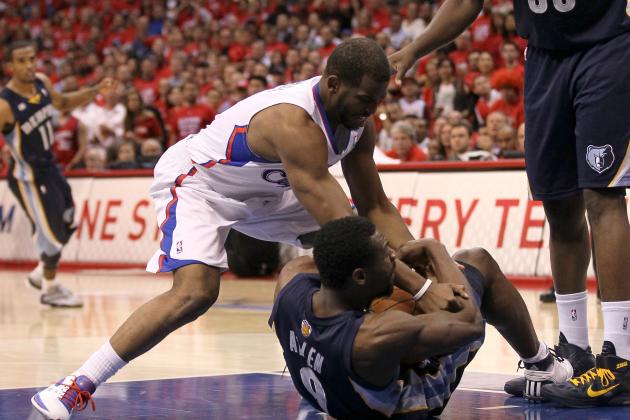 Stephen Dunn/Getty Images

Tony Allen is the Memphis Grizzlies.
His grinding defensive play shapes the Grizzlies' team ethic and gave way to the nickname "Grindhouse."
Indeed, Allen is a fantastic defensive player. He grabs steals by putting pressure on ball-handlers and getting in passing lanes. He did a nice job defending Chris Paul in the playoffs after Game 1.
Now, Allen is in the final year of his contract and he'll be 30 years old. The 2012-13 season will be the last season for Allen to truly be a showstopping defender.
Grinding defensive specialists like Allen go downhill a bit quicker since they play as hard as they do. Ben Wallace declined quickly after his peak, losing his famous ability to use his hands effectively.
Allen understands that the time is now. The defensive leader told The Commercial Appeal that while they've established themselves as a playoff team, the Grizzlies still have to turn the corner. "Now, it's about maturity and growth," he said.
With Allen advancing another year through his prime and the core players (Rudy Gay, Mike Conley, Zach Randolph, Marc Gasol) advancing another year in their contracts, the window is closing.
Knowing this could be the last great defensive year for him, Allen could push himself and his teammates especially hard to go deep in the playoffs.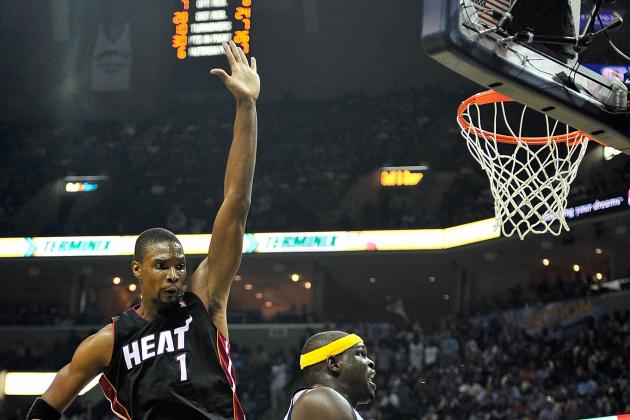 Grant Halverson/Getty Images

The Grizzlies changed their offensive attack early in the 2011-12 season after Zach Randolph went down with a partially torn MCL. Lacking their main inside scorer, the Grizzlies opened up the offense, running the ball in transition more often. They pushed harder to turn steals into fast-break points than they did before.
Rudy Gay ran with reckless abandon. He often went from end to end to score. Also, Gay sometimes made plays off the dribble without thinking twice about passing the ball.
The return of Randolph as a full-time starter revives the prevalence of the double-post offense that the Grizzlies that used before his injury. Randolph would act as the primary post player and Marc Gasol would be the secondary post player.
Randolph and Gasol work very well together. They create mirrored looks in the post and both use great moves off pick-and-rolls.
Gay can create for himself outside the post.
The Grizzlies would be able to slow the offense down and play more efficiently in the double post.
They were more efficient in that offense than what they ran after Randolph injury this season. The Grizzlies turned it over 14 times per game last season, compared to 14.3 per game this season after Randolph went down.
A more efficient offense will help the Grizzlies avoid the turnover problems they faced in the series against the playoffs, and it will help them go deep in the playoffs.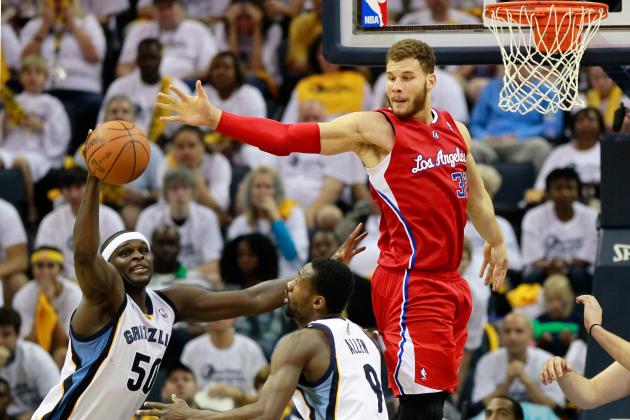 Kevin C. Cox/Getty Images

Zach Randolph did a nice job after coming back from injury. He averaged 11 points and 8.1 rebounds in 25.9 minutes per game in the regular season after coming back. Randolph had double digits in rebounds eight times.
He didn't really get his bearings until the playoffs, when he returned to the starting lineup. Then, he progressively improved throughout the series. He went from posting six points and eight rebounds in Game 1 to 19 points and 10 rebounds in Game 5 and 18 and 16 in Game 6.
He's just now coming back to his old form. He had a 12.9 percent offensive rebounding rate and a 21.4 percent defensive rebounding rate in the playoffs to follow up rates of 12.1 and 23.9, respectively, in the regular season.
Those are right around his 2009-10 rates of 12.6 on the offensive boards and 23.1 on the defensive glass. His 2010-11 rates were far above those, at 14.6 percent and 26 percent, offensively and defensively.
Randolph could get back to the condition where he's pulling down rebounds at the rate he did in 2010-11.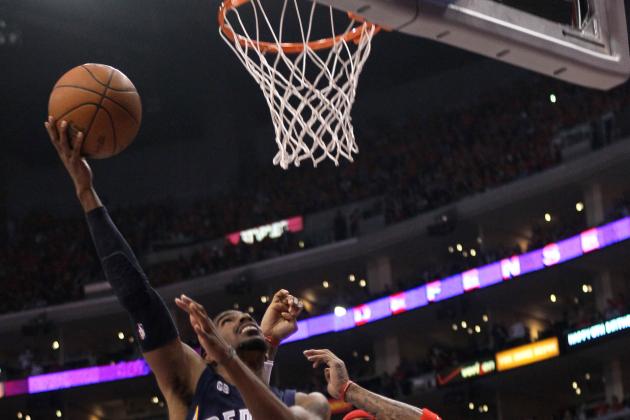 Stephen Dunn/Getty Images

Mike Conley keeps getting better year after year. His assists and steals numbers improved in each of his first five seasons. This season, Conley had career-best marks of 2.2 steals and 6.5 assists per game. He also had a career-best 29.8 percent assist rate, despite running a more open, higher-risk offense.
With his improved numbers, Conley has developed as a point guard. He's also running the floor better than he ever did before.
With continued development, Conley may become one of the five best point guards in the game. If he's that good, there's little doubt the Grizzlies could go to the NBA Finals.