2012 NBA Playoffs: Power Ranking the Top 25 Plays of This Year's Playoffs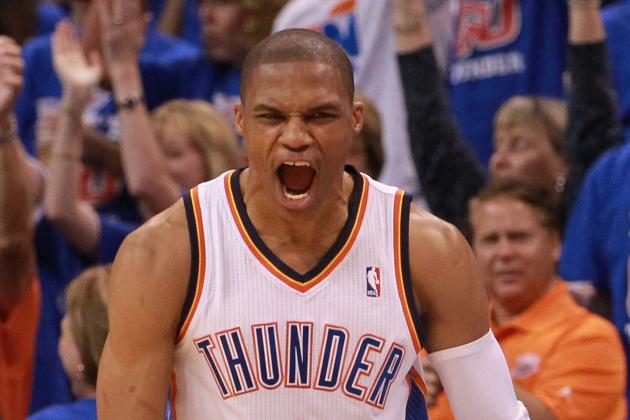 Ronald Martinez/Getty Images

Although the 2012 NBA Playoffs have seen an array of injuries, they have also provided the punctual emergence of the game's greatest playmakers. Sunday afternoon against the Indiana Pacers, LeBron James and Dwyane Wade combined for 70 points and 27 rebounds, 18 of which were James'. Did you see that backdoor pass between multiple defenders for the easy lay-in?
The ending statline may have been what led the Miami Heat to victory, but it was the plays that led to those statistics. The playoffs have been filled with moments that you can't catch in the box score, moments made for primetime television. Moments that these million dollar men are made for.
Begin Slideshow

»
It's always interesting to see what Blake Griffin has up his sleeve. Although he and the Los Angeles Clippers have been eliminated from the playoff race, it is never too late to showcase some of his finest work.
For his first time in the postseason, the kid didn't do too bad.
The Utah Jazz's future must include the defensive efforts of second-year player, Derrick Favors. As one of the most viable assets in Utah, Favors showed a natural ability to do the right thing at the right place at the right time.
The Jazz were swept in this series against the San Antonio Spurs but not because a lack of effort on Favors' behalf.
JaVale McGee has mastered a certain reputation in the league as sort of a bonehead. However, during his short stint with the Denver Nuggets, McGee has been turning things around. He has become more influential in games and has played much smarter than he did with the Washington Wizards.
McGee still isn't the second coming of Kareem Abdul-Jabbar, but his athleticism is becoming more useful as his basketball IQ increases.
At the 1:33 mark of the Game 2 recap, Kirk Hinrich shows an unrelenting hunger for the turnover as he chases the ball down and regains possession of it. He may have lost his starting spot to Jeff Teague, but there is a reason the Atlanta Hawks are keeping him around.
The Dallas Mavericks' time in the 2012 NBA Playoffs was ridiculously short, as they suffered the same fate as what they did to the Los Angeles Lakers in last year's postseason. Still, a bright spot in the sweep was that Vince Carter still has it.
Oh, these are just your resident superstars doing what they do best. It's amazing how LeBron James and Dwyane Wade can manipulate defenses and expose teams in transition so consistently.
Kobe Bryant may be getting old, but it was made apparent in this year's first and second round that he is not going to retire from the game of basketball without a fight. Bryant is a diehard student of the game, and his heart is unmatched by any other active player in the league.
Serge Ibaka, or "Iblocka," is known for the dynamic he adds to the Oklahoma City Thunder defensively. Who knew he could hit a three like the Thunder's own Kevin Durant?
Everyone likes to think of Dwyane Wade as the Batman of the Miami Heat and also see LeBron James as Robin. James has since taken over the Heat, but still needs to rely on Wade to come and clean up around the rim from time to time.
Rajon Rondo is one of the top five best point guards in the league right now and he shows exactly why with an exquisite pass to Avery Bradley against the Atlanta Hawks. Rondo is one of the best facilitators in the game and rarely disappoints when it comes to getting his teammates involved.
At the 1:40 mark Luol Deng puts up an impressive off-balance three-pointer that led the way for the Chicago Bulls' victory over the Philadelphia 76ers to extend the series.
No matter how many slumps Dwyane Wade may find himself in, there are just certain things basketball fans will never forget. One of those things is how athletic he is.
The San Antonio Spurs are the only team that comes to mind with a reserve on hand such as Manu Ginobili. Well, there is always the Oklahoma City Thunder and James Harden, but Ginobili is in a class of his own.
Kevin Durant is such an accepted star in the league because of his off-court demeanor as well as his ability to close games when it is required of him. At such a young age, with a lot more growing to do, Durant is geared to be one of the league's premiere players for years to come.
Some fans like to believe that LeBron James is just another overhyped basketball player with too much spotlight and not enough talent to shield him from the criticism. However, when you look at how he defends every single position on the floor and still puts up plenty of 30-point games, your opinion should change.
It's a lot to ask a single player to be poised enough to consistently hit shots in the clutch for his team. Apparently that responsibility is a mole hill to Kevin Durant.
Kobe Bryant plays like he takes pride in schooling the younger players of the league, players who may assume he's lost a step or two. Danilo Gallinari just managed to be in his cross hairs and was on the wrong side of a classic Bryant play.
LeBron James and Dwyane Wade are incredible when both are playing on the same accord. They are virtually unstoppable when they have a connection in a game like they did in Game 4 as Wade rebounded from a horrible five-point Game 3 performance.
Check out Dwyane Wade at the 1:27 mark. The sequence in which he falls down and subsequently recovers the ball to drain a three is unlike any other.
Rajon Rondo's will is as impressive as his performances when the lights are the brightest. This steal shows that even in the face of defeat, he will never accept a loss without giving it his all to turn the tide.
What makes the Oklahoma City Thunder so scary is what may have frightened the Thunder fans a time or two in the Lakers' series. Their ability to win those close games is what makes them so incredibly tough to beat in the playoffs.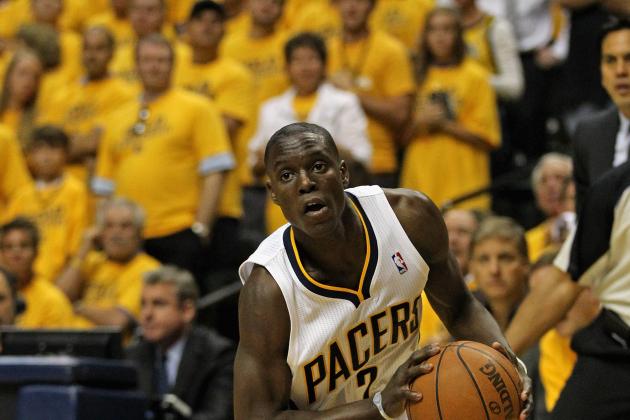 Jonathan Daniel/Getty Images

Darren Collison is no LeBron James, but that did not stop him from going toe-to-toe with the human freight train and snatching the ball from his grip.
Jeff Teague's speed and athleticism are amazing and the sole proprietors of his ability to run the width of the court and block Keyon Dooling's jumper.
If you didn't know J.R. Smith was this athletic then you have been tricked into believing that his three-point stroke was the best asset of his game.
There are no words to describe the ridiculous nature this play contains. Russell Westbrook could not even believe that a heave like that actually made it through the hoop and neither could anyone watching the game. This is by far the best play of the entire postseason.