NBA Rumors: Why Dwight Howard Will Either Be a Knick or Laker Next Season
May 26, 2012

Ronald Martinez/Getty Images
Dwight Howard has let it be known, again, that he does not want to play for the Orlando Magic. This despite the Magic firing coach Stan Van Gundy and watching General Manager Otis Smith resign, both of which Dwight Howard apparently desired.
Howard has let it be known that he would welcome a trade to the Nets, Mavericks, Clippers, Knicks and Lakers and the Magic seem all too willing to grant him his request as long as another team will also take back Hedo Turkoglu in any Howard deal.
Turkoglu however is the key as demanding he be included in any deal automatically limits the list of teams that are able to realistically acquire Howard to only the Knicks and Lakers. The Mavericks and Clippers have literally nothing of substance to offer the Magic and the Nets would have to get extremely creative with sign and trades involving Brook Lopez and Gerald Wallace, two players the Magic may not want even if they were offered. That leaves the Knicks and Lakers as the only two teams with a realistic shot of trading for the Dwight Howard and Hedo Turkoglu duo.
The Knicks offer is an easy one to predict. I believe the Knicks would offer Amare Stoudemire and Tyson Chandler for Dwight Howard, Hedo Turkoglu and Glen "Big Baby" Davis which I also believe the Magic would accept if the Lakers cannot make a stronger offer. A starting five in Gotham city of Jeremy Lin, Iman Shumpert, Carmelo Anthony, Steve Novak (in the Ryan Anderson stretch power forward role) and Dwight Howard with such starting quality bench players as Glen Davis, JR Smith and Landry Fields would make for the best Knicks team since 1999.
The Lakers offer is a bit more difficult to predict. I believe the Lakers would start by offering Pau Gasol and Steve Blake for Howard and Turkoglu. I also believe the Magic would reject that and threaten to accept the Knicks deal. The Lakers would then counter by offering to include Josh McRoberts and Christian Eyenga (if the Magic want him) in the deal and to take back the bad contract of Chris Duhon as well. The Magic would reject this revised offer as well.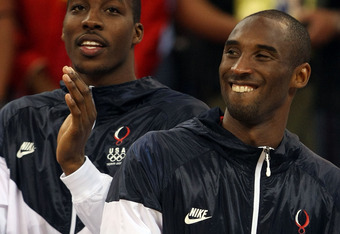 Jed Jacobsohn/Getty Images
The Lakers would finally get around to offering Andrew Bynum, Steve Blake, Josh McRoberts and Christian Eyenga, as well as perhaps a future draft pick or two and some cash for Dwight Howard and Hedo Turkoglu and that would be their best and final offer. The Magic would counter by asking for Bynum and Pau Gasol to which the Lakers would hang up the phone—quickly.
The above is how I see this Dwight Howard trade derby playing out.
The Magic will be forced to choose between the Knicks offer of Stoudemire and Chandler for Howard, Turkoglu and Davis or the Lakers offer of Bynum, Blake, McRoberts and Eyenga for Howard and Turkoglu alone.
Many fans might automatically assume the Magic would favor the Knicks offer as they would receive two quality starters and therefore remain a playoff team. However, while the Knicks offer does include two quality starters, those starters are also due an insane amount of money and both of them have some very serious injury issues. The Lakers' offer may not have quite the same star appeal but it does include the best singular player of the two offers in Bynum, as well as a decent starting point guard on a modest deal in Blake and two talented youngsters in McRoberts and Eyenga on cheap contracts.
The Magic will have a tough decision to make but I believe they would ultimately accept the Lakers offer over the Knicks offer, primarily because the Lakers play in the Western Conference and teams seem to have a severe aversion to trading superstars within their own conferences, especially if the offers from teams outside their conference are extremely similar in value to those being offered from teams in their same conference.
Kobe Bryant may have a new Superman to play with next season!