UFC 146: Power Ranking the Fighters That Are Under the Most Pressure to Perform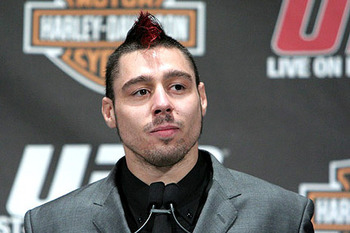 Photo Credit: MMAWeekly
The UFC Heavyweights will be the primary focus for this Saturday's UFC 146 event which takes place in Las Vegas, Nev.
The fight card itself looks very solid on paper with intriguing matchups starting on the Facebook stream, continuing on the FX broadcast and leading all the way to the main event on pay-per-view.
As with every UFC card, there are fighters who are under extreme pressure to perform. Whether it is to hang on to their job, win a title or defend the belt, each fighter has their own situation.
Let's take a look at the nine fighters who are under the most pressure to perform at UFC 146.
9. Duane Ludwig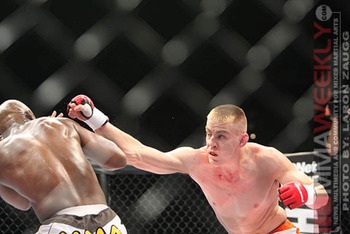 Photo Credit: MMAWeekly
Duane Ludwig needs to gain some momentum to not relegate himself to gatekeeper status.
While he has had better success recently than Hardy, a loss would no doubt put the potential longevity of his UFC career into question.
Ludwig is coming off a loss to Josh Neer and has now lost three of his last five fights.
Last Three Fights (2-1)
LOSS - Josh Neer - UFC on FX: Guillard vs. Miller
WIN - Amir Sadollah - UFC Live: Hardy vs. Lytle
WIN - Nick Osipczak - UFC 122
8. Mike Brown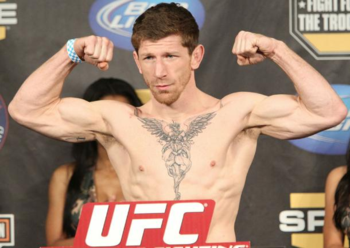 Photo by Joshua Hedges, Zuffa LLC, Getty Images
The former WEC featherweight champion has not had a successful start to his UFC career. Brown needs a win against Daniel Pineda to avoid dropping three out of his first four fights in the Octagon.
Last Three Fights (1-2)
WIN - Nam Phan - UFC 133
LOSS - Rani Yahya - UFC: Fight for the Troops 2
LOSS - Diego Nunes - UFC 125
7. Dave Herman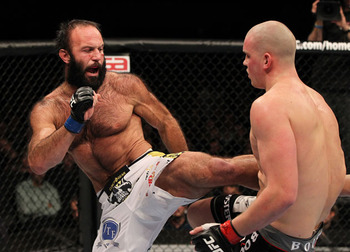 Photo via Getty Images (h/t Yahoo! Sports)
Dave "Pee-Wee" Herman won't be fighting for his job this Saturday, but he will be striving to earn more respect from UFC fans.
Should he beat Roy Nelson, it would be his first significant UFC victory (sorry, John-Olav Einemo doesn't count) since joining the promotion.
A loss, however, would put him right back into the middle of the pack of the division.
Last Three Fights (2-1)
LOSS - Stefan Struve - UFC on FUEL TV: Sanchez vs. Ellenberger
WIN - John-Olav Einemo - UFC 131
WIN - Yoshihiro Nakao - World Victory Road Presents: Soul of Fight
6. Jason Miller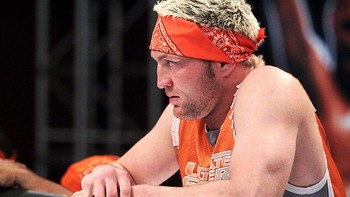 Josh Hedges / Ultimate Fighting Productions LLC via Getty Images
"Mayhem" looked absolutely horrible against Michael Bisping. A loss shouldn't put him on the chopping block, but it will put his next fight onto the Facebook portion of the fight card.
Last Three Fights (1-2)
LOSS - Michael Bisping - TUF 14 Finale
WIN - Kazushi Sakuraba - Dream 16
WIN - Tim Stout - Strikeforce: Nashville
5. C.B. Dollaway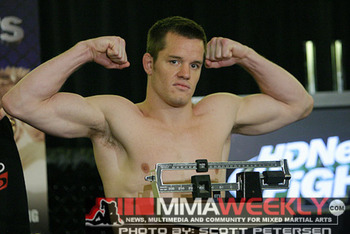 Photo Credit: MMAWeekly
C.B. Dollaway can't afford another loss.
Coming off of back-to-back losses, Dollaway now has a very mediocre 5-4 record inside the Octagon. Should he lose easily to Miller, his next fight will most likely be outside of the UFC.
Last Three Fights (1-2)
LOSS - Jared Hamman - UFC Live: Hardy vs. Lytle
LOSS - Mark Munoz - UFC Live: Sanchez vs. Kampmann
WIN - Joe Doerksen - UFC 119
4. Roy Nelson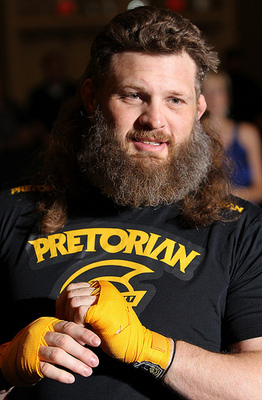 Photo by Josh Hedges/Zuffa LLC/Zuffa LLC via Getty Images
What's there not to love about "Big Country"? He's an exciting fighter who loves his fans and comes across as a genuinely nice guy in his interviews.
Unfortunately, he's also carrying a 3-3 record within the UFC.
Nelson has been fighting the elite fighters of the heavyweight division, but he's going to need to string together a few wins to solidify his spot on the UFC roster.
Last Three Fights (1-2)
LOSS - Fabricio Werdum - UFC 143
WIN - Mirko Filipovic - UFC 137
LOSS - Frank Mir - UFC 130
3. Dan Hardy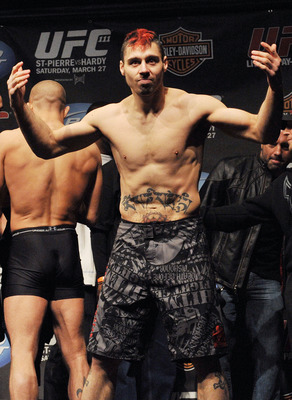 Jon Kopaloff/Getty Images
For Dan Hardy, this is an elimination fight. If he loses, he will most likely be removed from the UFC roster.
If Hardy was more of a technical fighter who spent his time on the ground, he would have been cut right after his fourth straight loss. Instead, he is rewarded with another fight because he tends to put on an exciting slugfest.
Last Three Fights (0-3)
LOSS - Chris Lytle - UFC Live: Hardy vs. Lytle
LOSS - Anthony Johnson - UFC Fight Night: Nogueira vs. Davis
LOSS - Carlos Condit - UFC 120
2. Junior Dos Santos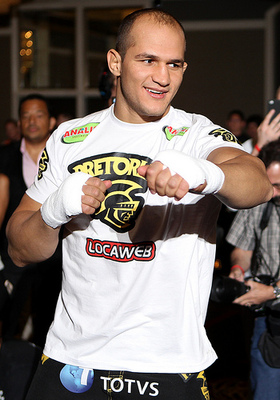 Photo by Josh Hedges/Zuffa LLC/Zuffa LLC via Getty Images
We couldn't possibly leave the man with the heavyweight championship belt off of this list. As the current title holder, he has the most to lose.
Dos Santos hasn't lost a fight since 2007 and is a perfect 8-0 inside the Octagon.
Last Three Fights
WIN - Cain Velasquez - UFC on FOX: Velasquez vs. Dos Santos
WIN - Shane Carwin - UFC 131
WIN - Roy Nelson - UFC 117
1. Frank Mir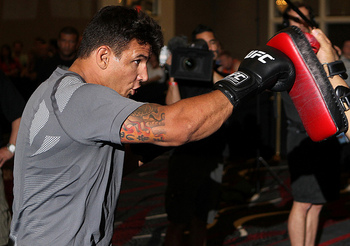 Photo by Josh Hedges/Zuffa LLC/Zuffa LLC via Getty Images
Frank Mir is under the most pressure to perform at UFC 146.
Not only is the heavyweight championship on the line, but this may be Mir's last shot at a UFC title.
Make no mistake about it, Mir has put together one of the most impressive UFC careers in the history of the promotion. At one time it appeared his career was nearing the end of dominance (following his loss to Shane Carwin), but he has battled all the way back into the championship picture.
If Dos Santos loses, he is young enough (27) to get another chance down the road. Mir, on the other hand, is 33 years old and has been fighting professionally for 11 years.
Last Three Fights
WIN - Antonio Rodrigo Nogueira - UFC 140
WIN - Roy Nelson - UFC 130
WIN - Mirko Filipovic - UFC 119
Keep Reading