LA Lakers: Is Andrew Bynum or Dwight Howard the Lakers' Future Center?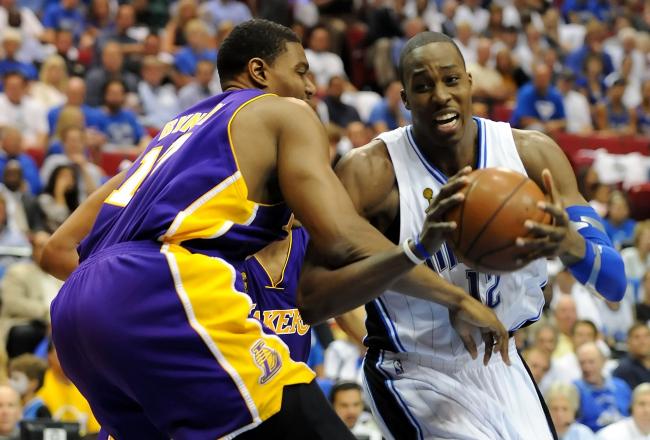 Ronald Martinez/Getty Images
This season has really shown the true colors for both Andrew Bynum and Dwight Howard. Both men are excellent players and ranked one and two amongst current NBA centers. When Shaq retired, he said "There's only really one dominant big man left, and that's Dwight Howard." Then later, in his new analyst position, Shaq said that Andrew Bynum was the NBA's best big man. This isn't to say that Shaq is the final word on these things, but it shows how the big men have changed roles in the last year.
Andrew Bynum had a wild season, beginning with his suspension carried over from last year to his immature on-court acts, to his 30-rebound game. This was also his first season where he was fully healthy for the whole year. A healthy, focused Bynum is a thing of beauty, but for some reason, he hasn't seemed able to retain that intensity for a whole season.
During the playoffs, his averages have gone down slightly than in the regular season. This is misleading though. There were whole quarters where Bynum just wouldn't show up, and he admitted this. While his numbers look the same, imagine what they could be if he were to play for the entire game.
There are a lot of intangibles with Bynum that could affect the huge contract he's slated to get. However, he's still got a ton of upside. In the playoffs, even when double-teamed, Bynum has been able to salvage his numbers from his less-than-average shooting. He is the biggest and strongest player in the NBA and when he imposes his will on a team, there is not much they can do to stop him. He's also a fairly smart player, when he's not taking threes and a championship-winning veteran.
Then, there's Dwight Howard. What a season he's had in the media. First, he was leaving Orlando, then he wasn't then he was, then he settled for a smaller contract, got hurt and demanded Coach Stan Van Gundy's head. The Magic lost in the playoffs, fired their coach and GM Otis Smith parted ways with the organization.
Who should be the Lakers center?
Howard averaged more points and rebounds per game than Bynum, and while shorter, is slightly more aggressive in the paint. He also didn't try any three-pointers all year long. However, there's the issue of his injury. Howard had surgery on a herniated disk in his back. He did want to make it known that he tried to play through it for his team, and there's no reason to believe he didn't, but the situation looks suspicious.
After a long "decision" process, he ends up on a team with a coach who he clearly doesn't like, and now, he'll be returning from back surgery. The Lakers are used to Bynum's ego, but could they and coach Mike Brown handle Howard's?
While they've been in the league nearly the same amount of time, it's not fair to compare the career stats of Howard and Bynum. Bynum's playing his first healthy season, and Dwight just ended his first where he sustained a season-ending injury.
This being said, the men are at nearly identical places in their careers at this point. Bynum is younger, but Howard is easily still in his prime. Howard is expected to get $19 million next season, and Bynum will get $16.1 million per the Lakers' team option. There's also the issue of Howard signing a waiver that he'll be with the Magic through the beginning of the 2012-2013 season. This means he would have to be traded for, and the Lakers would have to give up Bynum (in all likeliness) and possibly something else.
It's a nearly impossible decision to make, and I don't envy Lakers GM Mitch Kupchak.
So who should the Lakers go for in the offseason: Bynum or Howard?
This article is
What is the duplicate article?
Why is this article offensive?
Where is this article plagiarized from?
Why is this article poorly edited?

Los Angeles Lakers: Like this team?