10 Little-Known Facts About Oregon Ducks Football
May 22, 2012

Harry How/Getty Images
There are some things almost everyone knows; call it common knowledge, if you will.  Then, there are things that even some of the most hardcore fans don't know. How many of you Oregon Ducks fans know these little tidbits?

1. Oregon is most well known for its offense.  People all over could probably list a number of Oregon offensive stars. 
But did you know the highest rated recruit Oregon ever had out of high school was a defensive player?  He was the second highest ranked player in the nation, Haloti Ngata.  I know some people may have thought of Arik Armstead (who was also ranked second), but he was only ranked that high by Scout.  Ngata was rated number two by both Scout and Rival. 
2. Oregon isn't known as a historically significant program.  Most football based arguments from Oregon fans usually start around the year 1994. 
Despite a lack of historical relevance in college football, however, did you know that only seven schools have more inductees in the Professional Football Hall of Fame than Oregon?  Only USC, Notre Dame, Michigan, Ohio State, Pittsburgh, Alabama and Syracuse have more.  Pretty solid company.
3. This next fact is more well known among the Oregon faithful, but I know it surprises fans of other teams.  Autzen Stadium, the home of the Ducks, is named for an Oregon Sate alumnus. 
On top of that, Rich Brooks Field at Autzen is named for an Oregon coach who helped establish Oregon football as it was building a solid foundation in the '90s.  Brooks is also an Oregon State alumnus and former Oregon State player. 
4.  Many people know about the 1983 Civil War, which was played in a downpour between two teams that were rather mediocre.  It ended in a 0-0 tie.  The part that some don't know is that it was the LAST 0-0 tie in NCAA Division I Football.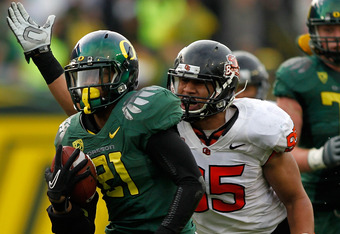 Jonathan Ferrey/Getty Images
5. Speaking of the Civil War, did you know that it is the seventh oldest rivalry in college football? 
It is older and has been played more times than other, more popular rivalries such as the Iron Bowl, The Big Game (Cal/Stanford), the Cocktail Party (Georgia/Florida), Notre Dame vs. USC, the Red River Rivalry Game(Texas/Oklahoma), and The Game (Ohio State/Michigan).
6. Oregon is well known for all kinds of uniforms with crazy combos and colors as they come out with something new and different every year. 
Despite popular belief, the duck has never been on the helmet in any of its forms.  They have had blank helmets, numbers on the sides, an interlocking UO and just the O, but never the duck. 
7. By winning the first ever Pac-12 title, the Ducks have made it three conference championships in row.  With those titles earning spots in the Rose Bowl, BCS National Championship Game and another Rose Bowl, Oregon now has the longest active streak of BCS bowl appearances.
8. If you have ever been to a Duck game or have just seen one on TV, then you have seen and heard the song "Shout" played between the third and fourth quarters.  This tradition stems from the use of the school in the film National Lampoon's Animal House, particularly the toga party scene featuring the song.
9. A lot of fans believe that the worst thing that can happen in Autzen Stadium is a disheartening loss such as the one against USC last year.  They are wrong.  Did you know that there was a shooting in the stadium in 1984. A sniper set up in the stadium, shot random passers by, killing one and wounding another, before taking his own life?
10. The history of the Pac-12 conference goes back to the Pacific Coast Conference. 
Did you know Oregon was the first ever football champion of this conference.  Well, actually, Oregon and Washington shared it after they finished with the same record and the two teams tied their one game.  Oregon was the conference representative in the Rose Bowl.  That was Oregon's only win in the Rose Bowl until they won it again in 2012.