Chelsea Transfer News: Like It or Not, Didier Drogba Will Leave Stamford Bridge
May 22, 2012

Handout/Getty Images
After starring in Chelsea's thrilling UEFA Champions League victory over Bayern Munich just days ago, Didier Drogba's future for the club was always going to take another twist.
The man who had seemingly kicked his last-ever shot for Chelsea and was destined to leave the club might not be leaving after all, according to his management, which has denied that he stated his intentions to leave the club over the summer.
But regardless of what they say, we all know the truth—Didier Drobga is leaving Stamford Bridge.
He will not be playing for Chelsea next year.
Let's make sure we remember the current speculation in light of the disagreements that have taken place between Drogba and club officials. 
Throughout the year, the striker had failed to come to an agreement with Chelsea officials—with Drobga wanting a two-year deal and the Blues only preparing to offer a one-year deal. Thus it seemed that the Ivory Coast international appeared destined to leave Stamford Bridge—it was only a matter of where in the world he would end up.
Now, all of that seems to have been forgotten, or at best, put aside.
One headed goal and Bayern Munich deciding they like kicking their penalties at Petr Cech rather than in the back of the net, and suddenly Drogba won't be leaving Chelsea?
Please, give me a break.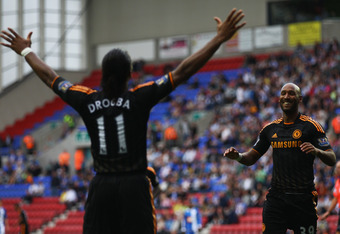 Clive Brunskill/Getty Images
He will leave the club over the summer, and he will join Nicolas Anelka at Shanghai Shenhua on an estimated £250,000-per-week transfer deal.
Chelsea can't offer him that, and they won't offer him that over two years.
Roman Abramovich may have finally gotten the trophy he wanted all along in the UEFA Champions League thanks to Drogba's heroics, but it doesn't mean that he won't bring in new attacking talent throughout the summer transfer window.
And if he does that, then surely Drogba is on the way out.
It might not be the best option, and it might not be the result that we wanted, but it is what's going to unfold sometime in the next few days.
Didier Drobga is going to leave Chelsea, whether you like it or not.
Read more articles by Dan here — or  Follow @dantalintyre